This Famous LA Restaurant Will Make Almost Anything You Want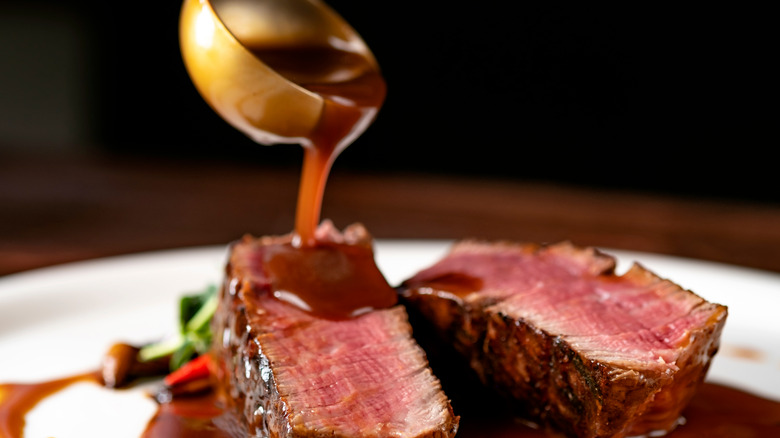 Shutterstock
If you often wish you could travel back in time to a more glamorous version of Los Angeles to dine in at a spot with lush velvet chairs and crisp white tablecloths, the Pacific Dining Car just might be the perfect solution. The vintage-styled restaurant is family owned (and has been for four generations), and has also been around for 100 years — according to their website, they've been operating since 1921, serving up elevated steakhouse fare through the years. Prior to the COVID-19 pandemic, the old-school spot was actually open 24 hours a day, allowing you to enjoy a fine dining meal at all hours of the night.
The menu contains plenty of delectable steakhouse staples with a luxurious twist, such as creamed spinach, lobster truffled mac 'n' cheese, roquefort mashed potatoes. There is also an array of perfectly-cooked proteins, from chilean sea bass to lobster tail to the many varieties of steak, ranging from ribeye to filet mignon. However, if you get a hankering for something you don't spot on the menu, don't hesitate to ask your server — another unique feature of Pacific Dining Car is that they're willing to whip up whatever your heart desires (provided they have the ingredients, presumably). You may have to wait a bit to enjoy their fare and freewheeling menu, however, as they've currently pivoted to online sales in response to the pandemic.
They've made a pivot to prioritize delectable steaks
As many other restaurants did over the COVID-19 pandemic, Pacific Dining Car had to make a lot of changes and hard decisions in response to the various restrictions and rules, and unfortunately confirmed on their Instagram page that they would not be keeping their Santa Monica location open. However, they're hard at work reopening their location in downtown Los Angeles, so you can still enjoy their steaks (perhaps with a side dish you suggest, thanks to their flexible kitchen staff) hopefully someday soon.
In the meantime, if you're looking for a taste of their fine dining fare, they have a variety of corn-fed USDA prime steaks available for purchase that can be ordered and delivered right to your door (via Pacific Dining Car). The corn-fed nature of their beef yields enhanced flavor, thanks to a higher fat content, and their aging method combines French and American techniques in order to create truly show-stopping steaks. Their website also has an email list that any interested potential diners can sign up for, so they'll be the first to know when the quaint railway train car in downtown Los Angeles is available for dining-in once more.