The Reason Ted Lasso's Shortbread Biscuits Will Be Different In Season 2
"Ted Lasso," the Apple TV+ series that was nominated for a whopping 20 Emmy awards this year (via Deadline), is back with its second season, and we are so pumped to hear what pearls of wit and wisdom Lasso will be spewing. Who doesn't love when Lasso is explaining to his son what a scone tastes like (via CNET)? "It's like a muffin, except it sucks all of the spit out of your mouth." Truth.
If you are not familiar with the show, per CNET, its origins go back to 2013 when Lasso made his first appearance in an extended ad for NBC Sports coaching a very real team – the famed Lily Whites at White Hart Lane, Tottenham Hotspur FC (via YouTube). But in the series, Lasso coaches a fictional, defunct, and now relegated London football (aka soccer) team, AFC Richmond. He is always making up, winning over, or incentivizing the owner, Rebecca, with a little pink box of shortbread cookies, which the English refer to as biscuits.
According to The Verge, when the last episode – "Spring Loaded" – of last season aired, fans caught a bit of a gift for fans as the credits rolled, ending with "Ted Lasso's Secret Shortbread (makes about one box)." This caused an internet treasure hunt to find the actual recipe with blogger David Smith leading the charge and unraveling Lasso's shortbread recipe mystery. However, the shortbread in Season 2 promises to be different.
Ted Lasso's shortbread will taste better in Season 2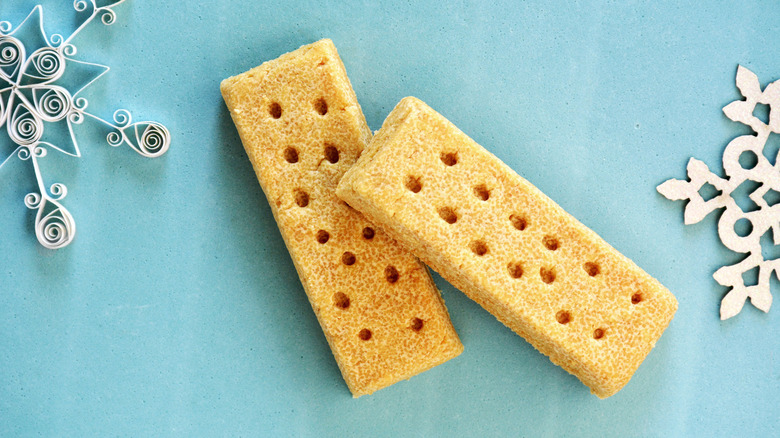 Shutterstock
Rumor has it that the biscuits in Season 1 may not have been what we imagined them to be. The shortbread apparently was not as yummy as the fictional boss made us believe. That was just good acting, hence the Emmy nomination. The Wrap shared that the actress who plays Rebecca, Hannah Waddingham, revealed in a video that TV critics whom she welcomed have biscuits with her really would not like them, saying, "Trust me, you don't want them. That was definitely the greatest acting job in my life. Try eating a bit of dried-out sponge that's been left in your bathroom in a tiny pink box." The boss lady complained to Vulture that "they were chunky shortbreads that sucked all of the saliva out of my face when I was trying to act and talk at the same time." (Ted Lasso might call them scones.) Plus, they were "really sugary and buttery." 
But according to People, Waddingham says this year is different. On a "Today Show" appearance, the football boss was asked about the tastiness of the biscuits by Hoda Kotba and Jenna Bush. Waddingham, ever the diplomat, said, "They are significantly better this season." We don't know about you, but we can't wait to sit down with a cup of Lasso's favorite "garbage water" and one of the many recipes of Lasso's shortbread floating around the internet and find out the fate of our favorite gaffer and his team.