Instagram Isn't Impressed With Andrew Zimmern's Cavatelli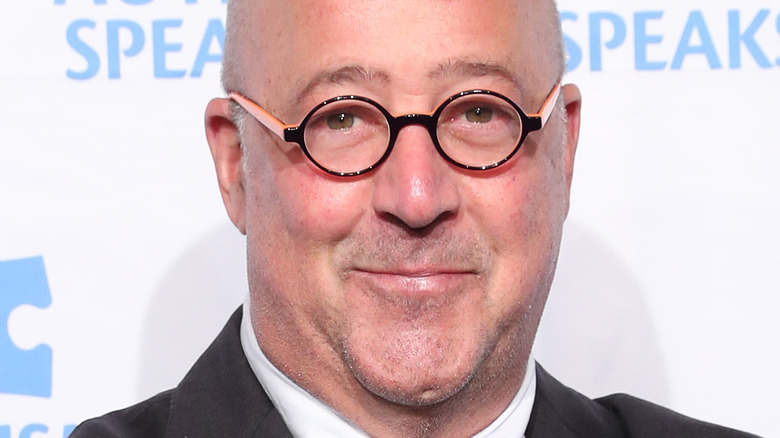 Cindy Ord/Getty Images
Andrew Zimmern is well known for trying every kind of food, edible creation, delicacy, and dessert ... even if it is way out of his comfort zone. Although the popular host and producer of the Travel Channels "Bizarre Foods" franchise has eaten some pretty outlandish foods, from dung beetles to sheep heads, he has also tasted some of the most decadent treats of the world (The Daily Meal).
Zimmern loves the cuttlefish from Al Cavo in Venice, Italy, and he adores the sea urchin roe at Marea of NYC, which is one of his favorite foods to eat when he visits the Big Apple (per The Travel). And while Zimmern is revered for his unique TV persona and ability to eat almost anything, according to his website he is also a seasoned professional chef. 
Truth be told, it might be fun to watch Zimmern eat rabbit brains, but his own recipes are really what we are living for, like his crispy crab cakes and famous key lime pie (via Zimmern's website). This is why it's odd that a dish he recently posted on his Instagram account is creeping his fans out. 
A misunderstanding over pasta
The dish he raves about, "Cavatelli with corn and golden chanterelles," doesn't appear to be his own recipe, rather, Zimmern tags Minneapolis restaurant Spoon and Stable in the post, stating, "@spoonandstable crushing it." While the award-winning TV personality seems to enjoy his pasta dish, his followers took to the comments and they did not hold back.
Comments like "Kinda grossed me out" and "Thought those were grubs!!," fill the feed, and although the post has just about 8,500 likes as of this writing, there are tons of comical and creeped-out comments. One user writes, "Thought you were back on the odd foods trail again for a minute!" Another person jests, "Didn't tamon and pumba eat that?" followed by a wink emoji. 
While it's easy to confuse the larva-like pasta shape with a bizarre bug Zimmern is probably known for trying, the caption does give away that it is, in fact, just a pasta dish, and according to the chef, a delicious one.