Beyoncé's Favorite Food Is Super Relatable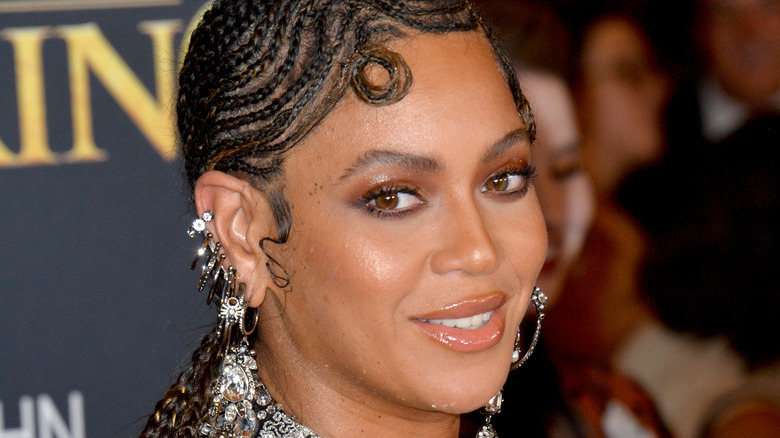 Shutterstock
Unless you've given birth to twins, boosted sales at Red Lobster by name-checking it in a song (via Grub Street), or become so famous that the world knows you by your first name only, it can be kind of hard to relate to Beyoncé. Luckily, the artist and incredibly successful businesswoman sometimes known as Beyoncé Knowles-Carter doesn't just love to create groundbreaking visual albums or inclusive clothing collections for her designer label, Ivy Park – she loves pizza, too (via Vogue). And that's as relatable as it gets.
"I usually treat myself to one meal on Sundays when I can have whatever I want," Beyoncé told Shape magazine, according to ABC News. "Usually it's pizza, which is my favorite indulgence." The interview was conducted just after Beyoncé's first daughter, Blue Ivy, was born, but it certainly doesn't seem like her love for pizza dissipated afterward. "They love pizza," Marco Borges told People magazine about Beyoncé and husband Jay-Z's favorite foods in 2015 (via Twitter). 
Borges is Beyoncé's personal trainer and the author of "The 22-Day Revolution," a book about plant-based nutrition. He explained that even when the artist and her husband decide to go vegan or try a plant-based program from time to time, the beloved Bey doesn't forgo her favorite dish. Borges then revealed the couple's go-to plant-based pizza recipe with the excitement of a man who has recently been told that Big Macs are vegan. "They didn't have to give it up!" he explains.
Pizza isn't the only relatable food preference Beyoncé has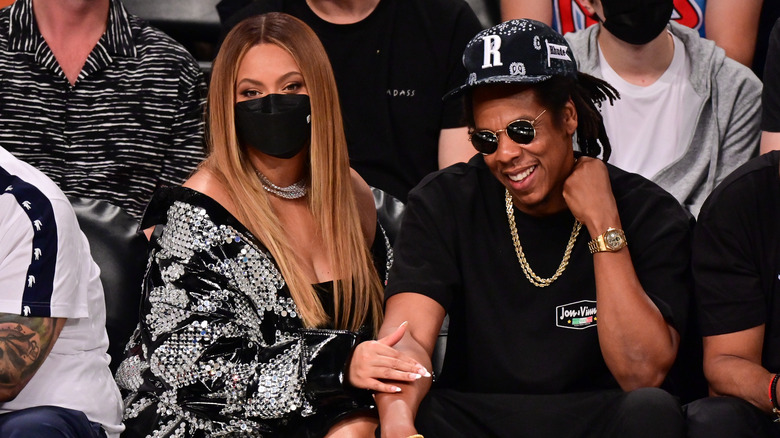 James Devaney/Getty Images
In other relatable news, it turns out that Beyoncé, too, had a rough 2020. In a recent interview with British Vogue, the star reveals that life isn't all lemonade and rainbows for her every day, either. "It would be difficult to experience life in a pandemic and the current social unrest and not be changed," she says, of how the events of last year have affected her as a person. She went on to tell Vogue that one thing she learned was to be still, in order to better hear her own voice (and who doesn't want to hear Beyoncé's voice better?) and that one of her new goals moving forward is to slow down a bit, and some stressors out of her life. "I've decided to give myself permission to focus on my joy," she tells the magazine.
One thing that makes Queen B joyful? Food. Beyoncé tells Vogue that the culinary delights of Texas will always have a special place in her heart. "We ate soul food every Sunday after church," she explains. "There was nothing better than when a little bit of candied yams got on your oxtail and macaroni." She goes on to extol the virtues of Texas barbecue, the Cajun seafood at Pappadeaux, and the Mexican food in her beloved homestate. Might a Texan, soul-food-pizza restaurant be in Beyoncé's entrepreneurial future? Pizza with candied yams, oxtail, and macaroni? If anyone can pull it off, it's Beyoncé.