This Is What Makes Texas Barbecue So Unique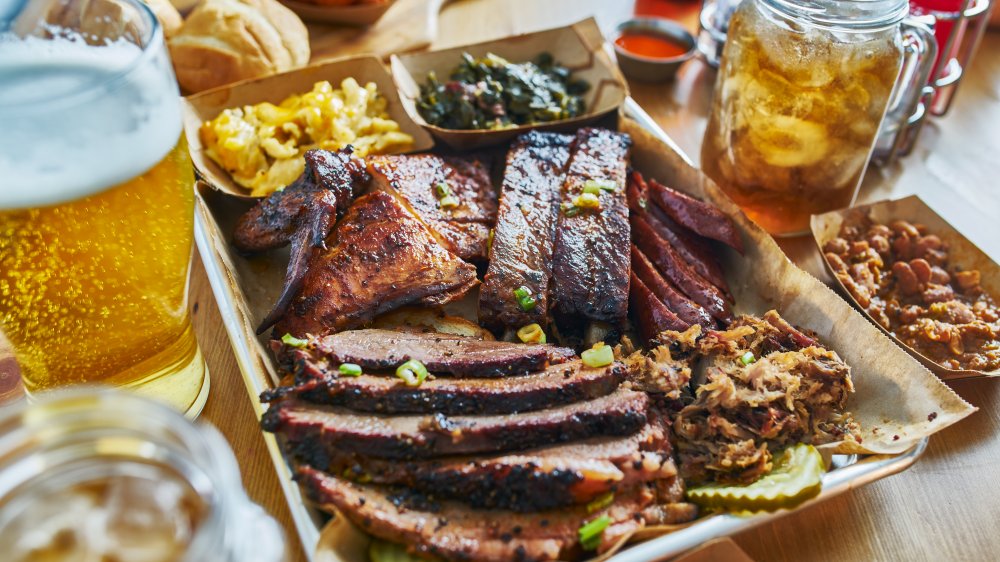 Shutterstock
Chili may be the state food of Texas, but barbecue is where the love is. If you're a Texan or even a transplant, you quickly learn this event is more than just a meal – it's an experience that brings friends and family together. All you have to do is consider all of the incredible barbecue joints that lead to road-tripping just to enjoy the succulent, authentic meats cooked up by some of the greatest pitmasters there are. From Franklin Barbecue in Austin, which has fed the likes of former President Obama and the late Anthony Bourdain; to Snow's in Lexington, where they open at 8 am and close when the meat runs out; to The Salt Lick BBQ in Driftwood, where you bring your own booze, Texas barbecue is in a word, sublime.
But Texas barbecue is also distinct from that of its Kansas City, Carolinas, and other Southern counterparts who have their own regional style of barbecue. Of course, there are also different takes on Texas barbecue within the state, with Central Texas being popular for its smoked and spiced rubbed meat which gets an incredible depth of flavors from the pecan and oak wood that is used to smoke and slow cook the meat to perfection (via Learn to BBQ). So, what makes Texas barbecue truly unique?
Brisket is what makes Texas barbecue special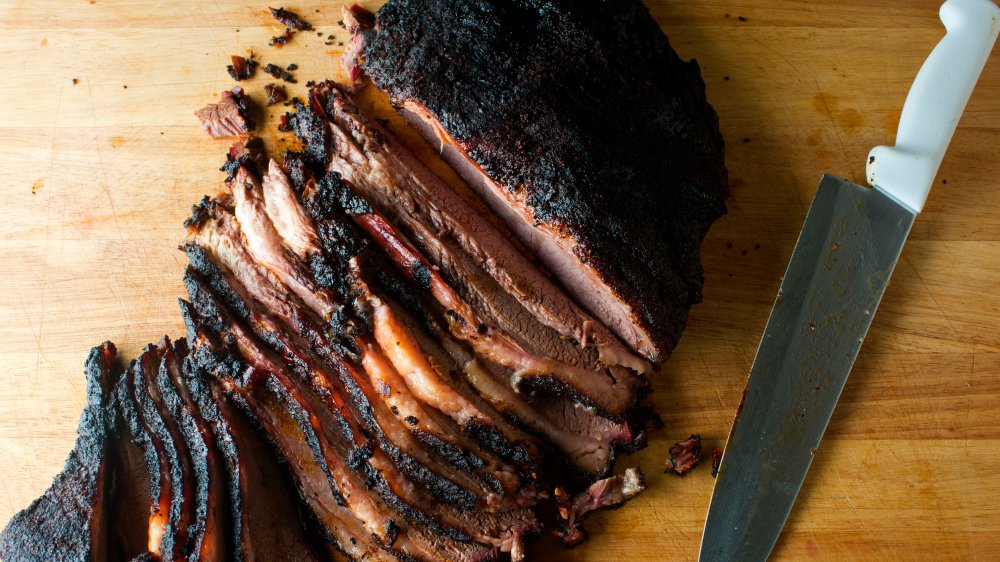 Shutterstock
Brisket is at the heart of Texas barbecue (via Thrillist). Lots of barbecue styles use mustard, tomato, and vinegar-based sauces. But Texas-style brisket – really good brisket that is seasoned with simple salt and pepper and is so juicy and tender, it melts in your mouth with each bite sans sauce - is what makes the state's barbecue unique and special. Pitmaster Barrett Black quoted his granddaddy, Edgar Black Jr. when explaining to Zagat what makes Texas barbecue beyond exceptional, "It's not what we put in our barbecue, it's what we don't put in our barbecue that makes it so good." 
Beyond the uncomplicated ingredients, the care and patience that go into Texas barbecue produce meat worthy of getting in a car and driving for sometimes hours to savor it. Cooked slow and low for 12 to 18 hours, brisket is not a speedy meal, as Salt Lick BBQ owner Scott Roberts pointed out. Instead, brisket asks its partakers to slow down, relax, grab a cold beer or iced tea, and chill until the piece de resistance is ready. Now that's special.