Cold Spinach Artichoke Dip Recipe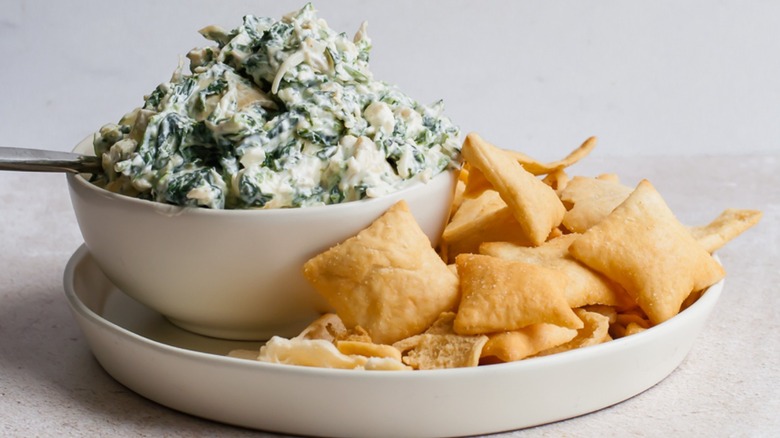 Christina Musgrave/Mashed
Having friends over might seem like a distant memory for many, but as more and more people become fully vaccinated and feel comfortable getting out and socializing, the time has finally come to think about ... entertaining once again. 
Yes, it's a distinct possibility, and you don't want to be caught unprepared. On the other hand, you probably don't want to stock up your fridge and pantry with perishables that you "might" use if the situation arises. That's why this recipe for cold spinach and artichoke dip from food blogger and recipe developer Christina Musgrave is the perfect compromise. For her easy, convenient recipe, all of the ingredients are items that you can easily keep on hand in your kitchen — just in case the need arises. And if they don't, well, you'll still have dozens of uses for each of them (hello, sock-it-to-me cake with sour cream?).
Alternately, you can always make this appetizer for yourself. Yes, it's that delicious. 
Gather your ingredients for this cold spinach artichoke dip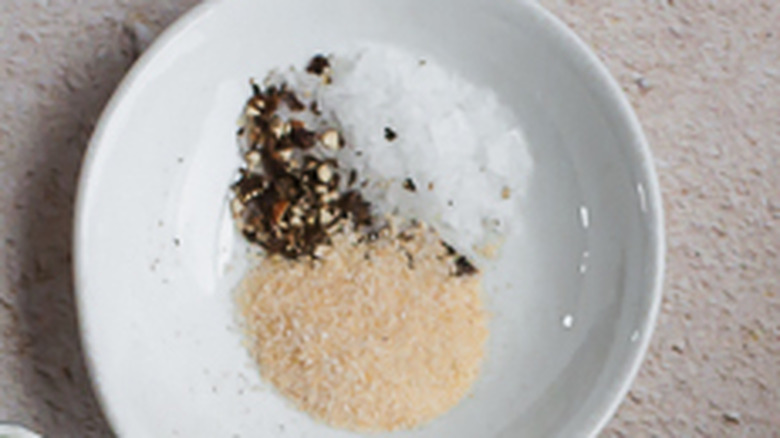 Christina Musgrave/Mashed
For Musgrave's quick and easy recipe for spinach artichoke dip, you'll need eight ounces of cream cheese (that's the standard size for a box of cream cheese that you can pick up at the supermarket as well as eight ounces of sour cream (that's a cup, in case your container of sour cream is larger than eight ounces and you need to measure). 
You'll also need eight ounces of shredded mozzarella cheese (which you can weigh or measure into a one-cup measuring cup). Then you'll need frozen spinach (Musgrave recommends a 10-ounce package of frozen, chopped spinach) and a can of artichoke hearts, which you can easily drain and chop.
For a little kick of flavor, you'll also need salt, black pepper, and onion powder. You'll also need chips with which to serve this spinach and artichoke dip, and Musgrave recommends using pita chips, which should hold up well to this sturdy dip, but feel free to use whatever chips you like. 
Soften the cream cheese and thaw the spinach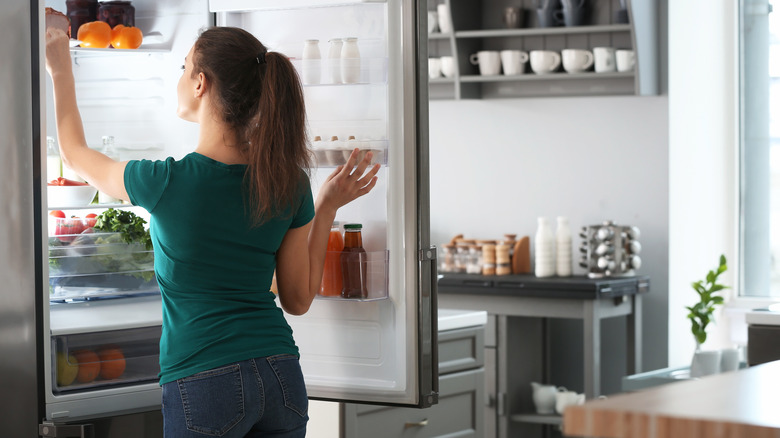 Shutterstock
First things first, before you do anything else, you'll want to take the cream cheese out of the refrigerator far enough in advance for it to come to room temperature. That will make it a cinch to mix with the other ingredients. You will also want to take the frozen spinach out of the refrigerator to allow it to thaw so that you can easily mix it into this dip. 
Prep your artichoke hearts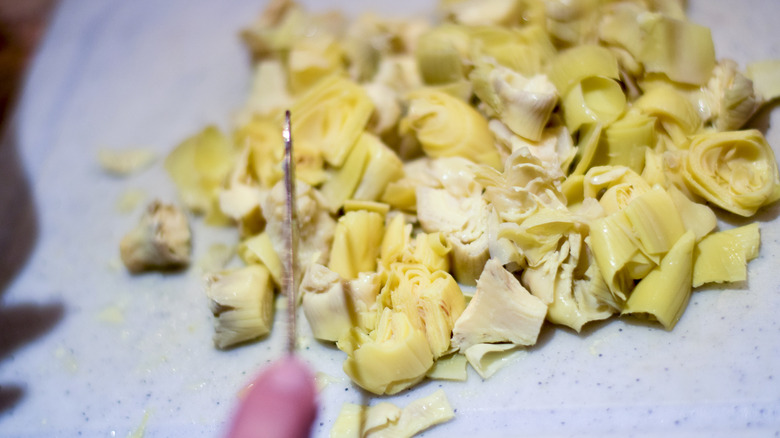 Shutterstock
The next step is to grab your can of artichoke hearts, open the can, and drain the liquid. Then place just the artichoke hearts on a cutting board, and using a sharp utility or chef's knife, chop those babies up into small bits — or whatever size that you would like to enjoy in your cold spinach and artichoke dip. If you want a chunkier dip and you've got some high quality artichokes, go with larger pieces. 
Combine your cheeses and sour cream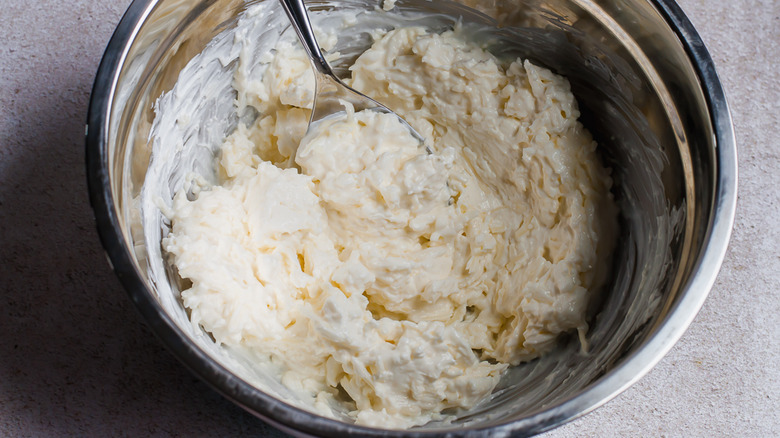 Christina Musgrave/Mashed
Hopefully, by now, your cream cheese has come to room temperature — that will make combining it with the other ingredients so much easier. If it's not, then you can always take it out of its wrapper, and pop it in the microwave for five to 10 seconds (but no more, or this won't be "cold" spinach and artichoke dip). 
Take your softened cream cheese, sour cream, and mozzarella, and mix them in a large bowl until they are well combined, as shown.  
Add the spinach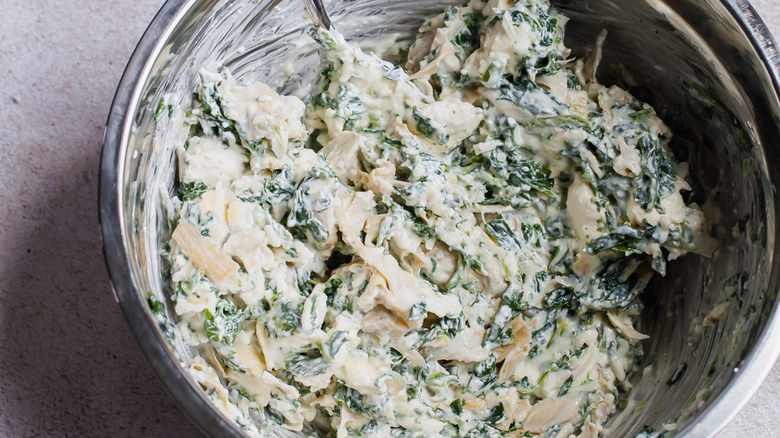 Christina Musgrave/Mashed
Hopefully, like your cream cheese, your spinach has "come in from the cold," so to speak. The spinach need not be room temperature, but it should be soft enough that you'll be able to break it apart with a spoon and add it into the other ingredients. It also needs to be thawed so that you can remove the excess moisture. Otherwise, the water it contains will dilute the dip. Do that now, and mix to combine the spinach thoroughly with the cheese and sour cream mixture. 
Season your dip with salt, pepper, and onion powder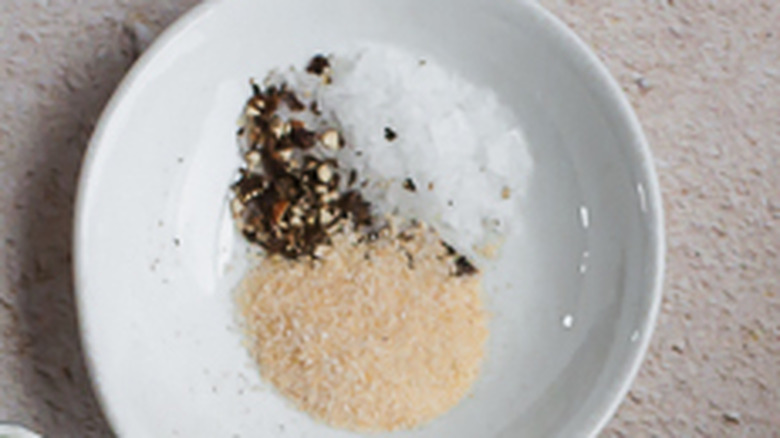 Christina Musgrave/Mashed
The last step is to add your salt, pepper, and onion powder to the mixture. Just a quarter teaspoon of each, and you'll have amped up the flavor significantly without overwhelming the primary flavors. 
Simply sprinkle these three seasonings on top of your dip and stir to combine. And there you have it! You're ready to serve your cold spinach and artichoke dip. 
"This will stay good for max two days in the fridge," says Musgrave. "I don't recommend freezing the leftover dip." 
Better get eating!
Cold Spinach Artichoke Dip Recipe
This cold spinach artichoke dip recipe is incredibly convenient and quick. All of the ingredients are items that you can easily keep on hand in your kitchen.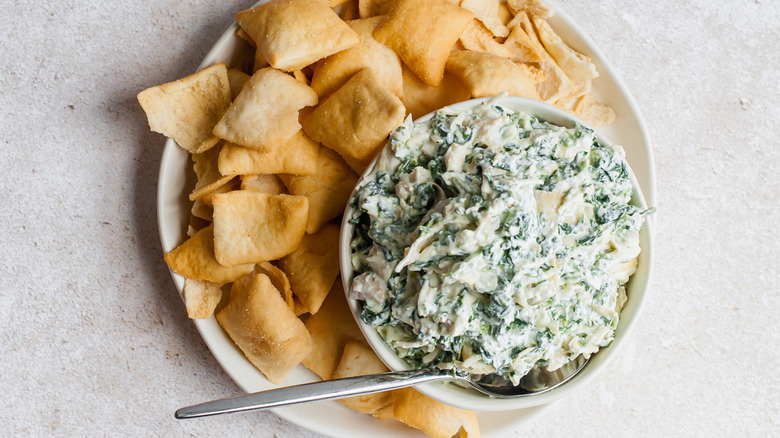 Ingredients
1 (8-ounce) package cream cheese, softened
1 (8-ounce) package shredded mozzarella cheese
1 cup (8 ounces) sour cream
1 (12-ounce) can artichoke hearts, drained and chopped
1 (10-ounce) package frozen spinach, thawed and drained
¼ teaspoon salt
¼ teaspoon black pepper
¼ teaspoon onion powder
Pita chips, for serving
Directions
Stir the cream cheese, mozzarella, and sour cream together in a large mixing bowl until combined completely.
Add the drained and chopped artichoke hearts and spinach and mix well to combine.
Add the salt, black pepper, and onion powder, and mix well.
Serve the dip with the pita chips.
Nutrition
| | |
| --- | --- |
| Calories per Serving | 236 |
| Total Fat | 18.7 g |
| Saturated Fat | 10.6 g |
| Trans Fat | 0.0 g |
| Cholesterol | 56.9 mg |
| | |
| --- | --- |
| Total Carbohydrates | 9.8 g |
| Dietary Fiber | 2.7 g |
| Total Sugars | 2.3 g |
| Sodium | 346.5 mg |
| Protein | 9.2 g |