Fresh Mango Salsa Recipe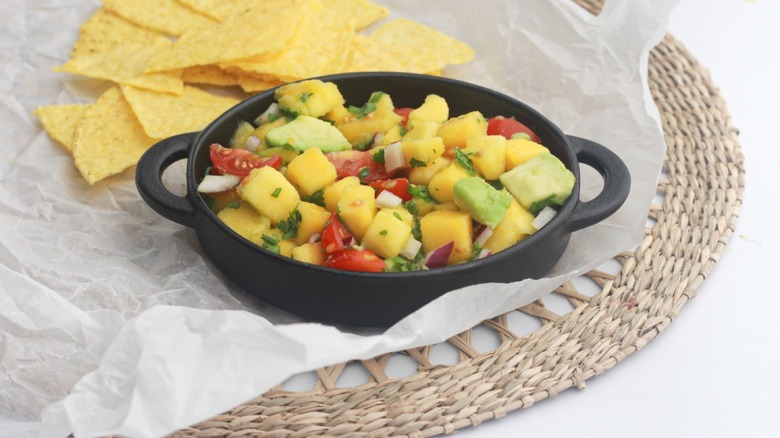 Susan Olayinka/Mashed
There are few appetizers that are better than salsa, and it's pretty easy to see why. The dip can come in many varieties, and most traditionally come in the form of a spicy tomato sauce. But while tomatoes are pretty essential to most salsa, they don't necessarily have to be the star of the show. So, if tomatoes aren't the star of the salsa, then what is? Mango, of course!
While many people are hesitant to mix salty, savory, and sweet flavors together, the combination is undeniably delightful. And, thanks to recipe developer Susan Olayinka describes her fresh mango salsa recipe as being "sweet and sour," and along with the saltiness of tortilla chips, it doesn't get much better than that!
And unlike the stuff you buy in a jar, the ingredients in this salsa are completely fresh, making it truly a treat. Give this mango salsa a try at your next barbecue or party, or simply throw it together for a snack. The wonderful flavor combination and freshness will keep you coming back for more!
Gather the ingredients to make fresh mango salsa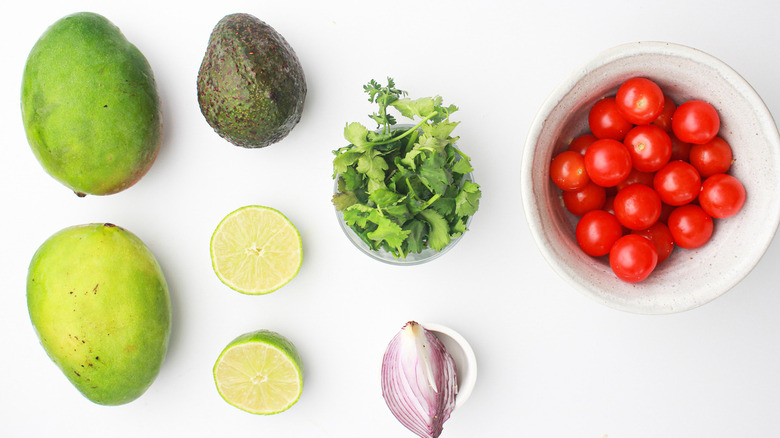 Susan Olayinka/Mashed
It's easy to make fresh mango salsa, and you only need a few ingredients to do so. 
The star of the show is mango, so naturally you'll need a couple ripe and ready mangoes. Of course, it isn't salsa without tomatoes, so you'll also want some of those. While Olayinka uses cherry tomatoes in this recipe, she notes that you can use other varieties that you may have on hand, like beef or even green tomatoes. 
Next, you'll need red onion, though you can also use white or yellow. Finally, you'll need an avocado, cilantro, and some fresh lime juice to bring the salsa together.
Cut your mango into chunks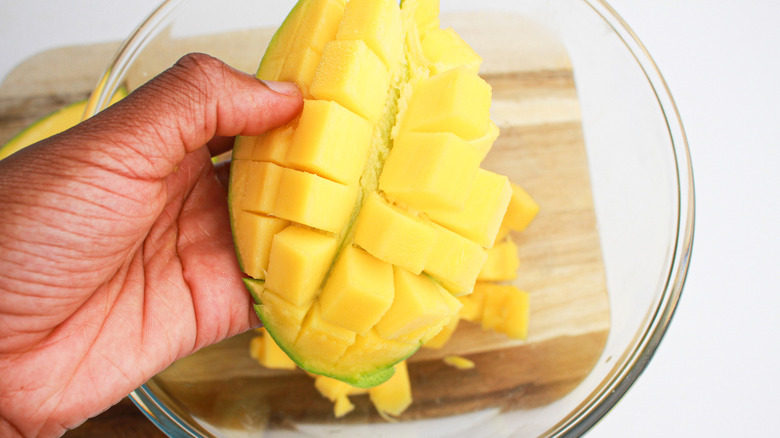 Susan Olayinka/Mashed
After you've finished sorting out your ingredients, you can get started on preparing your salsa. Luckily, this fresh mango salsa recipe is a breeze to make, and all you'll really need is the ingredients, a cutting board, and a knife! Go ahead and start by cutting up your mango into chunks. Start by halving the mango (voiding the pit) and then cutting across the mango to form a criss-cross pattern, as shown in the picture. Then, you can simply slice those chunks off of the mango skin and into a bowl using a knife or spoon (you'll probably need a knife if the mango is underripe).
You can do the same thing with the slide pieces of the mango that don't come off when you slice around the core. And don't forget to slice off any excess mango that you missed around the core (or just eat those bits!)
Cut up your tomatoes and red onion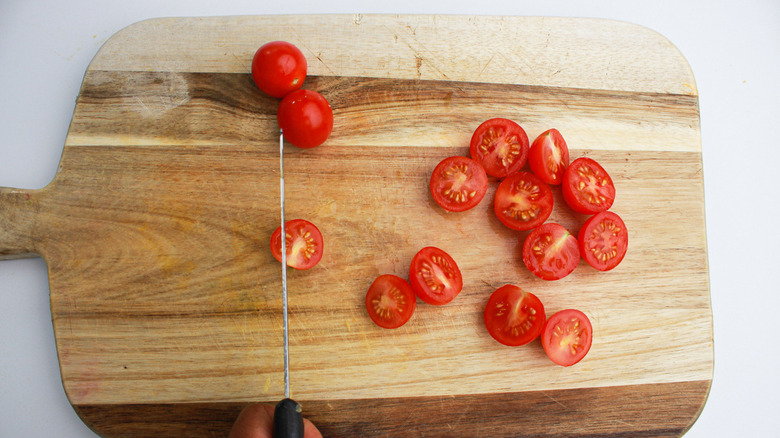 Susan Olayinka/Mashed
Once you've finished slicing up your mango, you can get to work on the tomatoes and red onion. Grab your cherry tomatoes and cut them in half on your cutting board. You might even want to quarter them, depending on how big you want the chunks to be in your salsa. 
Next, grab your red onion and finely dice it. Again, the size that you cut are up to you, depending on how big or small you want the onion chunks to be. Generally, smaller onion pieces are better than larger ones. Once you finish cutting up the tomatoes and onion, go ahead and add them into the bowl with the mango. 
Add in the avocado, cilantro, and lime juice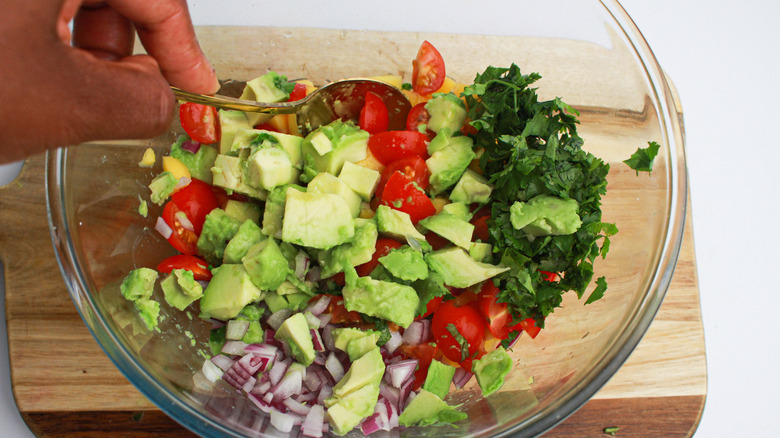 Susan Olayinka/Mashed
Now, it's time to add the finishing touches! Grab your cilantro, remove the leaves from the stem, and carefully slice the leaves. Then, take your avocado and cut it into chunks, just as you did with the mango (definitely use a spoon instead of a knife to scoop out the flesh, though). 
Once you've cut everything up and added all the ingredients to the bowl, squeeze half a lime over the ingredients and then give them a good stir. After you're done mixing, your salsa is ready to serve!
Serve with tortilla chips and enjoy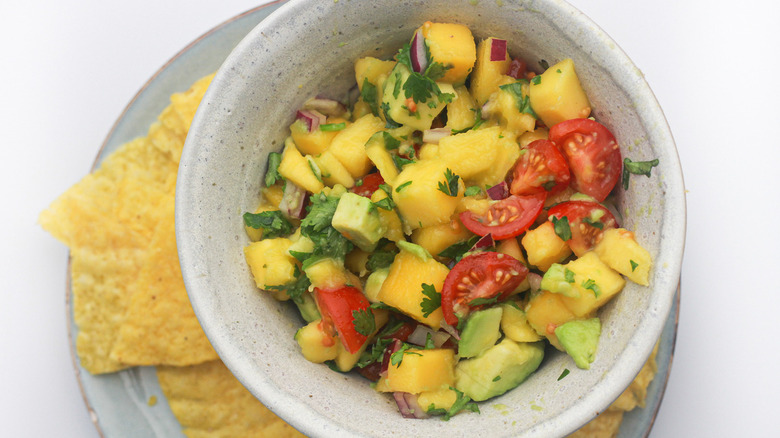 Susan Olayinka/Mashed
Serve your fresh mango salsa in a bowl alongside tortilla chips, on fish tacos, in wraps, or as a side with chicken or steak, says Olayinka — the possibilities are endless! Just note that if you serve it with something that isn't salty, you'll probably want to add some salt to the salsa because there's no salt in the recipe. 
This mango salsa truly is incredibly versatile and provides amazing flavors with just a few ingredients. Not only is this salsa easy to prepare, but it's ready in just 10 minutes, making it a great option if you want to add some freshness to your meal. 
If you're getting tired of the same old tomato salsa or you want something a little more sweet, this fresh mango salsa will take your tastebuds on an unexpected but exquisite journey!
Fresh Mango Salsa Recipe
Give this fresh mango salsa recipe a try at your next barbecue or party, or for a snack. The sweet, sour, and salty flavor combination is delicious.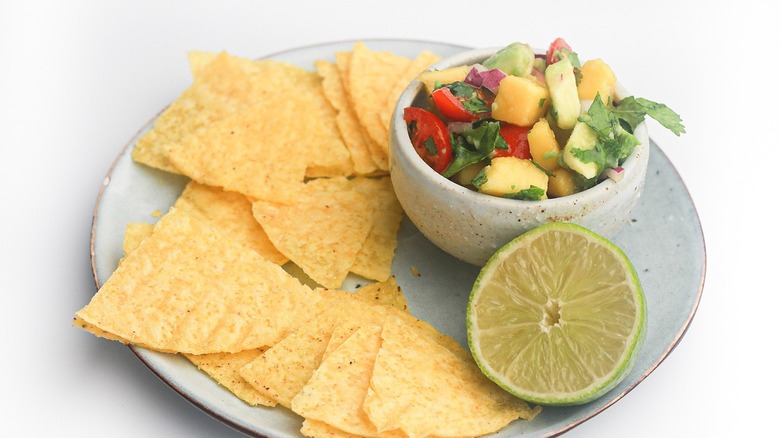 Ingredients
2 mangoes
10 cherry tomatoes
¼ red onion
¼ cup of cilantro
1 avocado
½ lime
Directions
Dice the mangoes into ½-inch cubes and place them in a large mixing bowl.
Slice the cherry tomatoes into quarters and add them to the bowl.
Dice the red onions and add them, too.
Remove the cilantro leaves from the stems and slice them into thin strips before adding them to the bowl
Peel and dice the avocado ½-inch cubes and add it to the mixing bowl.
Squeeze half of a lime over the salsa and carefully mix everything together.
Serve your salsa.
Nutrition
| | |
| --- | --- |
| Calories per Serving | 129 |
| Total Fat | 5.4 g |
| Saturated Fat | 0.8 g |
| Trans Fat | 0.0 |
| Cholesterol | 0.0 mg |
| | |
| --- | --- |
| Total Carbohydrates | 21.7 g |
| Dietary Fiber | 4.6 g |
| Total Sugars | 16.5 g |
| Sodium | 5.3 mg |
| Protein | 1.9 g |