Dunkin' Just Released Adorable New Dog Toys. Here's How To Get One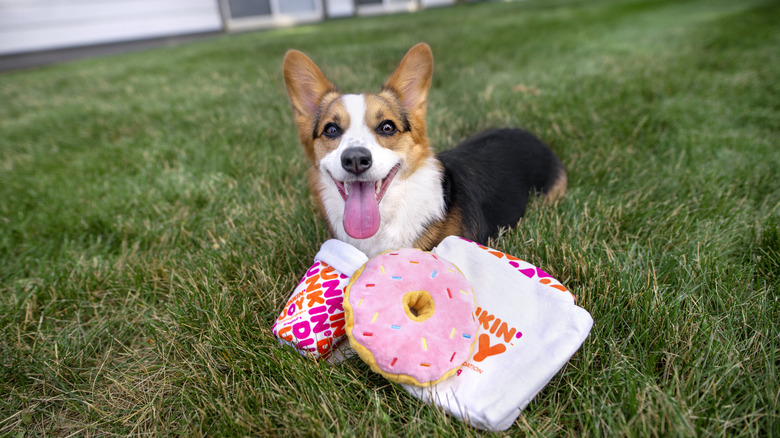 Dunkin'
In bark-worthy news for every four-legged latte lover (and their caffeinated owners), Dunkin' has just released a new line of Dunkin'-themed dog toys perfect for all coffee enthusiasts and their furry friends.
The new special-edition toy lineup includes a treat-dispensing Dunkin' coffee cup — which has a crinkly outer layer and a squeaker inside, as well as a compartment at the top for hiding treats — and a plush Dunkin' donut complete with a to-go bag.
The toys, which are a collaboration with The Original BARK Company (who also created the popular BarkBox subscription service), will be available starting on July 26 at select Dunkin' locations across the nation, while supplies last. While these toys are sure to make your dog's day, they also benefit an important cause: the Dunkin' Joy in Childhood Foundation, which has a mission to bring joy to kids battling illness and hunger.
According to Karen Raskopf, Co-Chair of the foundation, the profits from these toys will go towards bringing moments of happiness to children who need it most. "There is a continued need to raise awareness and funding for children battling hunger or illness, and at Dunkin' we are always looking for meaningful opportunities to support this issue," Raskopf said in a statement sent to Mashed.
How to get a special-edition Dunkin' dog toy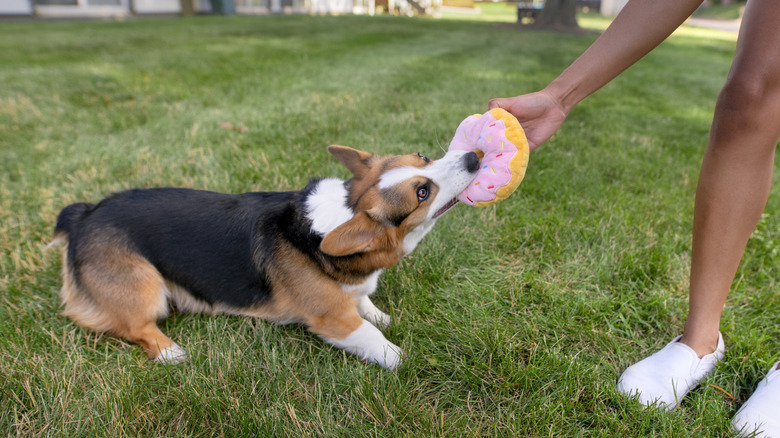 Dunkin'
For a $12 donation, Dunkin' customers will be able to snag the coffee cup toy, and for a $15 donation, they'll receive a 2-in-1 toy that contains both the crinkly to-go bag and a plush strawberry donut filled with squeakers.
Last year's successful Dunkin' dog toy release raised upwards of $1.8 million for the Dunkin' Joy in Childhood Foundation. One of the foundation's programs that previous fundraising efforts helped support was Dogs for Joy, which introduces full-time service dogs into children's hospitals, helping to reduce stress, lower anxiety, and bring plenty of joy to children receiving treatment and their families.
If you're unable to snag one of the limited edition toys, you'll still be able to give your four-legged friend a special treat with Dunkin's new Cup for Pup, which features a 4-ounce serving of whipped cream in a doggie-sized cup. The Cup for Pup will be available on August 4th, for a $1 donation to the Dunkin' Joy in Childhood Foundation. 
After August 26, Dunkin' lovers who aren't able to pick up one of these paw-some toys in-store can purchase the plushes online via BARKShop, or get them as an add-on to their BarkBox and Super Chewer subscriptions.