Why You Should Think Twice Before Eating At Raising Cane's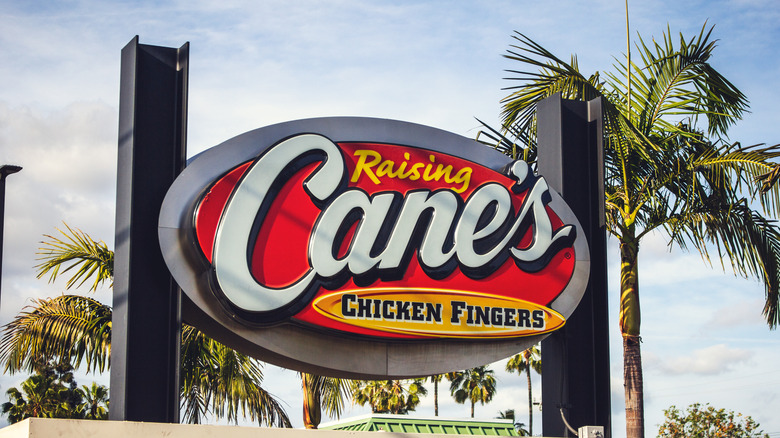 Shutterstock
It's no secret that fast food isn't exactly good for you — especially when eaten regularly. According to Cleveland Clinic, frequent consumption of fast food can increase your blood pressure, due to its high sodium and fat content. However, there is a huge nutritional difference between various fast food menu items; and unfortunately, Raising Cane's doesn't have healthier options like salads or baked chicken. 
Founded by Todd Graves, Raising Cane's first opened its doors in 1996 (via Raising Cane's). Legend has it the establishment, located near Louisiana State University, was such a hit among the community that they had to stay open until 3:30 a.m. that first night to fulfill every order. 
Unlike several fast food restaurants (think: McDonald's, Burger King, and Taco Bell), Raising Cane's has devoted itself to one specific type of fast food: fried chicken. But, not fried chicken as in KFC's finger-lickin' good fried chicken. No, Raising Cane's specializes in chicken fingers — not nuggets; just chicken fingers. And what separates them even further from their competition is that their chicken fingers come with a side of thick Texas toast in addition to crinkle-cut fries. To a dietician, that's a big red flag. So while all that may sound like your fast food dreams served on a silver platter, it's not that by any nutritional means.
Raising Cane's is rich in sodium, fat, and cholesterol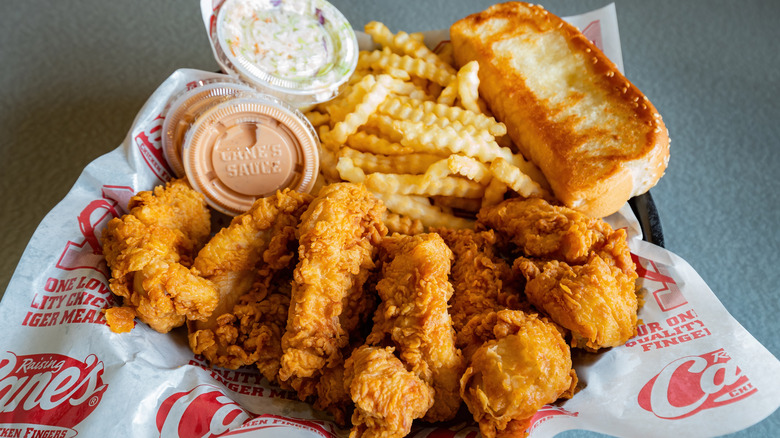 Shutterstock
As Cleveland Clinic notes, fast food isn't high in nutrients. But, Raising Cane's is significantly less healthier for you than other fast food chains out there, like Chick-fil-A, for example. A dietician with IIBFY pointed out that having a diet heavy in fried foods could increase your risk for bad cholesterol as well as your chance of developing cardiovascular disease. Likewise, fried food is riddled with grease, which can lead to acne flare-ups and clogged arteries. Additionally, you're not likely to find anything nutritious in your Raising Cane's meal apart from the shreds of carrots and cabbage in the coleslaw. Of course, chicken is packed with protein, but when it's engulfed in fried batter, it kind of ruins the point.
When it comes down to numbers, the proof is in the pudding. At Chick-fil-A, you can order two chicken strips at 200 calories and 9 grams of fat (via Chick-fil-A), whereas at Raising Cane's, two chicken strips have 260 calories and 12 grams of fat (via Raising Cane's). As for an order of small fries, Chick's signature waffle fries are 320 calories, 19 grams of fat, and 35 grams of carbs; Cane's crinkle-cut fries have 390 calories, 19 grams of fat, and 49 grams of carbs. Keep in mind, this doesn't include dipping sauce and Raising Cane's beloved Texas toast.
Moderation is key, but for those who have pre-existing health conditions, perhaps Raising Cane's isn't your best option.