The Bizarre Story Behind This Ringo Starr Pizza Hut Ad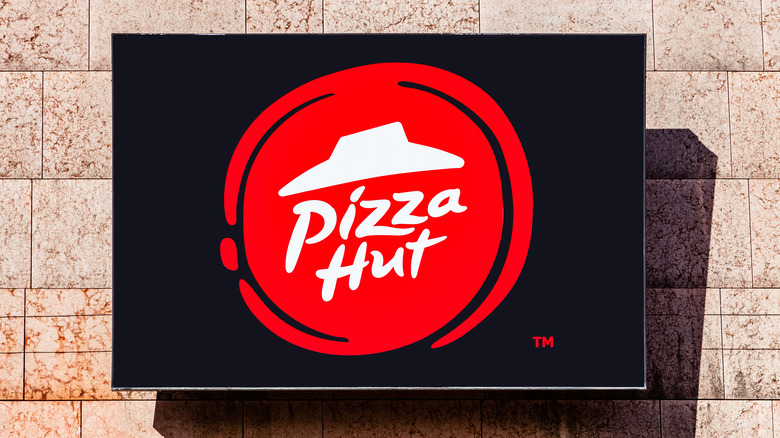 Shutterstock
Seeing celebrities appear in commercials for our favorite foods or restaurants is nothing new, and over the years, we've seen a number of familiar faces tout delectable meals on our screens. Pepsi, for example, has been able to tap a myriad of stars for their advertisements, including Michael Jackson, Mariah Carey, and Britney Spears, while Taco Bell was able to pair up actors Joe Keery and Sarah Hyland to promote their fan-favorite Nacho Fries earlier this year. And then, of course, there was that epic McDonald's ad back in 2020 when celebs like Patrick Mahomes, Millie Bobby Brown, and even Kim Kardashian shared their go-to order from the Golden Arches.
Pizza Hut has been able to get in on the advertising tactic as well, calling upon stars such as Kristen Wiig and Craig Robinson to sell their delicious pies. The pizza giant was even able to bring Ringo Starr on board for an advertisement to promote their brand new stuffed crust pizza back in 1995 — a move that was somewhat bizarre for a reason that even the most die-hard of Beatles fans might not know (via Eat This, Not That!).
Ringo Starr has severe allergies that prevent him from eating pizza
Naturally, advertisements for Pizza Hut's revolutionary new stuffed crust pizza called for some serious star power, and to their luck, they were able to bring together Ringo Starr and The Monkees. The commercial not only introduced the pie, but also demonstrated the crust-first method of eating it. As we previously mentioned, seeing a singer or movie star promote popular food chains isn't a strange concept, even in 1995 when the former Beatles' Pizza Hut ad aired on television. What is a little odd, however, is hiring a celeb for a pizza commercial that had never once indulged in one of those cheesy triangles of goodness, which happened to be the case for the famous drummer.
According to Eat This, Not That!, Starr had never enjoyed a late-night slice when he starred in his ad for The Hut, and more than likely still hasn't to this day. The rocker has been a vegetarian since 1965, though it isn't his plant-based diet that influenced his decision to abstain from the meal, but rather allergies to onions, garlic, and several spices, which have prevented him from eating pizza as well as many other meals (via Totally Vegan Buzz). It was definitely nice of Starr to pop up in a commercial for food he can't even eat, but perhaps Pizza Hut should stick to actual pizza eaters, like Beyoncé, for their ads going forward.