Fans Are Loving The Shot Aldi UK Just Took At This Love Island Star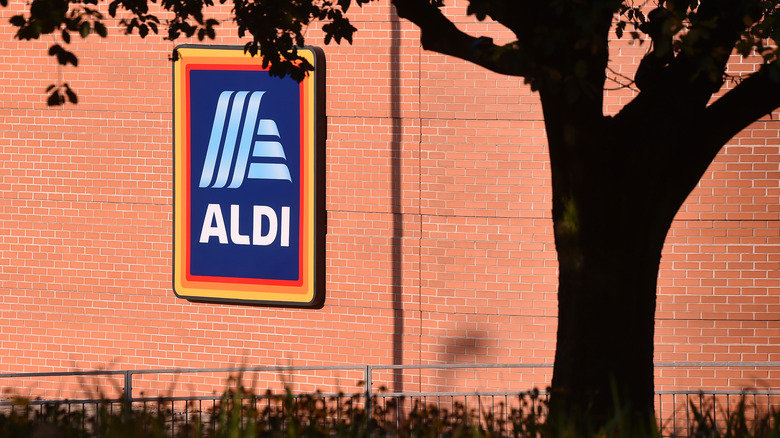 Nathan Stirk/Getty Images
If you're stateside, you may not know how big "Love Island" is across the pond in the United Kingdom. The U.S. has a copycat version of "Love Island," but Yanks are more wedded to "The Bachelor" and "The Bachelorette" (via The Daily Beast). Given the popularity of "Love Island," social media in the U.K. are predictably fixated on the current season and on one couple in particular. Millie Court and Liam Reardon have displayed real chemistry on screen, and "Love Island" fans have begun rooting for them (via Cosmopolitan). Twitter user @Lazypops50, who devotes much of their account to "Love Island" commentary, posted on July 26 a photo of a shirtless Liam along with this advice: "Millie marry this guy."
Now, fans of the show — including Aldi UK's Twitter account — aren't so sure. They might have given Liam a pass when he welcomed newcomer AJ Bunker to the "Love Island" villa a little too eagerly a few weeks ago, per a separate Cosmopolitan article. But this week, Liam may have taken things too far by kissing Clarisse and Salma during a round of "truth or dare," as reported in yet another Cosmo article.
But that's not all. Dublin radio station Q102 reported that Liam made eyes at yet another contestant on "Love Island," a certain Lillie Haynes. Aldi UK had seen enough. One of the grocery chain's recent tweets suggested Liam has a skill Aldi would find useful.
Aldi UK thinks 'Love Island' heartthrob Liam might make a good employee
Aldi UK Twitter has a fanbase, too. The account has more than five times as many followers as Aldi USA's account, and Brits look to Aldi UK for social media entertainment the way Americans look to Wendy's Twitter. So, when Aldi UK weighed in on Liam's shenanigans on "Love Island," the United Kingdom responded with a swarm of "tears of laughter" emojis. Liam seems to have something real going with Millie on the show, but so far he's also shown interest in at least four other female contestants. "Might have to employ Liam on the tills too if he carries on moving this fast," Aldi UK tweeted.
"Aldi's social media team keep me entertained every day. Fantastic wit. Brilliant interaction with everyone," one Aldi UK follower replied. Other commenters tried to match wits with Aldi. "I guess if you do that, he'll always check you out," Twitter user @TomHyoos tweeted. User @LukeWRees may have been trying to clap back at Aldi with their response: "He wouldn't fit in, too fast for ya."
We'll just have to see where Liam and the rest of the cast of "Love Island" — and Aldi UK Twitter — go from here.