The Surprising Way Popeyes Is Trying To End The Chicken Sandwich Wars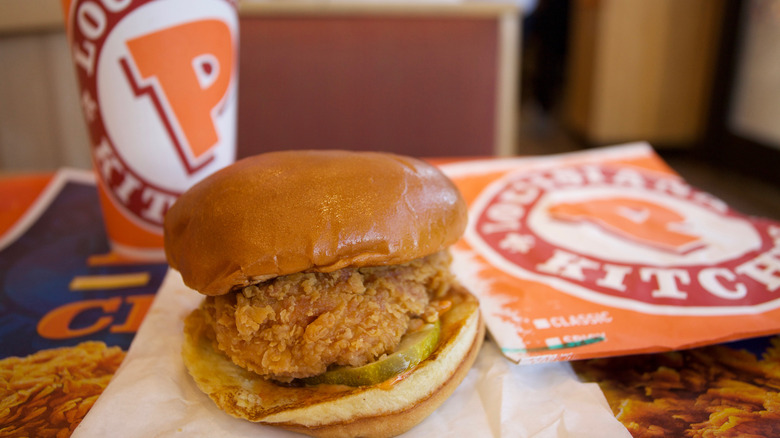 Shutterstock
Once upon a time, chicken sandwiches were just chicken sandwiches. Now, they're a topic of controversy that has even caused physical fights. Restaurant Business reports that it all started when Popeyes introduced its now-iconic chicken sandwich to the world in August 2019, and shortly after, Chick-fil-A took to Twitter to remind everyone that its own sandwich was the true original. But Popeyes quickly shut down the claim, instigating a fast food war over the best chicken sandwich. Since then, more variations of chicken sandwiches have been added to the menus of popular restaurants and fast food franchises across the U.S., and even KFC's wholesome spokesman Colonel Sanders added to the trash talk in a recent advertisement (via YouTube).
Nearly two years later, the chicken sandwich wars are still in full force, and it's gotten so out of hand that the candy brand Airheads also decided to participate with their candy sandwich hybrid, the Airhead Candy Chicken Sandy (via The Takeout). Popeyes, however, is ready to finish what they started. In an attempt to finally put an end to the chicken sandwich wars, Popeyes decided to publicly purchase one million chicken nuggets from its competitors in a nationwide commercial (via YouTube), as a symbolic gesture of co-existing in peace — or rather, "piece."
Popeyes is introducing chicken nuggets as a peace offering
According to People, Popeyes calling for a truce is a promotion for its menu's new eight-piece chicken nuggets, but it's also an extension of the "We Come in Piece, 8 Piece" donation campaign. As QSR further elaborates, Popeyes is buying the cash equivalent of one million chicken nuggets from competitors like McDonald's, Wendy's, Chick-fil-A, and Burger King. Then they're donating to Second Harvest Bank of Greater New Orleans and Acadiana. Popeyes will also be matching the customer donations made through the Popeyes Foundation website up to $25,000.
Clearly, Popeyes is serious about ending the chicken sandwich wars, but that doesn't mean its signature chicken sandwiches are taking a step back. In fact, Chief Marketing Officer Bruno Cardinali says the success of the Chicken Sandwich exceeded all their expectations, and that's precisely why the company took the opportunity to give back to the community through the We Come in Piece campaign. "The launch of our Chicken Sandwich was incredible, and we're humbled by the amount of love and positive reviews," Cardinali said in a statement shared on QSR. It's hard to beat the tastiness of the original chicken sandwich, but considering the nuggets are for a good cause, it's safe to say it's a win-win all around.