Creamy Pineapple Coleslaw Recipe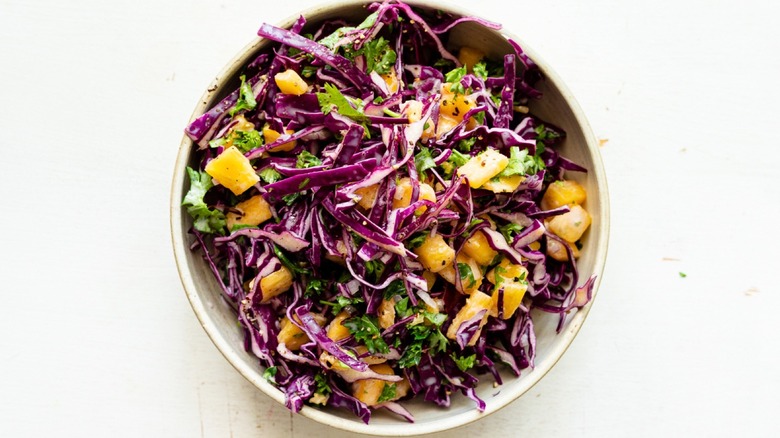 Sher Castellano/Mashed
What country do you think created the first coleslaw? While ancient Romans served some cabbage dishes, according to NPR, coleslaw reminiscent of the American backyard barbecue staple that we know today most likely originated in the Netherlands! This delectable, creamy slaw inherited its name from the Dutch word koosla, which translates to "cabbage salad." Recipes for the famous side appeared in America from at least 1770 onward, and have decorated tables ever since. The dish has gone through many versions through the years, and you can find recipes that use ingredients like bok choy, granny smith apples, and sweet onions to jazz up the flavor. Some iterations even remove the cabbage and replace it with another root vegetable such as carrots or beets.
Recipe developer Sher Castellano's interpretation on this classic uses a combination of colors and tastes, mostly savory with a touch of sweetness, by using red cabbage, pineapple, red onions, and cilantro for the salad. Then she whisks together yogurt, lime juice, sea salt, pepper, and sugar for the dressing and tops the delicious mix with some fresh parsley. 
"I just like simple recipes using vibrant bold flavors," she said of the dish that will take you just 15 minutes to prepare.
Get your ingredients ready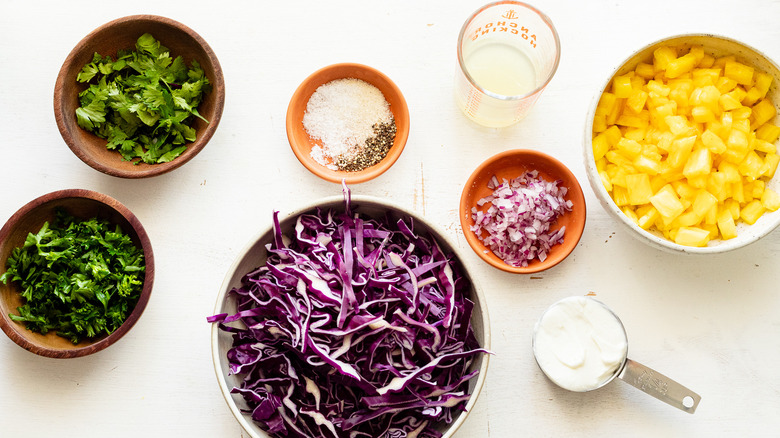 Sher Castellano/Mashed
Be prepared to use your knife skills with this recipe because it will have you shredding the three cups of red cabbage, dicing up the pineapple, mincing the red onions, and then, finally, chopping the fresh cilantro and parsley.
If such slicing skills aren't in your wheelhouse yet, well, a recipe like this will soon make you an expert. (If you need some tips, here are the three most important kitchen knife skills everyone should know.) "Practicing knife cuts is a great way to get confident in the kitchen," said Castellano, who recommended using a sharp knife for the best results. 
Mix the salad ingredients together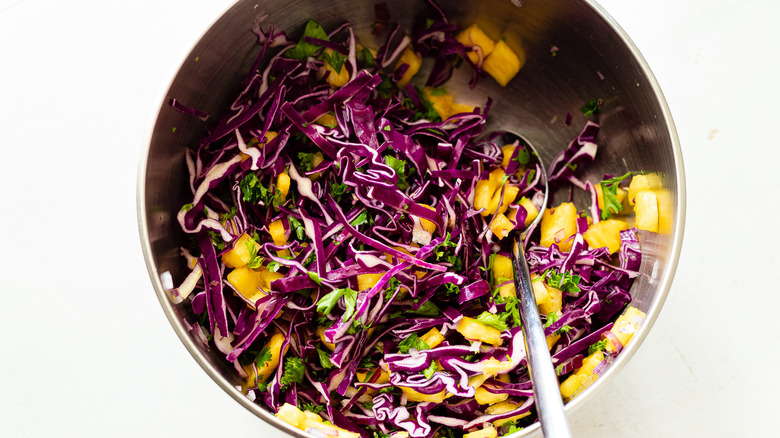 Sher Castellano/Mashed
In a medium-sized bowl, toss together the finely shredded red cabbage, pineapple, red onions, and the chopped fresh cilantro. "You could add fresh diced jalapeño if you wanted to add heat," suggested Castellano. 
The ingredients are so bright and colorful — with the slaw's mix of dark red and purple, the pineapple's yellow, and the cilantro's cyan-green — that the dish adds decoration to the table. Who could resist adding this to their plate? 
Another plus is that this combination of ingredients will create a side dish with well-balanced, savory flavors and crunchy, juicy, and soft textures.
Make the dressing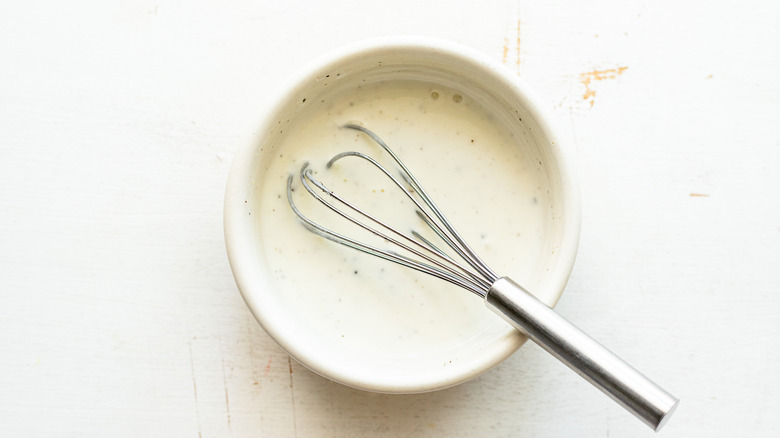 Sher Castellano/Mashed
Next up is making the dressing. In a small bowl, you'll need to whisk together the plain yogurt, lime juice, sugar, fine sea salt and black pepper. The yogurt adds creaminess without needing mayo.
You are almost finished now; just one step away from enjoying the creaminess of this coleslaw. "Following the recipe exactly will yield a perfect outcome," advised Castellano. "This should be foolproof." So stick to the suggested ingredients; don't be tempted to reduce the salt or the citrus. "Acid is imperative for flavor balance," she added. "The salt as well."
Mix the dressing into the slaw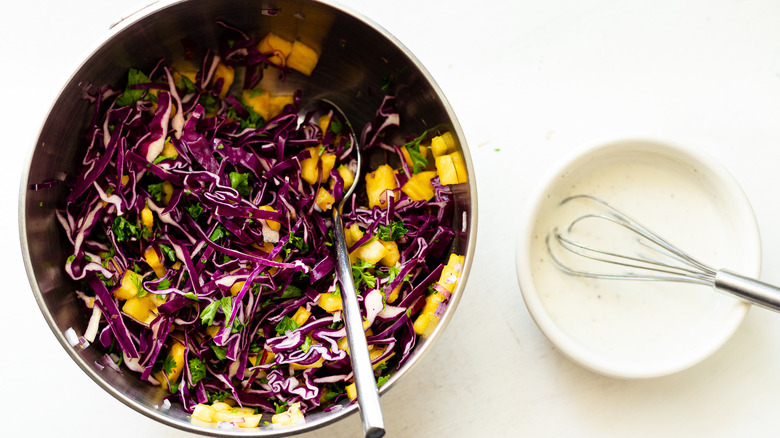 Sher Castellano/Mashed
Finally, pour the dressing over the cabbage mixture and stir to combine well. If you are serving immediately, you can add the half cup of chopped fresh parsley. 
The coleslaw will last in the refrigerator for up to three days. This perfect side dish enhances any summer meal, according to Castellano. You can serve it with hot dogs and burgers (and veggie patties for non-meat-eating friends and family) at a backyard barbecue. You can use it on Taco Tuesday when you bring out all the fixings for do-it-yourself burritos and shells. You can even use it for any grilled meat, whether you are making chicken, steak or fish. It's practically perfect with any combination.
Creamy Pineapple Coleslaw Recipe
This creamy pineapple coleslaw recipe combines red cabbage, pineapple, red onions, and cilantro with a yogurt-lime dressing. It's a new barbecue classic!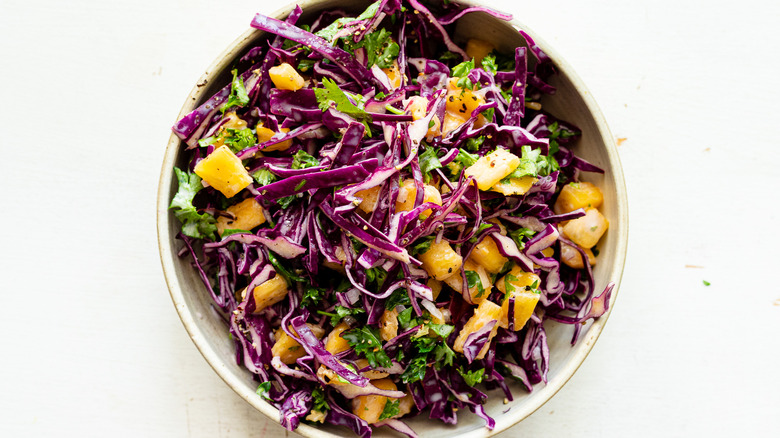 Ingredients
3 cups finely shredded red cabbage
1 ½ cups diced pineapple
¼ cup red onions, minced
2 tablespoons fresh cilantro, chopped
¼ cup plain yogurt
2 tablespoons lime juice
1 teaspoon sugar
½ teaspoon fine sea salt
¼ teaspoon black pepper
½ cup fresh parsley, chopped
Directions
In a medium-sized bowl, toss together the cabbage, pineapple, red onions, and cilantro.
In a small bowl, whisk together the yogurt, lime juice, sugar, salt, and pepper.
Pour the dressing over the cabbage mixture and stir to combine well.
Top the salad with the parsley.
Serve or refrigerate the salad for up to 3 days.
Nutrition
| | |
| --- | --- |
| Calories per Serving | 47 |
| Total Fat | 0.5 g |
| Saturated Fat | 0.2 g |
| Trans Fat | 0.0 g |
| Cholesterol | 1.3 mg |
| | |
| --- | --- |
| Total Carbohydrates | 10.6 g |
| Dietary Fiber | 1.7 g |
| Total Sugars | 7.0 g |
| Sodium | 211.7 mg |
| Protein | 1.3 g |