Cold Brew Fans Won't Want To Miss This Taco John's Deal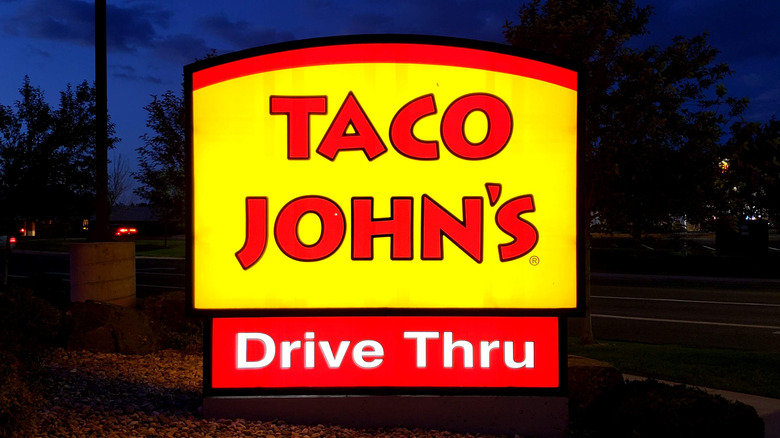 Shutterstock
Taco John's just announced some really exciting news that has our mouths watering. According to RestaurantNews.com, the Midwest and Mountain region chain has released a cool and refreshing addition to their special value menu, which is called the ValuEST menu because it offers some of the bacon-iest, guac-iest, and steak-iest meal options at an affordable price point (via Taco John's).
Now, Taco John's wants the ValuEST menu to be the cold brew-iest, too with a new caffeinated offering rolling out in locations, making TJ's the first Mexican quick-serve restaurant to serve the popular coffee beverage (according to the announcement on RestaurantNews.com). The cold brew drink is made with 100% Arabica coffee beans and comes in the choice of a mocha or vanilla flavor. It costs $2 and is available all day starting August 2. The rollout also includes an incredible deal that coffee lovers and Taco John's fans won't be able to resist, either.
Taco John's celebrates the new cold brew with a special deal
As a part of the rollout of their Cold Brew coffee, Taco John's is giving customers the chance to try the drink for free. According to RestaurantNews.com, If you download Taco John's mobile app, you will receive a coupon that can be redeemed for a free Cold Brew (either the mocha or vanilla flavor) with the purchase of any breakfast item. You must have the app and can redeem the free gift through the mobile ordering platform, or you can also show the coupon while ordering in the restaurant or drive-thru. This limited-time special promo is good from August 7 to August 12 and August 29 to September 8.
"We continue to think of new ways to push boundaries in the quick-service industry and saw the opportunity to capitalize on the fast-growing cold brew trend ... as the only Mexican quick-service restaurant to serve our own premium cold brew, we are confident it will be a hit among our loyal fans," Taco John's Chief Marketing Officer Barry Westrum stated.
With the opportunity to try the Cold Brew for free, we definitely agree that it has the potential to lure in some coffee lovers who can decide for themselves how delicious the new drink is.