Instant Pot Refried Beans Recipe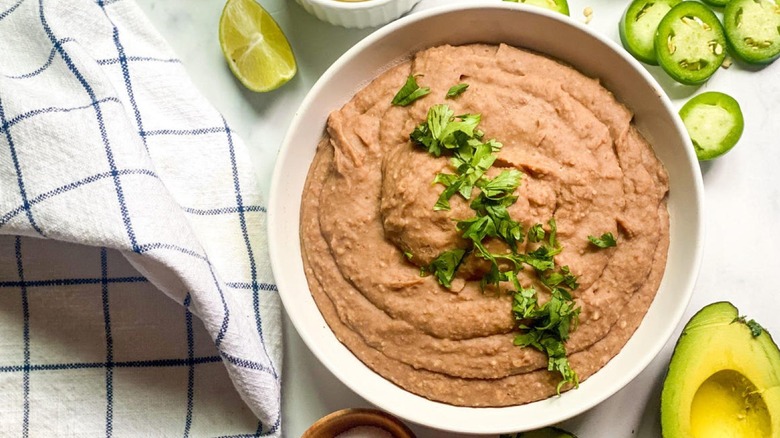 Miriam Hahn/Mashed
If you already own an Instant Pot, then chances are you know how useful this piece of equipment can be. The number of meals, side dishes, and desserts that you can whip up is seemingly endless. 
Recipe developer Miriam Hahn of YouCare-Selfcare is enthusiastic about putting her Instant Pot to good use. As is a wellness coach and plant-based nutritionist, she uses it to maintain a healthy and varied diet amidst her busy lifestyle. This recipe for Instant Pot refried beans definitely takes advantage of the handy device, requiring close to zero prep time. If you've ever tried cooking dried beans without an Instant Pot, you'll be delighted by the efficiency.
Hahn remarks that the recipe is, "pretty easy if you have experience with the Instant Pot." If it's your first time using one, just be sure to read through the steps attentively for success. 
Hahn loves making these refried beans and describes them as "super versatile!" If you're wondering how to incorporate them into a meal, follow Hahn's advice: "I always make these if I am doing a Mexican-themed dinner with build-your-own tacos or burritos." In case you're still hesitating, Hahn confirms that "they are always a hit."
Gather the ingredients for these Instant Pot refried beans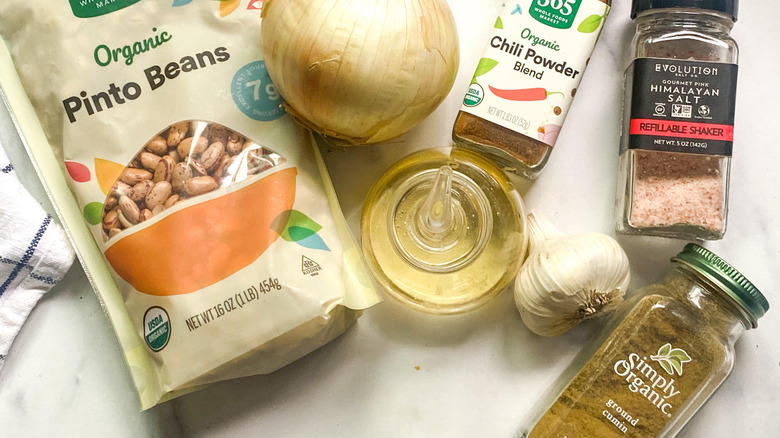 Miriam Hahn/Mashed
As mentioned, most of the time required for this recipe will involve the Instant Pot being busy at work. So be sure to have your ingredients ready so you can add them all into the pot at the beginning. 
To start off, you'll sauté onions and garlic to create a flavorful base for the beans. Hahn isn't fussy about the type of oil — stick to what you regularly use for sautéing vegetables. Next, pinto beans are the star ingredient for this recipe. You'll need 16 ounces, or about two cups. 
Pinto beans are common in Mexican cuisine, and Hahn notes that they're the traditional bean used for refried beans. They go from beige with red streaks to brownish-pink once cooked (via Healthline). While she doesn't usually blend other beans, "If you sub a different bean, the time will vary a bit," she says.
You'll also need to have plenty of water on hand to cook the beans in the Instant Pot. And to season the refried beans, Hahn uses chili powder, cumin, and salt. She encourages experimentation and says, "You can play around with the spices." Another variation to try out that Hahn recommends if you're feeling adventurous and want a spicy kick is to "sauté a poblano pepper or a mix of peppers that are diced really fine before adding the beans." 
Prep the pinto beans, onions, and garlic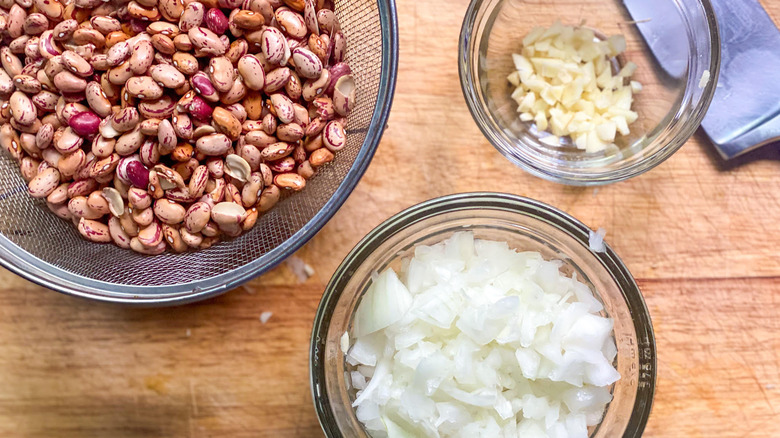 Miriam Hahn/Mashed
Start off by rinsing the pinto beans — use a colander to help give them a proper wash. At a quick glance, dried beans might look fine, but depending on the source, they might contain the occasional pebble or have collected dirt somewhere along the way. 
Next up, dice the onions and mince the garlic finely so that they'll cook quickly when you give them a preliminary sauté.
Sauté the onions and garlic, then add the beans, spices, and water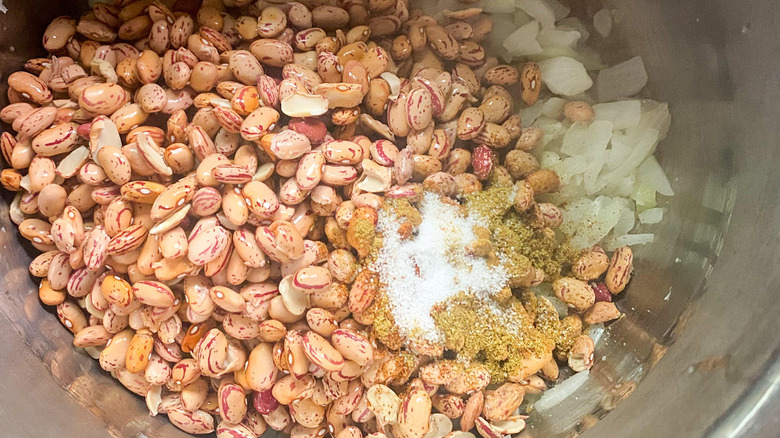 Miriam Hahn/Mashed
Turn your Instant Pot to the "sauté" setting and add a teaspoon of oil to the pot, allowing it to warm up. Then, toss in the diced onions and the minced garlic and cook them for three minutes, frequently stirring to avoid sticking. 
Next, cancel the "sauté" setting and add in the dried pinto beans, chili powder, cumin, salt, and water. Give all of the ingredients a good stir so that they are properly combined.
Seal the Instant Pot and pressure cook the beans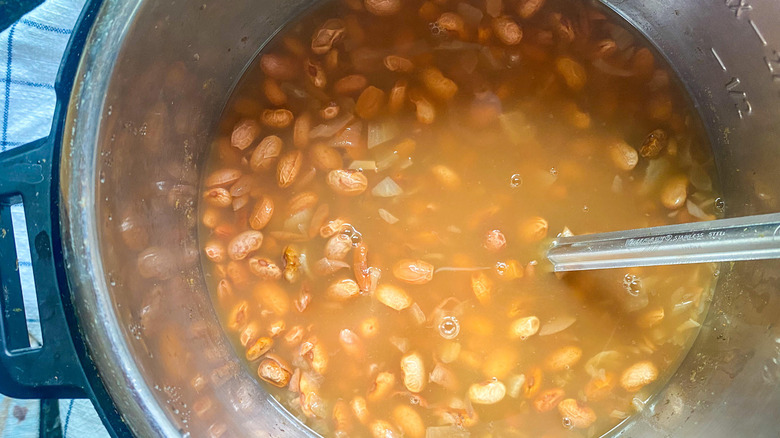 Miriam Hahn/Mashed
Cover the Instant Pot with its lid and turn the nozzle to the "sealing" setting. Select the "pressure cook" function and set the timer for 40 minutes. You'll notice that the timer won't begin for about 15 minutes as the Instant Pot builds pressure. A huge advantage of an Instant Pot is that you don't have to stand around and watch it while it is functioning. 
Once the 40-minute timer goes off, let the beans sit for another 20 minutes. Now, turn the nozzle on the lid to the "venting" function. Be sure to stand clear of the cover in case additional steam escapes through the vent.
Drain then blend or mash the beans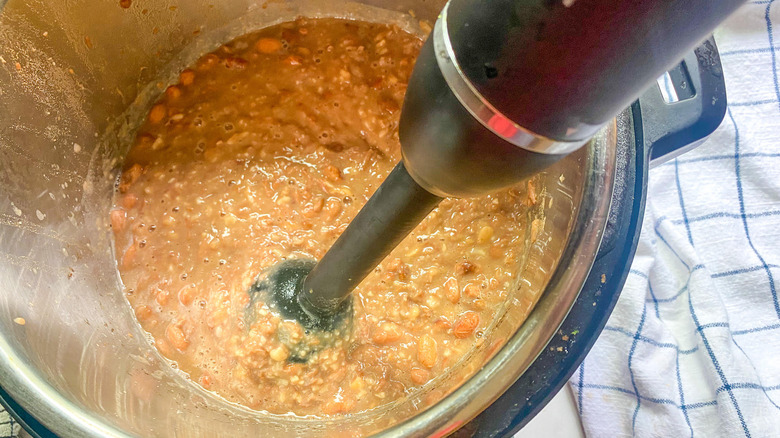 Miriam Hahn/Mashed
Set out a large bowl, and drain the beans over it to reserve the cooking water. Add two cups of the reserved cooking water and the cooked beans back into the Instant Pot. You can toss out the remaining water at this point. An immersion blender is the simplest option, but alternatively, an upright blender will do. 
If you're using an immersion blender, place it into the beans and blend them until they are creamy. For an upright blender, carefully pour the contents into the vessel and blend them until the beans are creamy. For an equipment-free option, use a potato masher and do it by hand. 
Taste the refried beans at this point and adjust the salt if needed.
Serve the creamy refried beans with your choice of toppings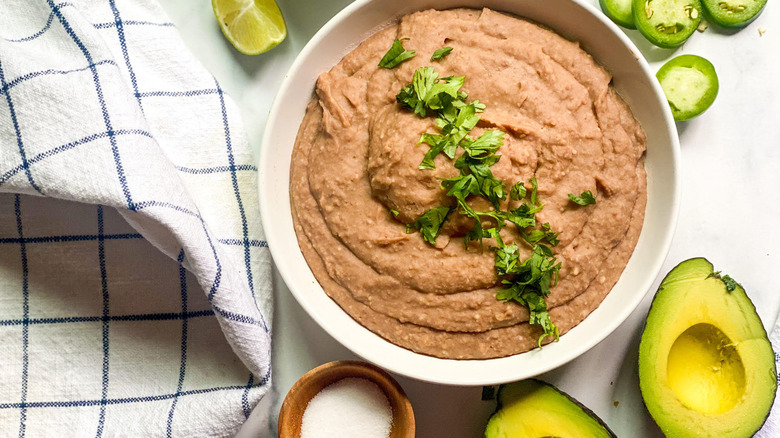 Miriam Hahn/Mashed
Now that these delicious refried beans are ready, it's time to plan out how you will serve them. Hahn has plenty of ideas: "Top [them] with salsa, avocado, red onion, fresh tomatoes, cilantro or lettuce," she says. As such, they'd make a great dip for tortilla chips. Hahn adds, "I love to make tostadas out of these beans and top [them] with fresh lettuce and tomato." Alternatively she opts for flour tortillas to make burritos. Since refried beans are a Mexican, Tex-Mex, and overall Latin American food, they'll go well with cuisines from all of these regions. 
If you want to make a large batch to keep around, Hahn says, "You can freeze these for up to a month and they are fine." Otherwise if you plan to eat them at once, "They last great for up to five days in the fridge in a sealed container," she adds. 
You'll definitely have no problem finding delicious ways to use these refried beans! 
Instant Pot Refried Beans Recipe
This Instant Pot refried beans recipe takes advantage of the handy device. With almost no prep time, you can make the perfect filling for tacos or burritos.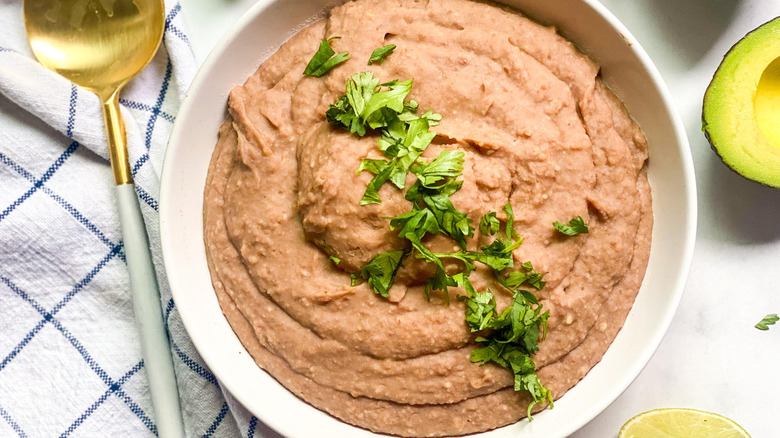 Ingredients
1 teaspoon oil
1 onion, diced
4 cloves garlic, minced
2 cups dried pinto beans
1 teaspoon chili powder
1 teaspoon cumin
1 teaspoon salt, plus more to taste
6 cups water
Optional Ingredients
Salsa
Avocado
Red onion
Diced tomatoes
Chopped Cilantro
Lettuce
Directions
Rinse the pinto beans.
Select the "sauté" setting on the Instant Pot.
Add the oil to the pot and let it heat up.
Add the onion and garlic and cook them for 3 minutes, stirring frequently.
Cancel the "sauté" setting and add the dried pinto beans, chili powder, cumin, salt, and water and stir to combine.
Place the lid on the Instant Pot and make sure the nozzle on the top is set to "sealing."
Select "pressure cook" and set the time to 40 minutes.
The Instant Pot will take about 15 minutes to reach pressure before the cook-time begins.
When the timer goes off, let the beans sit for 20 minutes.
Change the nozzle on the lid to "venting." Stand back in case excess steam releases.
Drain the beans over a large bowl to reserve the cooking water.
Put the drained beans back in the Instant Pot along with 2 cups of the cooking water, discarding the rest.
Blend the beans using an immersion blender, upright blender, or potato masher until they're creamy.
Taste the beans and add salt if necessary.
Serve the refried beans topped with salsa, avocado, red onion, fresh tomatoes, cilantro, or lettuce.
Nutrition
| | |
| --- | --- |
| Calories per Serving | 183 |
| Total Fat | 1.3 g |
| Saturated Fat | 0.2 g |
| Trans Fat | 0.0 g |
| Cholesterol | 0.0 mg |
| | |
| --- | --- |
| Total Carbohydrates | 32.4 g |
| Dietary Fiber | 7.9 g |
| Total Sugars | 1.7 g |
| Sodium | 314.6 mg |
| Protein | 10.7 g |