How CSK's Champions Made The Ultimate Birthday Cake For Yolanda Gampp - Exclusive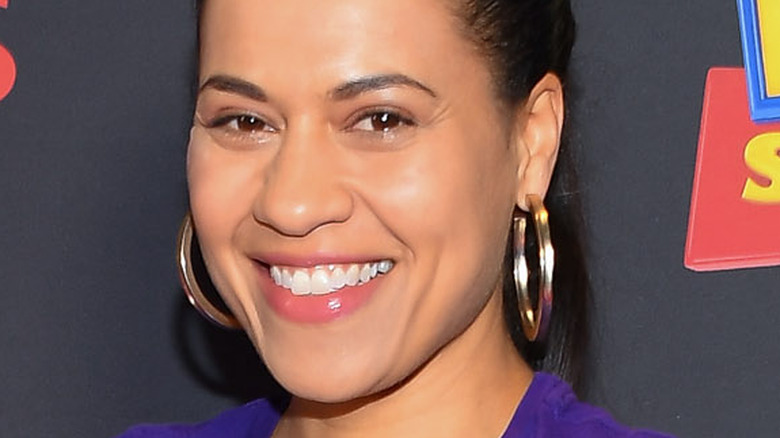 Gp Images/Getty Images
Fans of Fox's latest and greatest baking show, "Crime Scene Kitchen," have likely seen that bakers Luis Flores and Natalie Collins-Fish won the birthday cake-off in the finals on July 21. During the last bake, the finalists were asked to make the ultimate birthday cake for judge and cake queen Yolanda Gampp. Clearly, this duo pulled out all of the stops. They even included all of Gampp's favorite ingredients. When Flores and Collins-Fish sat down for an exclusive interview with Mashed, it was clear a lot of thought went into their win.
"Well, we knew that we had to use caramel and we had to use chocolate cake. So, in the Crime Scene, there were different flavors and we could pick however we wanted to use them. We just had to incorporate all the ingredients to the best of our ability," Collins-Fish said. "We really went crazy on that last cake," she added. But it was Flores who revealed just how they got the birthday cake so right. "Natalie knew kind of going in when we're doing research, she knew that Yolanda likes ... Banana and chocolate together. Banana and caramel go really good. I was like, 'Oh, we could do Bananas Foster,'" he said. Of course, "Crime Scene Kitchen" being television, Flores was ready to put on a show. "So, I had to do a little flambé action and everything. We're all about the show," Flores joked.
They're not just style and no substance
Even with the kitchen torch, the winning team managed to do far more than impress the viewers. They succeeded because they are fans of Gampp's channel and were well versed in what she likes in a cake. "I've been following Yolanda for a long time," Natalie Collins-Fish said. Their winning cake included a tier of vanilla confetti cake with a raspberry buttercream, a lemon blueberry cake coated with vanilla Italian meringue buttercream, and a bottom tier of devil's food cake with Bananas Foster filling and caramel diplomat cream.
Having followed Gampp for so long, the team was able to tailor the flavors and design so that it would be aesthetically pleasing to the decorator and judge. "We went with the different flavors and then we wanted to make sure we include her favorite, but also the explosion cake that was more of her personality," Collins-Fish said. "There's like a little bit of everything to make it more personal and not just like, 'Oh, here's a really pretty cake,'" she added. To top it all off, Collins-Fish told Mashed, "We wanted her to have a candle to blow out." And that birthday candle along with the pink icing and confetti explosion were just what Gampp needed to feel like celebrating. Of course, winning the entire competition and a $100,000 prize certainly gave Flores and Collins-Fish something to celebrate too.
Follow Cake Lyfe by Nattie J for updates about the winning duo's upcoming bakery.