Bananas Foster Recipe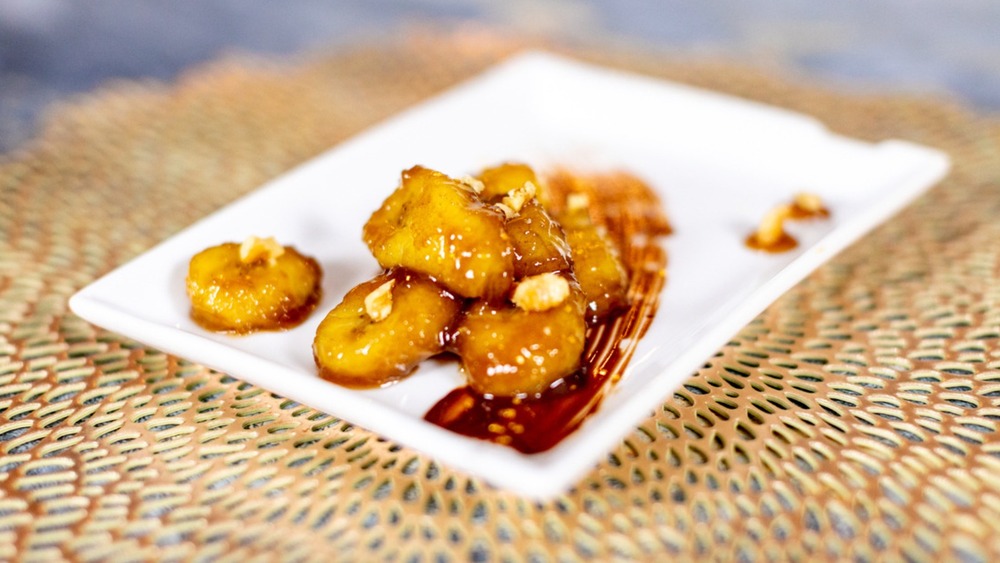 Mashed/Nathaniel Lee
Bananas Foster is not an iconic dessert, but it also provides quite the pyrotechnic display. It is surprisingly modern in origin, at least as far as famous foodstuffs go, having been invented in 1951 at Brennan's on New Orleans' legendary Bourbon Street. So what, exactly, possessed a chef to set fire to an innocent fruit? Well, according to NPR, it's because she could.
Bananas Foster, as the story goes, was invented by Ella Brennan, sister of restaurant owner Owen Brennan. When her brother gave her just a moment's notice to create a special dessert for the New Orleans Crime Commission chairman (a guy by the name of Foster), she grabbed what was on hand, which just so happened to be bananas. As for the fire part, that was inspired by the flaming baked Alaska as prepared by another New Orleans institution, Antoine's.
While there have been a number of variants on the bananas Foster theme, this version, created by Nathaniel Lee of Beginner Food, is pretty similar to the original Brennan's creation. While there's nothing particularly tricky or time-consuming about the recipe, the most important thing to remember is to be very careful while you flambé.
Acquire the necessary ingredients for this bananas foster recipe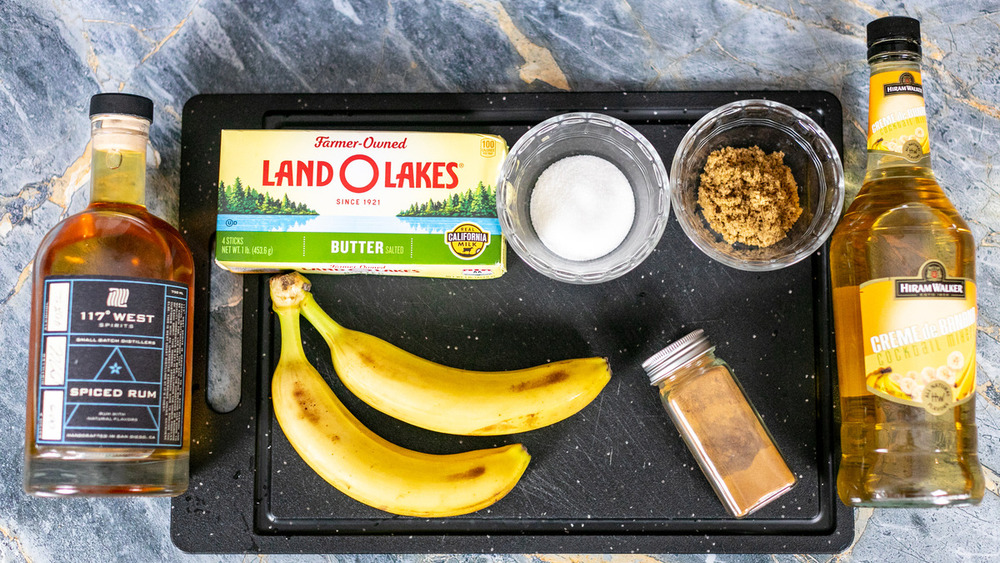 Mashed/Nathaniel Lee
Most of the ingredients for the bananas Foster are things you're likely to have on hand already. You'll need both white and brown sugars, and you'll also need some ground cinnamon. You'll need butter, too — salted is called for here, but if you just have unsalted on hand, you can always add a bit of salt.
You will also, of course, need two bananas, ripe but not overripe. Unless you're exceptionally lucky at timing your fruit-buying, you may have to make a grocery run to pick up a few of those. Any bananas that have been hanging around the fruit bowl for a while have probably picked up a few unsightly black spots and some mushiness and may be better suited for banana bread.
You may need to make a trip to the liquor store to make this bananas Foster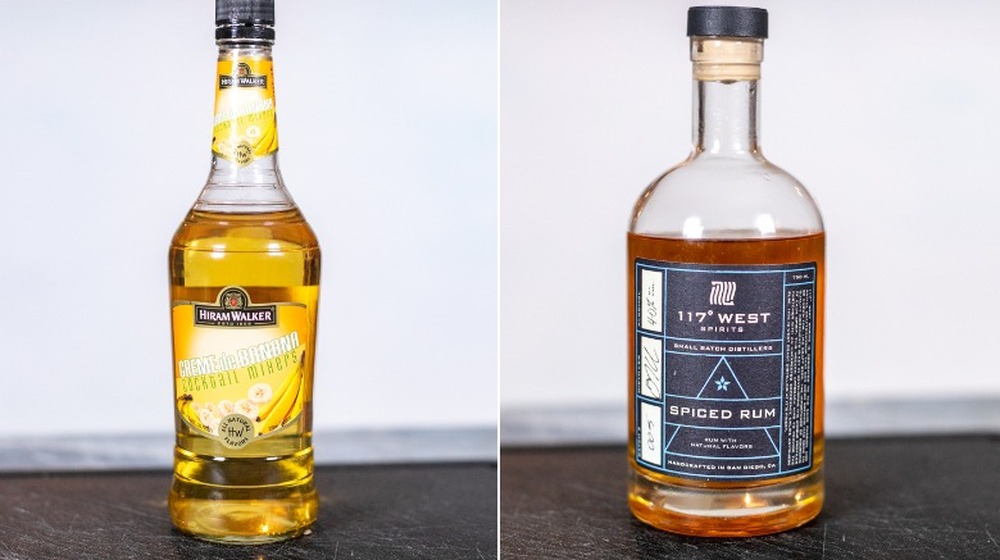 Mashed/Nathaniel Lee
The other all-important ingredients, at least if you want to flambé your bananas Foster, are boozy ones. You can, of course, make a flame-free, alcohol-free version — there's no culinary law forbidding this. 
In Nathaniel Lee's bananas Foster, as in the original recipe, two types of liquor are called for. The most important of these, for purposes of ignition, is a dark rum. The banana liqueur is most likely going to be lower proof, so on its own it would not ignite, but it does add some extra banana-ness to the flavor. If you really can't justify buying an entire bottle of this stuff just to use a single ounce of it in this recipe, though, you can skip it and just double up on the rum. You could also use a flavored rum such as coconut or even swap out the rum with bourbon for what Lee calls "a more American version."
Prepare the bananas to make this bananas Foster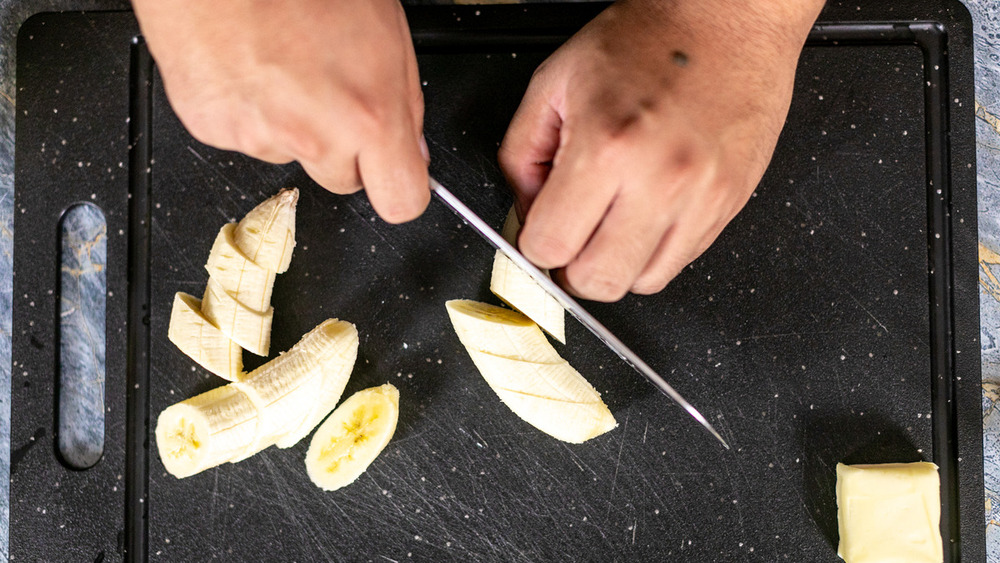 Mashed/Nathaniel Lee
You'll start by peeling the bananas, of course, but don't grab them by the stems! The best way to denude this fruit, it turns out, is from the blossom end since it makes for less waste and fewer strings attached. Once your bananas are bare, you'll need to slice them. This is pretty self-explanatory — just grab a knife and get to work!
As to how your sliced bananas should look, Lee suggests cutting them a quarter-inch thick on the diagonal. You can also just cut them into round coins if you like, and larger chunks also work well too. You could even go wild and cut them lengthwise into long, flat strips. Any way you slice it, your bananas Foster is going to come out tasting great!
Cook the banana in the sauce for this bananas Foster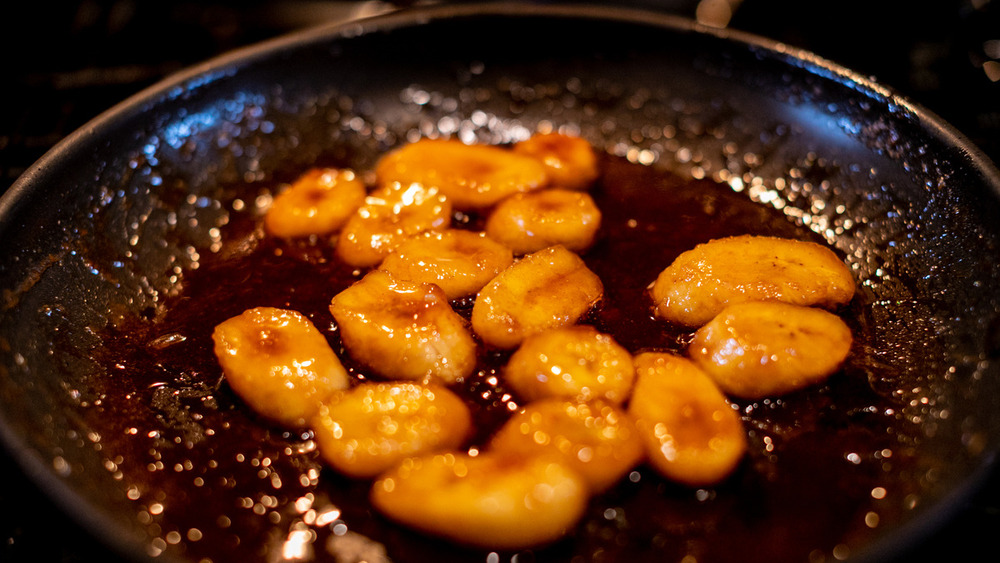 Mashed/Nathaniel Lee
Combine the cinnamon with both types of sugar. Now melt the butter over medium heat in a heavy saucepan that has a lid. (The lid comes in later — you won't need to cover the pan at this point.) Add the sugar mixture to the butter and stir it in well to combine the ingredients. Cook the sauce for three minutes, then add in the sliced bananas and cook them for three more minutes or until they appear to start turning brown. Once they reach this point, turn the stove burner off and get that pot lid ready. Things are about to heat up!
Make sure your fire safety measures are in place before you make this bananas Foster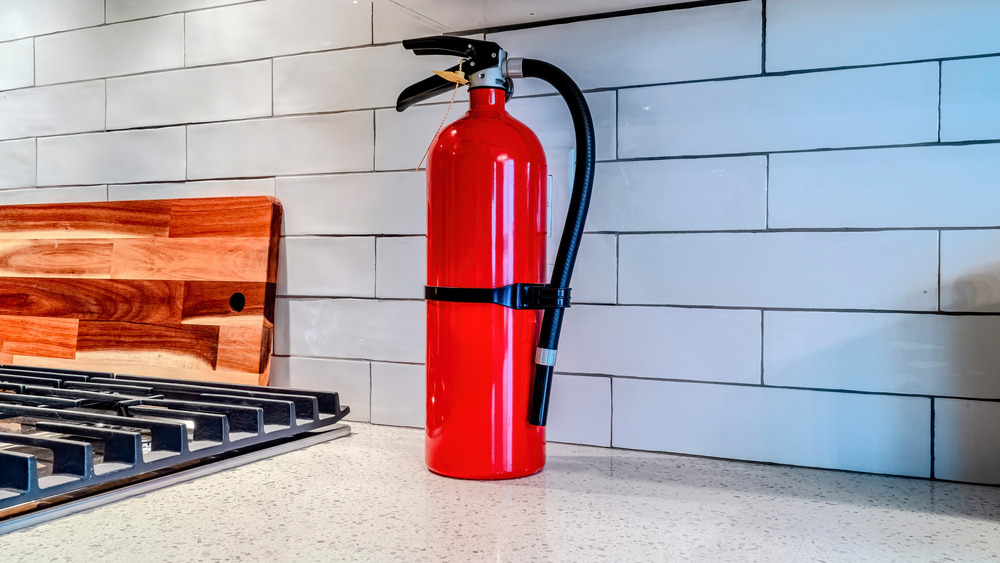 Shutterstock
The next step in the actual bananas Foster recipe involves flambéing the dish, but before you set fire to anything in your kitchen, stop! Take a moment (the bananas will be okay) to check and make sure you've got everything you need to stay safe. As Lee cautions, "Always have a plan for a fire BEFORE you light anything." You'll need to have a fire extinguisher nearby, and you'll also be needing a heavy pot lid (preferably the one that fits the pot you're cooking in) in order to smother the flames if necessary. Lee warns that "flames can reach one foot or more!" so make sure that there's nothing flammable in the blast zone.
Flambé your bananas Foster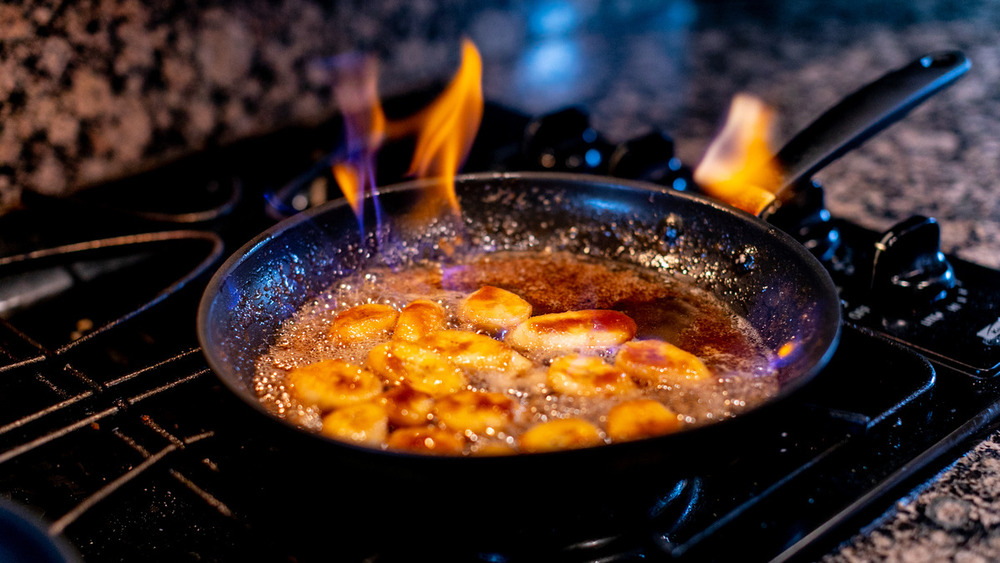 Mashed/Nathaniel Lee
Start by pouring both liquors into a small cup or mug. Lee says you should never, ever add the alcohol straight from the bottle lest you find yourself holding a Molotov cocktail. Double-check to make sure that stove burner is off. Now pour the booze over the bananas and use a long lighter or match (the kind you use to light a barbecue grill) to set it on fire. The alcohol should burn off in about 30 seconds, but it might take up to a minute if you've used higher-octane booze. If the flames don't show any sign of subsiding after this time, put them out by smothering them with that pot lid.
Once the flames are entirely out, turn the stove burner back on again and cook the bananas over medium heat for another two minutes or so until the sauce is the consistency of thick syrup. Turn off the heat and let the bananas Foster cool for ten minutes before serving.
How to serve your bananas Foster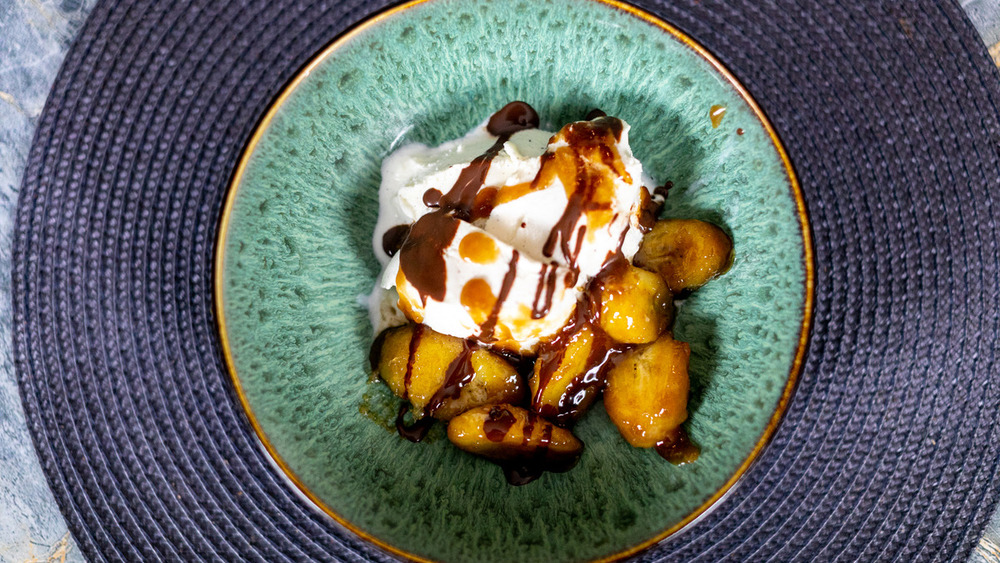 Mashed/Nathaniel Lee
The traditional method for serving bananas Foster, according to Brennan's, is over ice cream. While vanilla is classic, chocolate could also be delicious, as well as butter pecan or perhaps a dulce de leche or cinnamon-flavored ice cream.
Ice cream isn't the only base for bananas Foster however. You could also spoon the bananas over French toast, waffles, or crepes. Feel free to add in any other toppings you may like as well, including chopped nuts. Don't be afraid to get creative here and try something new!
Bananas Foster Recipe
While there have been a number of variants on the bananas Foster theme, this version is pretty similar to the original creation.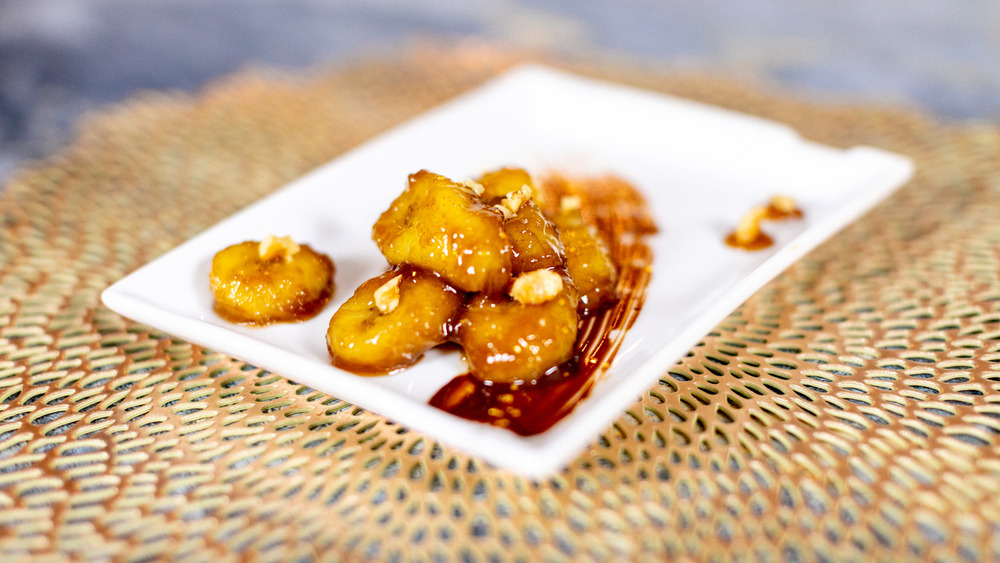 Ingredients
2 tablespoons salted butter
2 tablespoons white sugar
2 tablespoons brown sugar
1 teaspoon cinnamon
2 bananas sliced diagonally into ¼-inch pieces
1 ounce dark rum
1 ounce banana liquor
Optional Ingredients
Flavored rum, bourbon, vanilla or rum extract, or buttermilk (substitute for dark rum and/or banana liqueur)
½ cup chopped walnuts or pecans
Ice cream, pound cake, French toast, waffles, or pancakes for serving
Directions
Peel and slice the banana.
Mix the sugar and cinnamon.
Melt the butter in a heavy saucepan.
Add cinnamon-sugar mix to the melted butter.
Cook sauce for 3 minutes over medium heat until sugars are dissolved.
Add sliced banana to the sauce.
Cook bananas for 3 minutes or until they start browning.
Turn the stove off and get a heavy lid ready in case it's needed to put out the flames.
Add the rum and liqueur to the pan.
Flambé the liquor with a long lighter or match.
Use a pot lid to force the flames out if they don't go out on their own after 30 seconds to one minute.
When the flame is out, reduce the sauce down for another 2 minutes or until it reaches the consistency of thick syrup.
Let the bananas Foster cool for 10 minutes before serving over ice cream, cake, French toast, waffles, or pancakes.
Nutrition
| | |
| --- | --- |
| Calories per Serving | 336 |
| Total Fat | 12.0 g |
| Saturated Fat | 7.4 g |
| Trans Fat | 0.5 g |
| Cholesterol | 30.5 mg |
| | |
| --- | --- |
| Total Carbohydrates | 52.1 g |
| Dietary Fiber | 4.1 g |
| Total Sugars | 37.2 g |
| Sodium | 95.5 mg |
| Protein | 1.6 g |