Outback Steakhouse's New Appetizer Is Perfect For Dip Lovers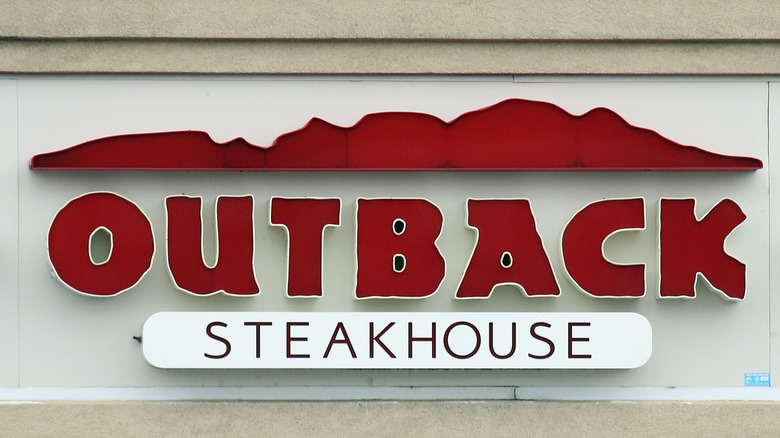 Bruce Bennett/Getty Images
Move over Bloomin' Onion, Outback Steakhouse's new appetizer is going to be the star of the table. According to Brand Eating, Outback's latest Dip Trio features Three Cheese Steak Dip, new Kickin' Pimento Cheese Dip, and Spinach Dip. The three dips will be served with tortilla chips. According to the Outback menu, the Dip Trio is available with chips for around $14.99. The Three Cheese Steak Dip is also available as its own appetizer in what appears to be a larger serving. This menu item combines gouda, parmesan, and jack cheeses with steak, red bell peppers, and onions. It is a hearty appetizer for steak fans.
While the Three Cheese Steak Dip is already a favorite, the two other dips in the Dip Trio are a nod to classic appetizers. Spinach Dip is always a favorite, but this version has a stronger, creamier flavor with the jack and cheddar cheeses. Lastly, the Kickin' Pimento Cheese Dip is similar to some classic recipes, but the "signature" seasonings might be the game-changer. Although pimento cheese might not be an Australian classic, many people will enjoy this taste of the South. Wonder if it could be served as a side for a burger? The Dip Trio is a limited-time menu offering, but the exact end date is not currently available. Prices may vary depending on restaurant location.
Outback has even more limited-time menu options
While many people are excited about the limited time Dip Trio appetizer offer, there are two more new menu items available. According to Brand Eating, the added menu items are a Filet and Shrimp on the Barbie and a Bourbon Glazed Bone-In NY Strip. Looking at these food options, there is a connection to other popular menu choices. For example, Outback offers a Sirloin and Shrimp on the Barbie. The main difference between the permanent menu item and the limited-time offering is the steak (i.e. filet medallions or a strip).
The bourbon-glazed NY Strip is the more interesting limited-time menu option. While there are several versions of steak on the menu, this one is the only version with a sauce. The sweet and savory Jim Beam Bourbon glaze sounds more like a barbecue meal than the Aussie-inspired steak dinner. It would be nice if the restaurant had paired this menu item with a signature cocktail to highlight those Jim Beam Bourbon flavors. Maybe that classic phrase, "no rules, just right" applies to a wide breadth of menu options.