Authentic Pancit Recipe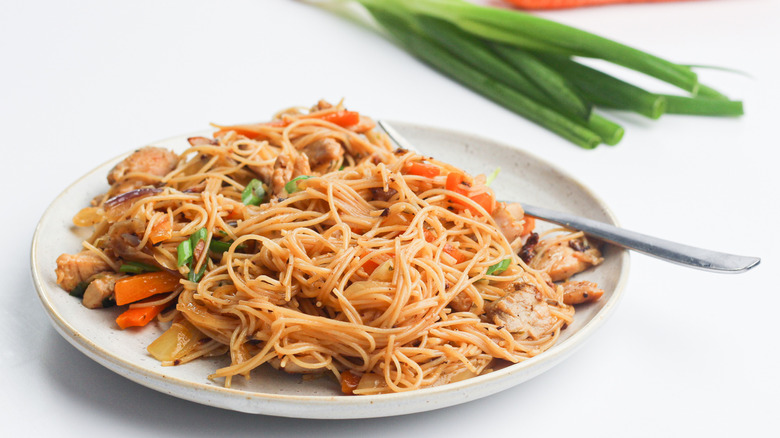 Susan Olayinka/Mashed
Noodles first became part of Philippine food culture by way of early Chinese traders. The name "pancit" itself is said to come from the Hokkien phrase "pian i sit," or something that is cooked quickly (via Foodicles). Today, "pancit" is a catch-all term that refers to noodles, which can be made with rice, mung beans, or eggs, and which are then cooked with chicken or seafood and vegetables.
What "pancit" means to a Filipino depends on who you ask. Some consider the ultimate pancit to be pancit canton, a stir-fried dish made with egg noodles, prepped with fresh vegetables and meats that include pork liver and sliced fish balls. Then there is pancit palabok or pancit luglog, where boiled rice noodles are topped with a rich, flavorful shrimp-based gravy (via Guide to the Philippines). 
Recipe developer Susan Olayinka's version of pancit is a traditional recipe executed with a thin, rice vermicelli, also known as bihon guisado (via Pepper). "I have had it many times as we have many family friends who are Filipino. My mum actually used to bring home these types of dishes from work, when there was either a birthday or somebody was leaving, or when our family friends' children [had] a birthday, they used to [serve] this there," she tells us. 
Gather your ingredients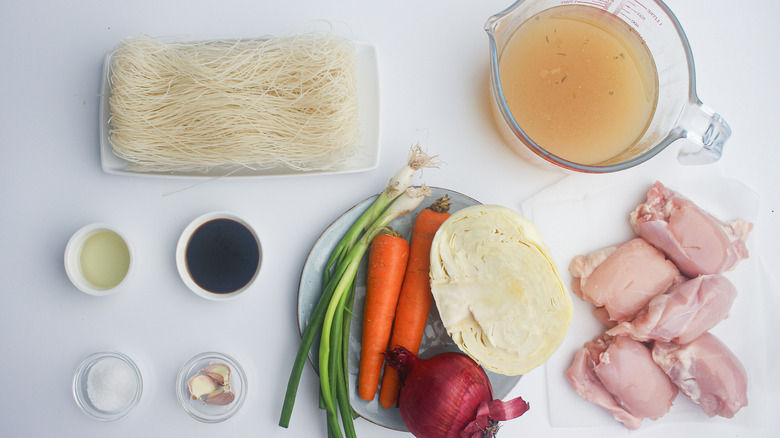 Susan Olayinka/Mashed
To make a basic, classic pancit, you'll need red onions, garlic cloves, white cabbage, carrots, vegetable oil, chicken, sugar, soy sauce, chicken stock, and thin, dried rice noodles.
Any cut of chicken would be good for this recipe, but Olayinka has chosen to make use of boneless, skinless chicken thighs, and we can see why. Dark meat cooks faster and is more flavorful than white meat, and thighs are less prone to becoming overcooked in the way chicken breasts are.
Prep the chicken and veggies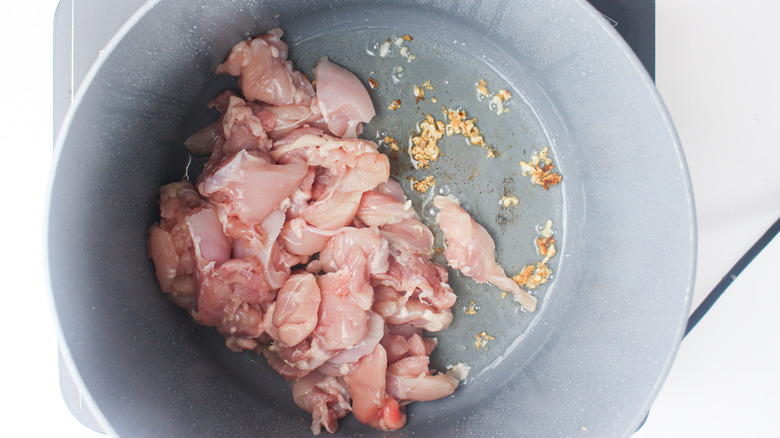 Susan Olayinka/Mashed
The most time consuming — and potentially challenging — part of making pancit is in the prep. Snag your chopping board and prepare your aromatics — dice the onion and mince the garlic. Then slice your white cabbage into thin strips and slice the carrots into matchstick shapes. You'll also want to chop up the chicken thighs into slices.
Once the vegetables are ready, pour your vegetable oil into a pan over medium heat and fry up your minced garlic and chopped onion for about a minute. After the minute, add the sliced chicken and stir for 5 minutes until it is cooked.
A simple change can make this dish vegan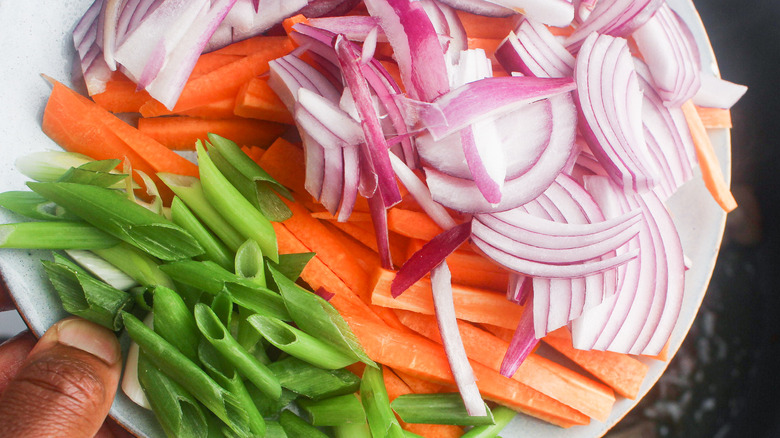 Susan Olayinka/Mashed
Vegetables don't really play much of a role in Philippine cooking because the cuisine makes no apologies for the fact that it is carnivorous to its core (via Serious Eats), but it is still possible to make this dish vegetarian by leaving out the chicken, and swapping out the chicken stock with vegetable broth. Olayinka adds: "To make this vegetarian, I would add tofu or I would add tempeh, which is vegetarian protein also made from soy."
But like many other Philippine dishes, pancit is dairy-free and can be gluten-free, making this a delicious noodle dish that can be easily adaptable for people with dietary restrictions to enjoy.
Mix the chicken and vegetables together and cook over low heat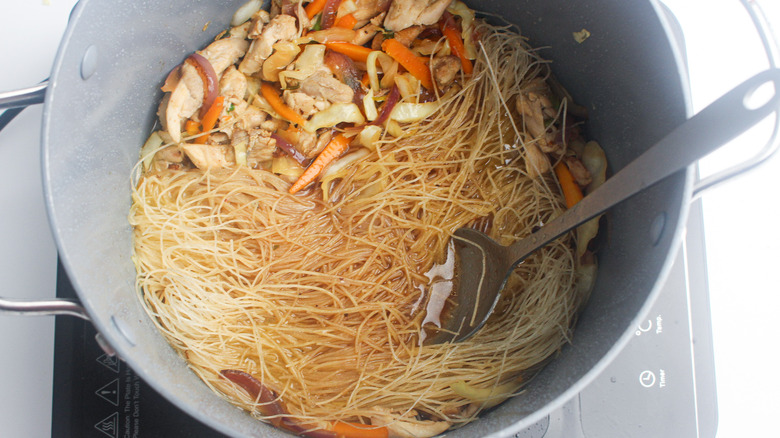 Susan Olayinka/Mashed
Once the chicken has cooked for five minutes, add the sliced carrot, chopped cabbage, sugar, soy sauce, and chicken stock. Stir for one minute, then add the rice noodles. Stir once and turn the heat down to medium-low, giving the noodle mixture a stir at the 5-minute mark.
After 10 minutes the noodles will have fully cooked through and absorbed all of the liquid. Remove from the heat, and serve. If you want to enjoy it the way Filipinos do, you'd have it with a dipping sauce made with soy and few squeezes of the Philippine citrus fruit known as calamansi (via Yahoo).
When Filipinos enjoy their pancit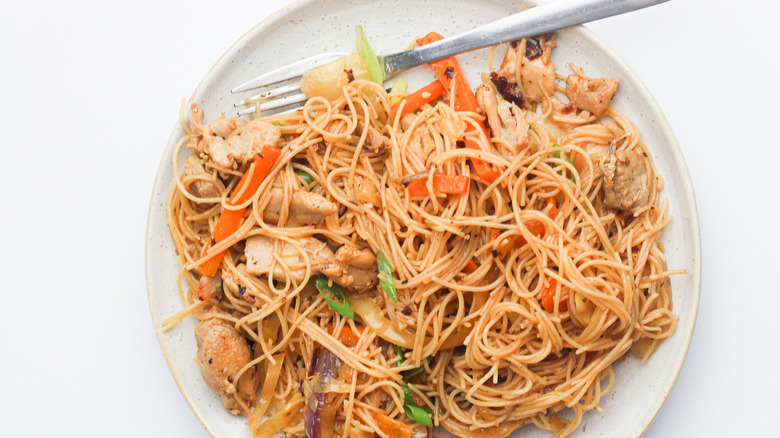 Susan Olayinka/Mashed
As in many Asian cultures that prize the noodle as a symbol of longevity (because of its length), pancit isn't just enjoyed as an everyday meal or snack — it also plays an important role on the Philippine festive table too. The dish plays an essential role in the drama that is a holiday meal, from Christmas and wedding anniversaries to Catholic feast days and Christmas (via Pepper). 
You can enjoy this tasty meal as is for a quick weeknight dinner, but when served alongside a crisp, freshly made lumpia or Philippine spring roll, adobo, and — if you're lucky– a roast suckling pig, any Filipino will tell you the meal is as authentic and celebratory as it can get (via Serious Eats).
Authentic Pancit Recipe
If you're looking for a tasty rice noodle dish straight from the Philippines, this recipe hits all the marks. It's even easy enough for a weeknight meal!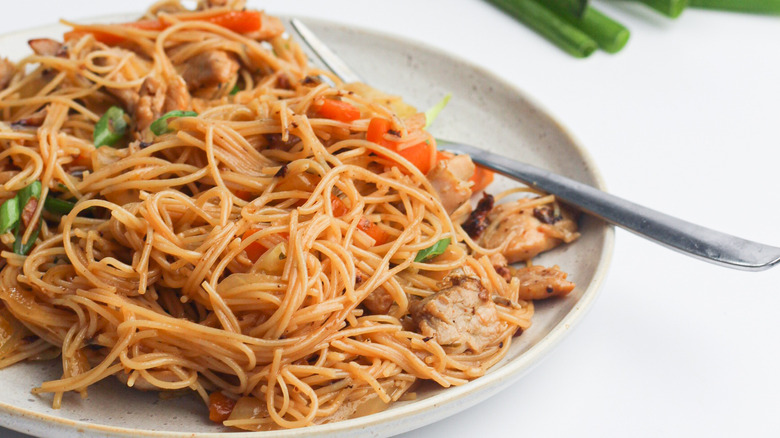 Ingredients
½ red onion
3 garlic cloves
½ white cabbage
2 carrots
7 ounces boneless, skinless chicken thighs
2 tablespoons of vegetable oil
1 tablespoon of sugar
2 tablespoon soy sauce
2 cups of chicken stock
7 ounces dried rice noodles
Directions
On a cutting board, dice the onion, mince the garlic, slice the white cabbage into thin strips, slice the carrots into matchsticks, and slice the chicken.
Place the vegetable oil into a saucepan, followed by the minced garlic and diced onion, and stir for 1 minute.
Add in the sliced chicken in and stir for 5 minutes until it is cooked through.
Add to the saucepan the sliced carrots, sliced cabbage, sugar, soy sauce, and chicken stock.
Stir for 1 minute then add in the rice noodles.
Stir once and turn to medium-low heat for 10 minutes, stirring halfway.
After the noodles are fully cooked through and have absorbed all of the liquid, plate and serve immediately!
Nutrition
| | |
| --- | --- |
| Calories per Serving | 385 |
| Total Fat | 10.9 g |
| Saturated Fat | 1.5 g |
| Trans Fat | 0.1 g |
| Cholesterol | 50.2 mg |
| | |
| --- | --- |
| Total Carbohydrates | 52.8 g |
| Dietary Fiber | 2.1 g |
| Total Sugars | 7.3 g |
| Sodium | 770.9 mg |
| Protein | 17.0 g |