Cajun Fried Turkey Wings Recipe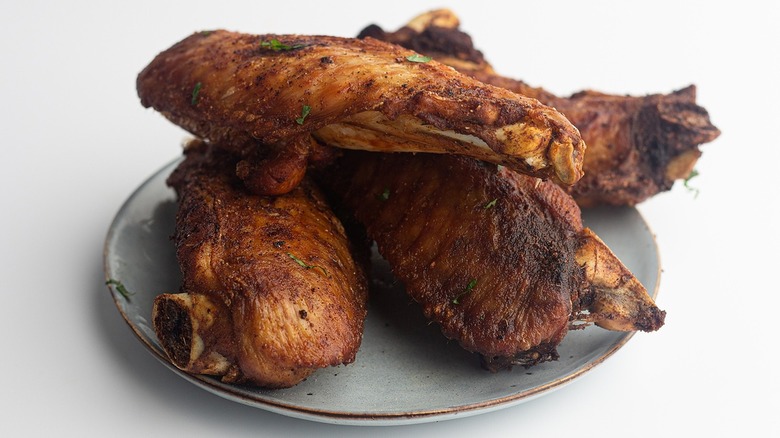 Susan Olayinka/Mashed
When you think of wings, chicken may be the first thing to come to mind. After all, chicken wings are both popular and delicious and are ideal for an indulgent lunch, dinner, or even snack. But what about turkey wings? Believe it or not, they're just as easy to prepare as chicken wings, and most importantly, they're just as tasty!
Many of us associate turkey with Thanksgiving, but in reality, turkey can be enjoyed year-round. Recipe developer Susan Olayinka from The Flexible Fridge has a Cajun fried turkey wing recipe that will change the way you think about turkey! "Turkey has a deeper and rich flavor," Olayinka explains of turkey in comparison to chicken. She also notes that, like a turkey leg, the wings themselves are huge — making them a great option for feeding lots of people! With the addition of Cajun seasoning, these turkey wings are great for family dinners or for your next party. Why stick with chicken wings when you can go big? Turkey wing big, that is!
If you love turkey and want to switch things up from traditional chicken wings, this recipe is for you. Keep reading to learn how you can easily prepare Cajun fried turkey wings right in your own kitchen.
Gather the ingredients to make Cajun fried turkey wings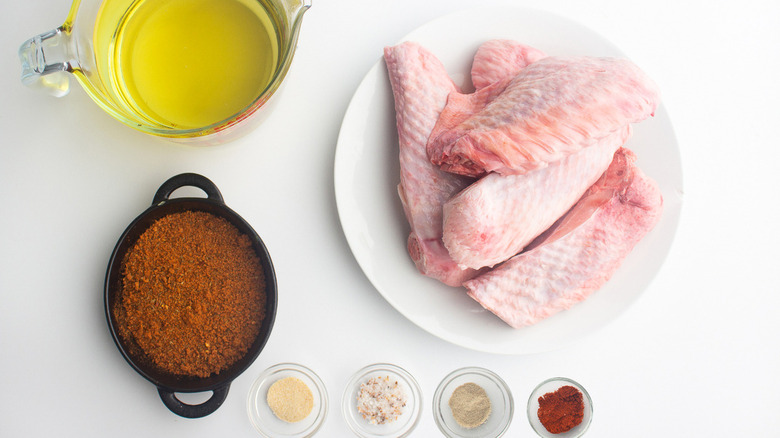 Susan Olayinka/Mashed
To make Cajun fried turkey wings, you'll need to make sure that you have the right ingredients. Of course, you'll start with the turkey wings. Then, you'll need Cajun seasoning to help the wings get that delicious, subtly spicy flavor. Along with Cajun seasoning, you'll also need salt, white pepper, onion powder, and paprika to help round out the flavors for the wings.
And since these wings will be fried, you'll need to have oil for frying — this will help ensure that your wings get cooked on the inside and irresistibly crispy on the outside.
Marinate turkey wings and let them hang out in the fridge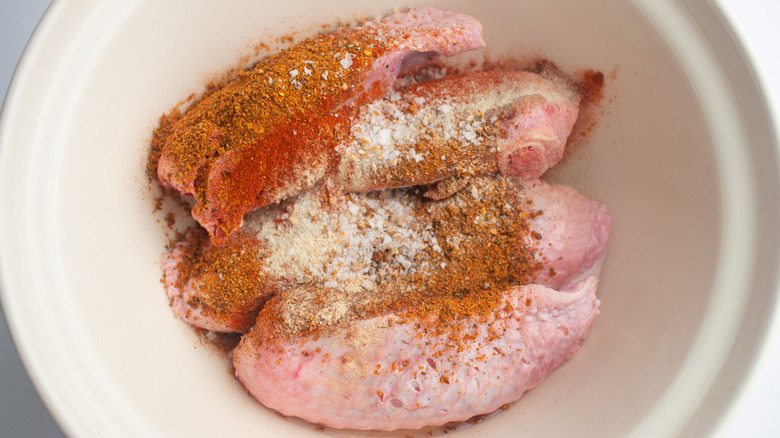 Susan Olayinka/Mashed
Once you have your ingredients sorted and measured, you can get started on preparing the wings. Place each of the turkey wings into a large mixing bowl. Then, add in the Cajun seasoning, salt, pepper, onion powder, and paprika. Give these ingredients a thorough stir, ensuring that each wing is evenly coated with the seasonings. Now, go ahead and place the entire bowl into the fridge for one hour, allowing the wings to marinate in the seasoning. After one hour is up, go ahead and take the wings out and let them rest on the countertop for 15 minutes.
Fry the turkey wings in oil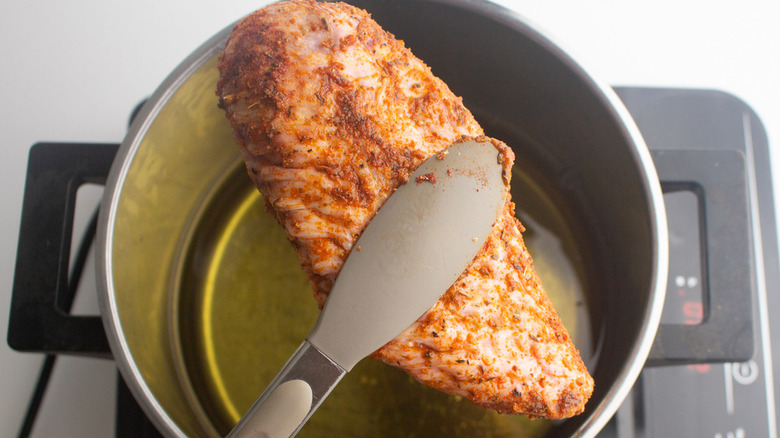 Susan Olayinka/Mashed
As your wings are resting on the countertop, you can start preparing the oil for frying. Place a large pot on your stovetop, and add in the oil. Then, set the heat to medium-high. Once the wings' 15-minute rest time is up, you can carefully place them into the hot oil. Always proceed when caution when working with hot oil!
As soon as the wings go in, reduce the heat from medium-high to low-medium. Cook the wings in the oil on low-medium for 10 minutes until they're nice and browned. Remember, turkey wings are very large — they may take some time to cook through completely.
Let the turkey wings drain onto paper towels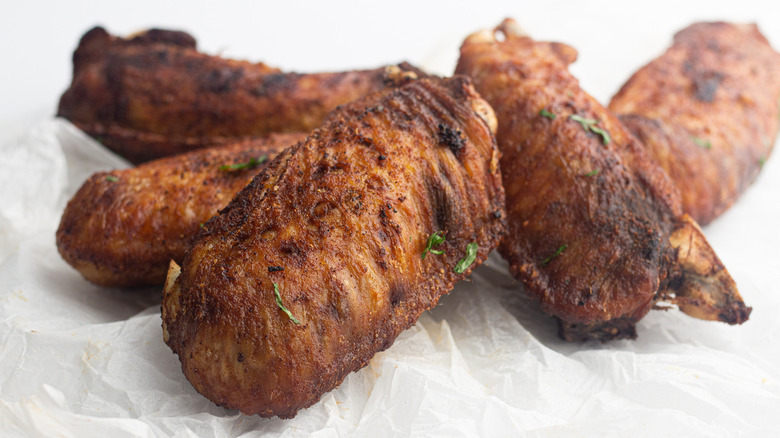 Susan Olayinka/Mashed
As your wings finish cooking, go ahead and line a baking tray with paper towels. Once the wings are done, turn off the heat and very carefully transport each wing from the oil onto the lined paper towels. This step is crucial, as you want to allow excess oil to drain from the wings, just as you would with bacon or other greasy foods. The paper towels will do a great job at absorbing the oil, and you can even take an extra paper towel and dab the tops of the wings to help soak it up.
Serve your Cajun turkey wings and enjoy!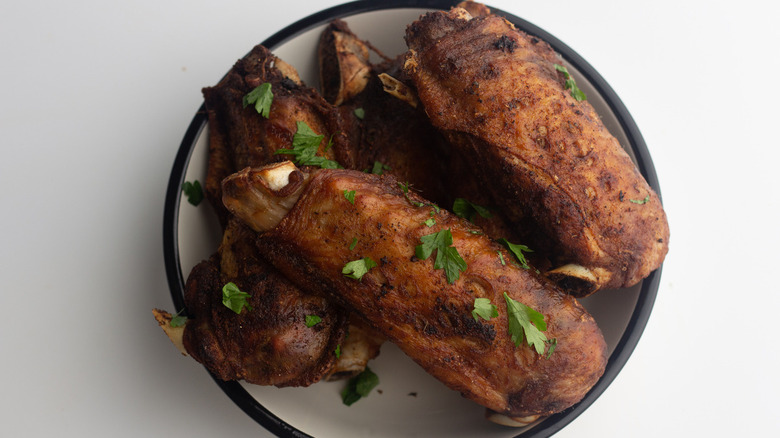 Susan Olayinka/Mashed
After your wings have had a few minutes to drain, you can transport them to a plate, serve, and enjoy! As you take a bite, you'll immediately notice the rich flavor of the turkey along with the irresistible Cajun spice. Your wings will also have impeccably browned skin, giving each bite the perfect balance between juicy meat and crispy skin.
Olayinka notes that these Cajun fried turkey wings make a great dinner and pair wonderfully with sweet potatoes, rice, fries, and pretty much any carb. Also, much like chicken wings, you can dip these turkey wings in ranch, sour cream, or blue cheese dressing. If you love wings and are looking for a way to switch things up in the kitchen, these Cajun fried turkey wings are sure to make a big impression.
Cajun Fried Turkey Wings Recipe
If you love turkey and want to switch things up from traditional chicken wings, this recipe is for you. Give it a try sometime soon.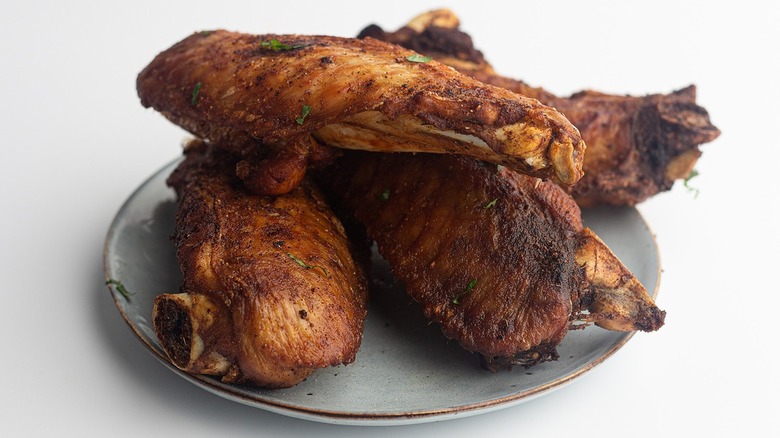 Ingredients
6 turkey wings
4 tablespoons Cajun seasoning
2 tablespoons salt
½ teaspoon onion powder
½ teaspoon paprika
¼ teaspoon white pepper
3 cups oil
Directions
Add the turkey wings to a mixing bowl followed by the Cajun seasoning, salt, onion powder, paprika, and white pepper.
Mix together and marinate for 1 hour in the fridge.
After 1 hour, take out of the fridge and let it rest for 15 minutes on the countertop.
While the meat is resting on the countertop, add the oil to a pot and bring the heat up to medium-high heat.
Put the turkey wings into the oil and immediately turn the heat to low-medium. Cook on low-medium for 10 minutes, until brown.
Line a baking tray with a kitchen towel. Take the Cajun turkey wings out and place them onto the towel to let the oil drain.
Transfer to a serving plate and consume immediately.