15-Minute Mushroom And Halloumi Burger Recipe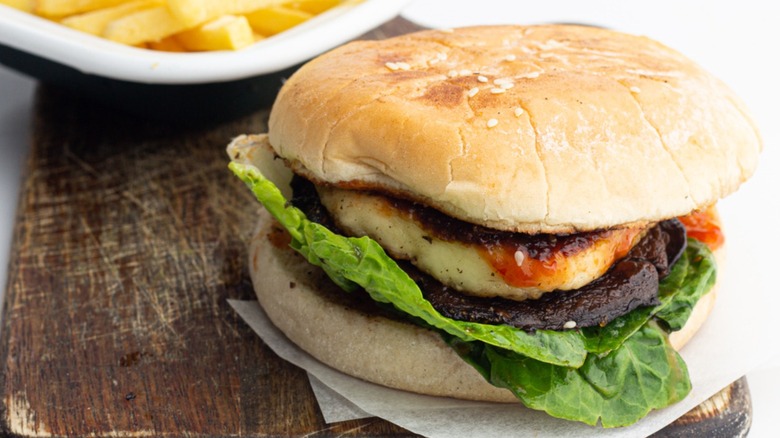 Susan Olayinka/Mashed
"Halloumi is a delicious cheese with a high melting point so you can fry it and bake it," recipe developer Susan Olayinka tells us, talking about the wonderfully firm and uniquely toothsome cheese that comes to us by way of Cyprus. It's the ingredient that truly distinguishes this plant-based burger that comes to us from Olayinka. While we have always had an abiding respect and appreciation for halloumi, it takes this clever, delicious, and anything-but-boring portobello mushroom and halloumi burger that comes together in just 15 minutes, for us to remember just how much we adore it — not to mention how underutilized it is here in the U.S. And, as an added bonus, as the BBC's Good Food blog pointed out, halloumi is incredibly nutritious, delivering 70% of the adult recommended daily allowance of calcium in a single portion, along with zinc, selenium, magnesium, vitamin A, and many B vitamins (via BBC Good Food).
But if we're being honest here, and of course we are, it was the whole "15 minutes" thing that caught our eye at the outset. How is that even possible, we wondered? Indeed, as Olayinka explained, with "normal vegetarian burgers, you would have to do a ton of steps and place the burger in the oven or fry it. But this is simply just slice and fry and its done." Alright then, let's get to it!
Gather your ingredients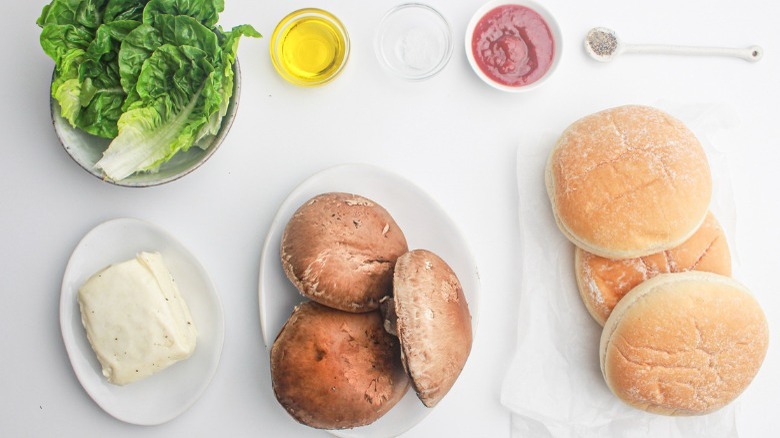 Susan Olayinka/Mashed
To make Susan Olayinka's 15-minute mushroom and halloumi burger, you will, of course, need some portobello mushrooms — three, to be exact, for three servings. You'll also need a 9-ounce chunk of halloumi cheese, which you'll be dividing into three portions. You'll also need two tablespoons of vegetable oil, one for softening and warming up the mushroom caps, and the other for sautéing the halloumi cheese to golden-crusted perfection. Since portobellos are so packed with umami flavor, and halloumi is so beautifully briny, there's very little else you'll need in the way of seasonings — just a pinch of salt and pepper.
To assemble your 15-minute mushroom and halloumi burgers, you'll need three burger buns (British-based Olayinka recommends buttery soft brioche buns, but allows that any American hamburger bun will do just as nicely). As far as what condiments to serve it with, while ketchup is always a welcome addition to any burger, Olayinka discovered that with a bit of chili jam (or this pepper jelly from Trader Joes) and little gem lettuce (you can substitute butter lettuce if your grocery store is out of little gem), this dish sparkles with bright flavors, texture, and heat. 
The first step is to NOT wash the Portobello mushrooms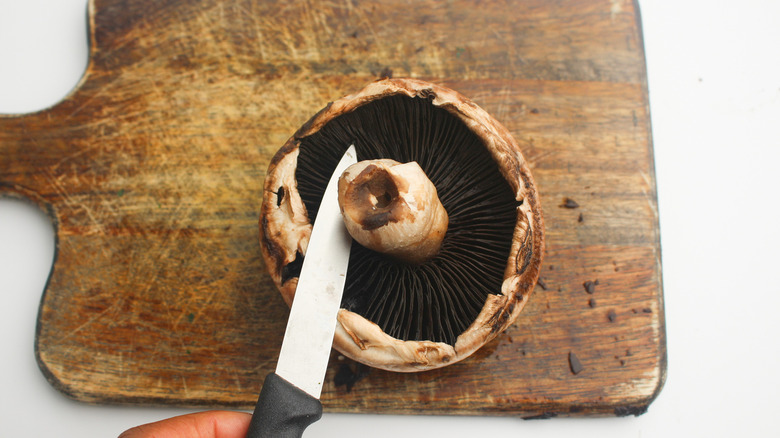 Susan Olayinka/Mashed
That's right, we said the first step is to NOT wash your mushrooms for your 15-minute mushroom and halloumi burgers. The reason is that exposing portobello flesh to water dilutes its flavor and compromises its texture, according to Olayinka. So if your goal is to turn a portobello into a "burger," simply use a damp paper towel to wipe any dirt and debris that you can see or feel with your hands. After wiping down your portobellos, take a sharp utility knife and slice off the stems. Or, if you don't feel like dirtying a knife, you can just twist off the stems, Olayinka says.
The next step is to scoop out the "gills" of your portobello mushrooms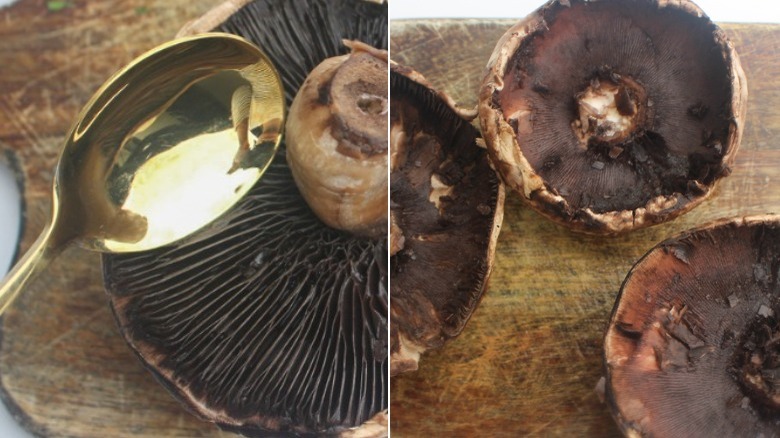 Susan Olayinka/Mashed
The underside of your portbellos is made up of "gills," which are edible, but not particularly palatable because (a), they're really good at holding onto dirt, and (b), their color bleeds onto everything, and one of the lovely things about this dish is the contrast between dark and light. So, use a spoon to scoop out the gills . Set your prepped mushroom caps aside while you move onto the next step in this recipe for 15-minute mushroom and halloumi burgers. 
Slice the halloumi into three equal portions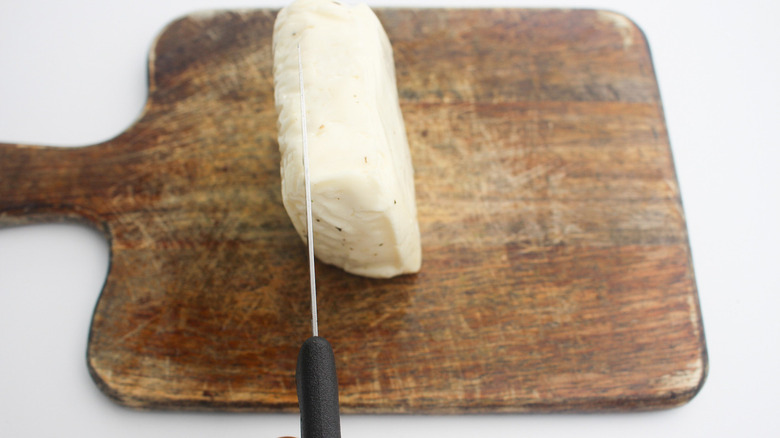 Susan Olayinka/Mashed
Next up is prepping the halloumi. Using the same chopping surface you used for prepping the portobello mushrooms, and the same knife, place the halloumi cheese block down on one of its longer sides, and slice the block vertically into three smaller portions. If the cheese block happens to be longer than your hamburger buns, then you can divide the length in half with your knife so that you can more easily stack your burgers with cheese when it's time. 
It's time to get to sautéing your prepped mushroom caps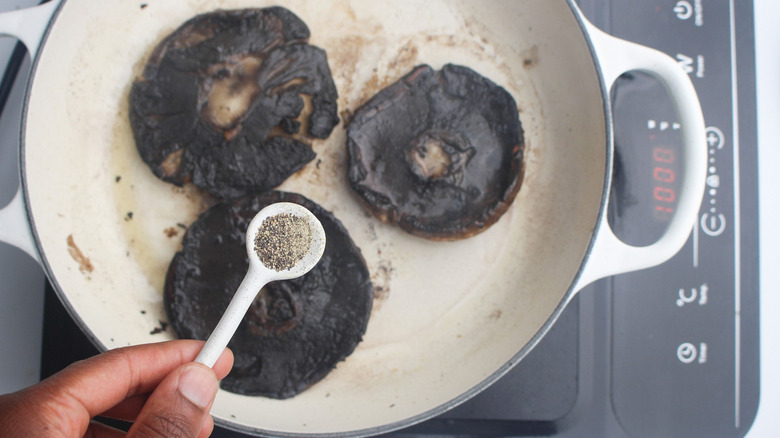 Susan Olayinka/Mashed
To sauté your prepped portobello mushroom caps, get out a large-diameter pan, and place it on the stove over medium-high heat. Pour 1 tablespoon of the oil into the pan, and wait for the oil to get hot enough to sizzle when you toss a drop of water onto it. Place your three mushroom caps scooped-side-down onto the hot pan, and fry for two minutes. Flip over, and fry the domed side for two minutes. Sprinkle with salt and pepper, and remove from the pan to make room to do the next step. which is sautéing the halloumi.
Sauté the halloumi and observe the Maillard reaction happening before your eyes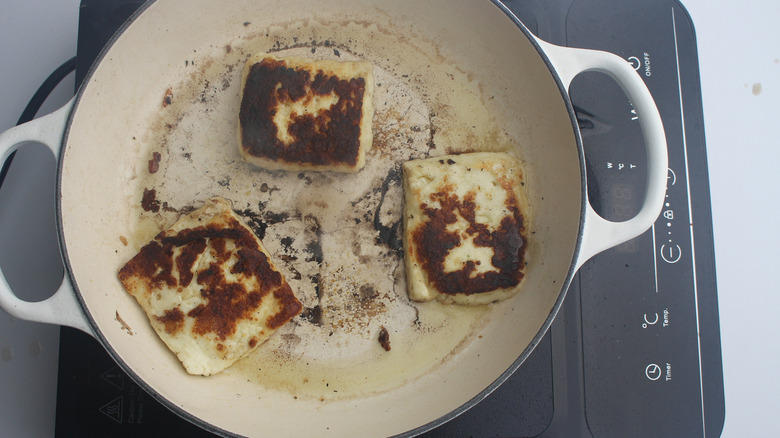 Susan Olayinka/Mashed
Put the other tablespoon of oil into the pan, and heat it to sizzling once again. Then place the halloumi slices onto the hot pan for two minutes. Flip over, and allow the other side to cook for two minutes. At the end of four minutes, your halloumi cheese will have browned up perfectly, thanks to the miracle of the Maillard reaction. Set the golden-crusted cheese slices aside, and turn off the flame before placing the buns onto the still-hot surface of the pan to toast them for 15 seconds apiece.
Assemble your 15-minute mushroom and halloumi burgers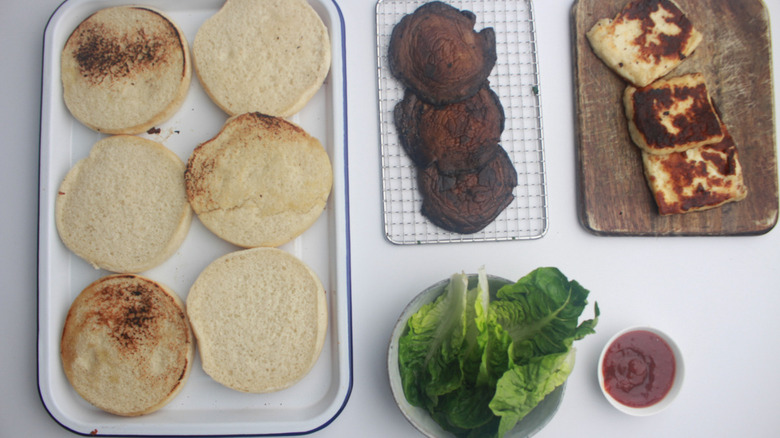 Susan Olayinka/Mashed
Your mushrooms are ready. So are your halloumi slices and your buns. All that's left now is to assemble your sandwiches (or maybe we shouldn't call them sandwiches, but you get the point). "For the assembly, spread the jam onto the buns (both sides)," Olayinka instructs. "Then add 2 leaves of lettuce to each burger bun, a portobello mushroom, a halloumi slice, and then placed the second bun on top." Tell your dining mates that dinner is served. Optional: look at your watch and smile to yourself that a mere 15 minutes has gone by since you started.  
15-Minute Mushroom And Halloumi Burger Recipe
This 15-minute mushroom burger recipe is a breeze to make and absolutely delicious to eat. Impress your vegetarian friends with this super easy burger!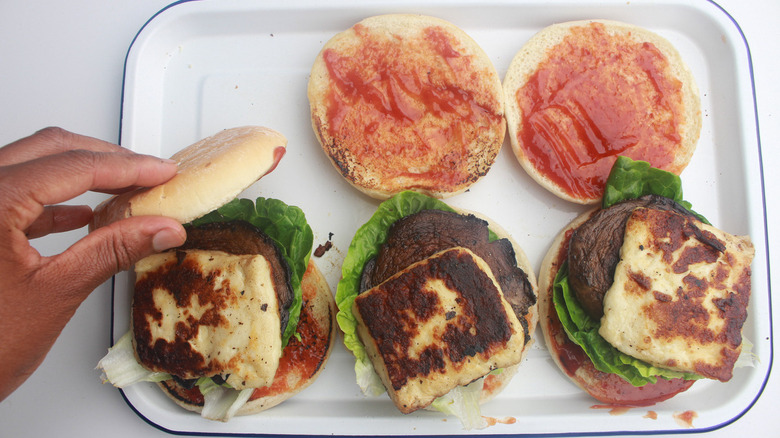 Ingredients
3 portobello mushrooms
9 ounces of halloumi cheese
2 tablespoons of vegetable oil, divided
¼ teaspoon salt
¼ pepper
3 burger buns, sliced open
9 tablespoons chili jam, for topping the buns
6 little gem lettuce
Directions
Wipe the mushrooms with a damp cloth and remove the stems.
Scoop out the gills with a spoon, and set mushrooms aside.
Slice the halloumi block into 3 slices vertically, and set slices aside.
Place a frying pan on the stove over medium-high heat.
Heat 1 tablespoon of oil until sizzling, and fry the mushrooms for 2 minutes on each side.
Sprinkle on salt and pepper, and set mushrooms aside.
Heat the remaining tablespoon of oil in pan and fry halloumi slices for 2 minutes on each side. Set aside and turn off heat.
Place the burger buns in the hot pan cut side down for 15 seconds each to lightly toast, and set aside.
Assemble burgers as follows: spread the 1 ½ tablespoons of chili jam onto the top and bottom of each bun, add 2 lettuce leaves to each bottom bun, and top with a portobello cap and slice of halloumi.
Serve immediately and enjoy!
Nutrition
| | |
| --- | --- |
| Calories per Serving | 795 |
| Total Fat | 34.1 g |
| Saturated Fat | 14.9 g |
| Trans Fat | 0.1 g |
| Cholesterol | 75.7 mg |
| | |
| --- | --- |
| Total Carbohydrates | 91.6 g |
| Dietary Fiber | 4.9 g |
| Total Sugars | 16.6 g |
| Sodium | 1,628.1 mg |
| Protein | 30.6 g |