The Surprising Number Of Cakes Princess Diana And Prince Charles Had At Their Wedding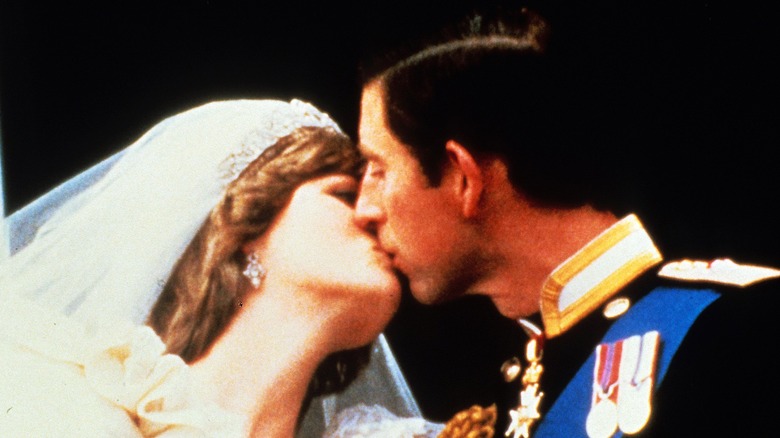 Anwar Hussein/Getty Images
When Prince Charles, the then not-so-elderly heir to the British throne, tied the knot with the lovely, young Diana Spencer, it's not much of an exaggeration to say that the entire world was watching. According to the BBC, the royal wedding drew a TV audience of some 750 million viewers worldwide. This was no meager feat considering how the ceremony took place at 11 a.m. Greenwich Mean Time. This meant American viewers on the east coast would have had to tune in at 6 o'clock in the morning, while those on the west coast would have had to set their alarms for 3 a.m.
While we got to watch the wedding in real time (well, those of us geezers who were alive back in 1981, that is), our bleary eyes were not treated to the reception that followed, which means there's one pretty OTT detail that we missed. Instead of having only one wedding cake to feed their 3,500 nearest and dearest who were helping to celebrate the special day (via Town and Country), Charles and Diana had more than 20 cakes! The accounts of the exact number differ, with People claiming the couple had 27 cakes, while CNN recounts a slightly more modest 23 cakes.
A slice of Charles and Diana's wedding cake is now up for auction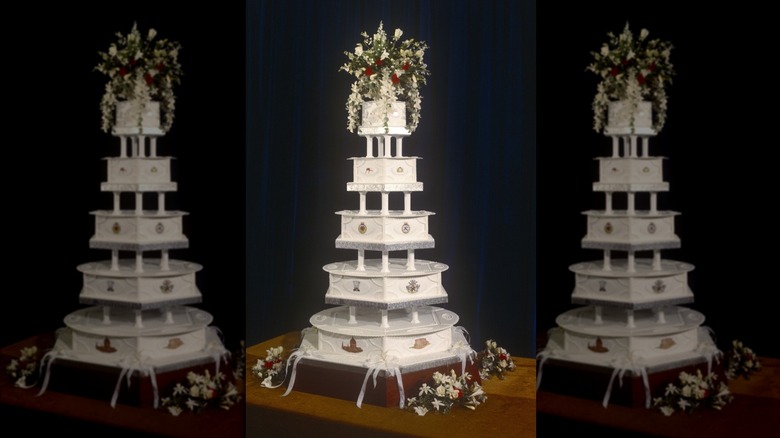 David Levenson/Getty Images
According to International Business Times, Charles and Diana's official cake was a 5-foot tall traditional English fruitcake weighing 225 pounds. It was baked by the Royal Naval Cooking School, and took over 14 weeks to create and decorate with the Prince of Wales' coat of arms and Spencer family crest. Of the other 22 (or 26) cakes, one was a duplicate of the main cake, baked just in case anything happened to the original. Other cakes included one created by a Belgian pastry chef known as "cakemaker to the kings," while another came from a royal family chef who had previously created a cake for the Queen Mother's 80th  birthday and would later bake one in honor of Prince Harry's christening.
Yet another cake may have been sent to the palace staff, and a slice of this cake, carefully preserved for 40 years, will soon be auctioned off. The bidding opens on August 11th, and experts expect this souvenir to rake in almost $300. For that amount, you would get a hefty 28 oz slice of cake, and a pretty fancy one at that — it's said to be decorated with a colorful coat of arms, as well as silver leaves, a silver horseshoe, and some white icing. Although Dominic Winter Auctioneers told CNN that the cake "appears to be in exactly the same good condition as when originally sold," they "advise against eating it."