Everything We Know About Lisa Vanderpump's New Las Vegas Restaurant
Shutterstock
Reality television personality and restaurateur Lisa Vanderpump has made a name for herself both as the star of Bravo hits "The Real Housewives of Beverly Hills" and "Vanderpump Rules," and as the owner of a small empire of bars and restaurants. Now, Vanderpump is set to open a buzzy new Las Vegas spot that will bring a piece of the City of Lights to Sin City.
In a press release, Vanderpump shared the big plans she has for the glamorous new spot, which is coming to the Paris Las Vegas Hotel and Casino this winter. The restaurant, which will be called Vanderpump à Paris, is the reality star's second Las Vegas undertaking, following the success of the Vanderpump Cocktail Garden, which opened at Caesars Palace in 2019.
Vanderpump and husband Ken Todd got their start in the West Coast restaurant business as the owners and operators of Los Angeles-based hot spots SUR, PUMP, Tom Tom, and the recently shuddered Villa Blanca (via Bravo TV). The duo's restaurants became must-visit destinations for Bravo fans after they were featured heavily on "Vanderpump Rules" and "RHOBH."
Now, the restaurateurs are hoping their next Vegas spot will be their most successful yet, with decor, menu, and cocktails all reflecting a distinctly Parisian theme.
Vanderpump's new spot will be a Parisian affair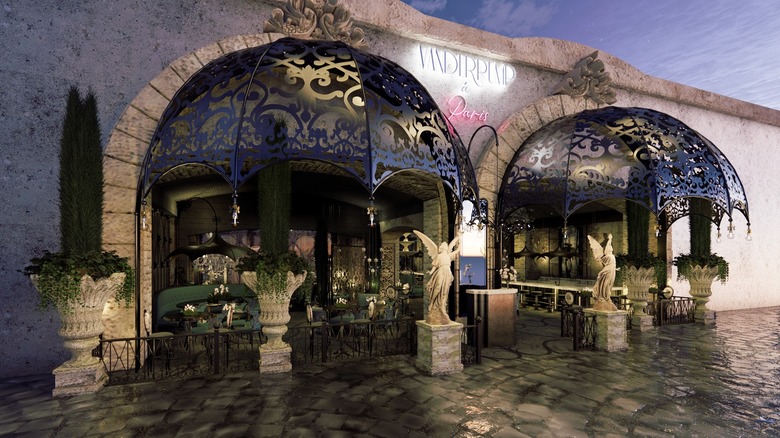 Erik Kabik/Caesars Entertainment
Vanderpump à Paris, aptly named after the Vegas hotel it will be calling home, will draw heavy inspiration from Vanderpump's time living in Europe. "After living in France for many years, it has been such an incredible journey to make our ideas a reality," Vanderpump said in a press statement. "We have created a design unlike anything we've ever seen, with epic visual statements — it is our hope to bring the stunning visuals of Paris into the heart of Las Vegas."
While the menu for the 200-seat restaurant has yet to be revealed, Vanderpump teases that it will feature food, wine, and cocktails inspired by French culture, "with cheeky nods to Paris and presented in playful ways with incredibly visual garnishes and presentations," as well as Vanderpump's own branded Rosé, Chardonnay, and Cabernet wines. "The food will be sexy and delicious, the cocktails exquisite and unique, and the overall experience will be one that is unforgettable," Vanderpump shared.
On working with the television star, Jason Gregorec, the Senior Vice President and General Manager of the Paris Las Vegas said that "the power and magic of Lisa Vanderpump can be felt through the excitement we continue to see after 2.5 years of Vanderpump Cocktail Garden ... and we are thrilled to extend our partnership." Although there's no firm opening date for Vanderpump à Paris just yet, fans will be able to get a glimpse of it on Las Vegas Boulevard — and, most likely, their televisions — very soon.