Marcus Samuelsson Just Shared A Touching Birthday Message For Barack Obama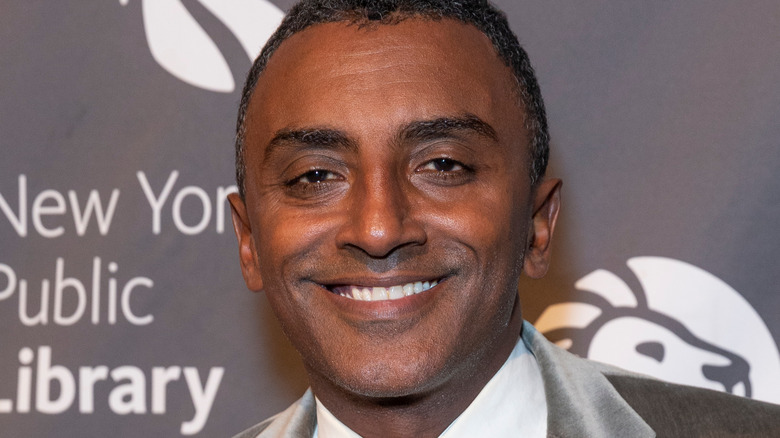 Shutterstock
Barack Obama turned 60 on August 4. Obama would make a young president even now, by current standards, but he was just 48 years old when he hosted his first official state dinner, for Indian Prime Minister Manmohan Singh (via Anders & Kaitlin). The dinner-planner-in-chief tapped chef Marcus Samuelsson to take on the enormous responsibility of being in charge of the event, making sure India's vegetarian prime minister and hundreds of guests were well fed and satisfied.
Preparing a state dinner for a U.S. president would be a special experience for any chef, no matter how famous. In addition to Samuelsson, Obama brought in chefs Rick Bayless, Masaharu Morimoto, Mario Batali, and others to prepare state dinners over the years, according to The New York Times. (Batali created a meal for Italy's prime minister in 2016, a year before Eater New York's report of sexual misconduct allegations marked the beginning of the end of Batali's career.)
Samuelsson certainly remembers his experience fondly. He mentioned it in a touching birthday message to Obama on Twitter: "Happy 60th birthday, @BarackObama!" Samuelsson tweeted. "It was the honor of a lifetime to be the chef for our first official state dinner and hope I get a chance to cook you a proper birthday dinner soon!"
Marcus Samuelsson worked with Michelle Obama on the first White House state dinner
Barack Obama will no doubt enjoy a proper dinner at his 60th-birthday bash, to be held Saturday at his Martha's Vineyard estate, according to The New York Times. Samuelsson won't be cooking for Obama on this particular birthday. The Daily Mail was snooping around Martha's Vineyard on Tuesday, August 3, and witnessed a catering truck heading to Obama's place from Nancy's Restaurant, which is apparently a favorite eatery on the island for Michelle and Barack Obama. The restaurant specializes in Middle Eastern cuisine and seafood, naturally (we are talking about a restaurant on an island off the coast of Massachusetts).
In devising his menu for Obama's first state dinner back in 2009, Marcus Samuelsson worked with Michelle Obama to incorporate Indian and American flavors (via CNN). Lettuce and herbs were pulled from the White House garden, per Eater. Michelle Obama planted the garden during the Obamas' first year in the White House, to help stock the kitchen and shine a spotlight on sustainable food, according to the Center for Urban Education about Sustainable Agriculture.