Why Puttanesca Is Rachael Ray's Go-To Pasta Sauce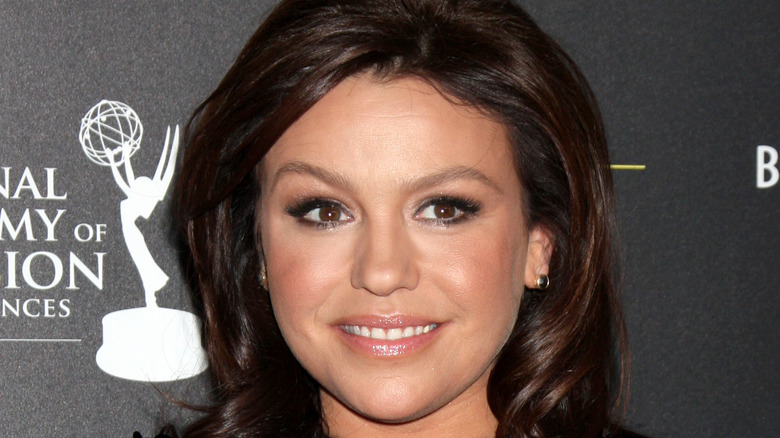 Shutterstock
Everyone loves Rachael Ray's down-to-earth, approachable cooking technique. She makes everything look easy, which really ups the confidence level of those who are still learning. Not to mention if you love Italian food – pasta, risottos, and chicken or eggplant parmesan – then Ray's recipe repertoire is definitely for you. The "Everyone is Italian on Sunday" cookbook author really embraces her Italian roots – her mom has Sicilian blood running in her veins – and routinely shares what foods she loved to eat growing up and still loves to make. 
It might surprise you to learn that a 2018 report by Food Business News found that the United States was the world's biggest pasta market. Americans chowed down on approximately 2.7 million tons of our favorite noodles, slurping up, on average, about 20 pounds per person each year. That's a whole lot of yummy carbs. Just the thought of all that pasta makes us think we might need to borrow the pregnancy pants Joey swiped from Phoebe in that Thanksgiving episode of "Friends!" But what do you do on those super busy days when you want to have pasta but don't have time to slave over the perfect pesto or a hearty Bolognese?  Ray recently shared with the Brit + Co podcast that her go-to pasta sauce is actually a puttanesca.  
Puttanesca is easy to make on a busy night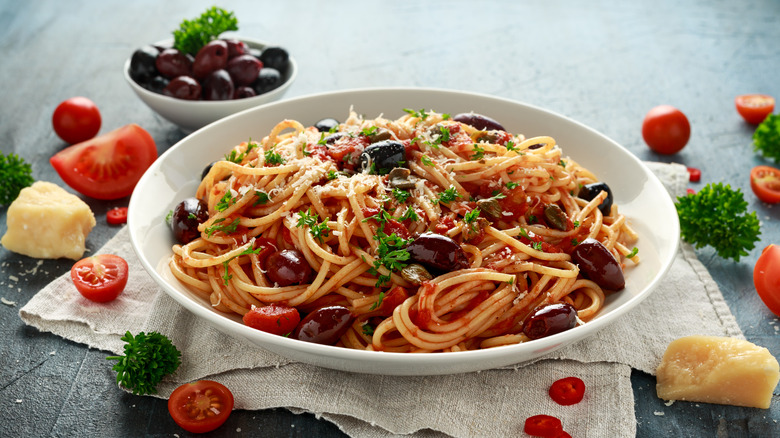 Shutterstock
Why puttanesca? Perhaps, she is a fan of "A Series of Unfortunate Events" books and was rooting for the Baudelaire children as they prepared this dish for Count Olaf (via Adventure Kitchen). Or maybe it's just because it's that good and that easy to make when you don't want to order out, but you do want to feed the family something filling and delicious. Ray shared that when you have last-minute meals to throw together, this sauce is loaded with flavor. Ray told Brit + Co, "You melt anchovies into garlicky oil with chilis and you add canned tomatoes." It's really that easy. Puttanesca doesn't require a lot of time or ingredients to create, but it is definitely a dish that will satiate your hungry belly and taste yummy in the process. 
Not to mention, you can take a lot of liberties with pasta puttanesca. You can add olives, capers, and garlic to this dish to bring out the smells and the flavors. Ray also revealed she keeps her pantry stocked with some easy and versatile ingredients that she can use to make other pastas as well. She explained, "I have everything in the cupboard to make a variety of different seafood pasta dishes. I always have eggs, most people have bacon, you can make carbonara." Time to stock up!