The Big Problem Some People Have With The Crime Scene Kitchen Season Finale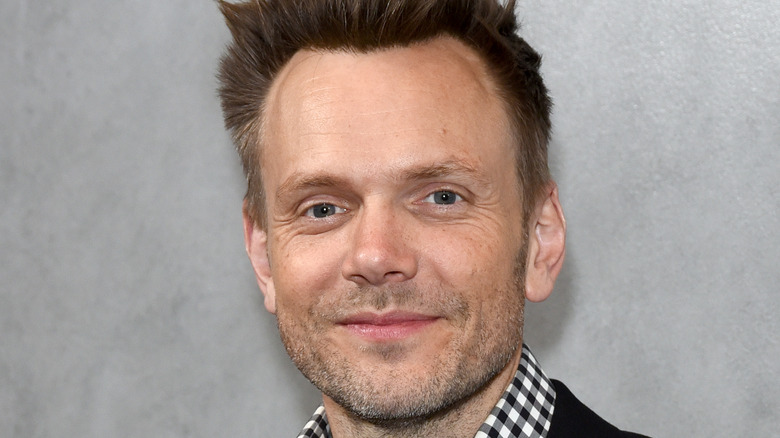 Presley Ann/Getty Images
Back in April, Deadline and other sites announced the arrival of a Fox TV show called "Crime Scene Kitchen." The show is one part baking competition and one part something entirely new. Host Joel McHale (above) leads contestants, judged by "Chef Curtis Stone and cake artist Yolanda Gampp," through a whirlwind of drama and suspense as they have to decode what desserts are made by looking through a kitchen crime scene of "crumbs, flour trails and a few elusive clues," then try to make that recipe for themselves. They're judged on how close they come to the dessert and how good its flavors are.
It's truly unlike any other cooking show out there, with Rob Wade, a Fox Entertainment president, telling Deadline, "It's a truly original format with amazing baking creations, a brilliant play-along guessing game for the whole family." But although the format is inventive and new, some fans who have taken to the show have some constructive criticism for the producers.
How does the show work again?
In a review of the show's finale by Guilty Eats' Fansided column, it was noted that the show was not shying away from big punches. They did, however, change up the formatting, starting with a crime scene in which contestants had to uncover that the dessert of choice was a traditional napoleon, and ending with a slightly different take on the challenges. They allowed the contestants to utilize whatever they found in the crimes scene as elements of an already noted dessert — a birthday cake — in the manner of their choosing, rather than figure out what the crime scene ingredients made altogether.
According to one YouTube critic, this "would be like if in the last episode of 'The Bachelor' you could just open up Tinder and find someone there. Or if in the finale of 'Drag Race' they got rid of the drag element and just made a jury vote on which contestant's personality they liked best." It definitely changed the challenge and tone, but overall the show serves enough twists to make it a worthy watch either way.