Guy Fieri Wins The Internet With 'Epic' Instagram Post Involving Kanye West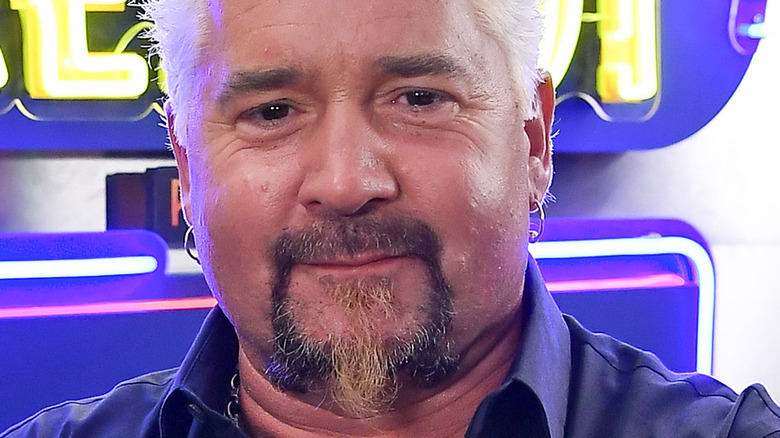 Steve Jennings/Getty Images
Most fans likely recognize television personality, cookbook author and restaurateur Guy Fieri from his various television roles, where he has hosted shows like "Guy's Grocery Games," "Guy's Family Road Trip," and "Guy's Big Bite" (via IMDb). With his signature spiked platinum blond hair, larger-than-life clothing choices, and equally bold personality, it's hard to miss Fieri. However, first met Fieri in the series "Diners, Drive-Ins and Dives," in which they accompany Fieri as he hits the road to sample incredible fare from various restaurants across the country. It was that particular show that he decided to reference in one of his latest Instagram posts, in fact, to the delight of his 1.8 million followers on the social platform.
Fieri brought the culinary and the music world together as he shared a snap in which he had a co-star — Kanye West — in an image that appeared to have been taken from the listening party for West's unreleased 10th album, "Donda." Rather than selecting a more intimate venue for the listening party, West decided to invite 42,000 people to the Mercedes-Benz Stadium in Atlanta, Georgia for the event (via BuzzFeed News). At said listening party, West was clad head-to-toe in bright red, making a major (and memorable) style statement. 
Fieri, of course, shared a snap that appeared to have been taken from that particular listening party, although he had edited himself in, standing next to West, his jeans and button-down short-sleeved shirt standing in stark contrast to West's ensemble.
What fans had to say about Guy Fieri's post
While the image may have caught fans' attention on it's own, Guy Fieri opted to pair it with a simple caption saying, "Diners, Drive-Ins and #Donda," referencing his successful Food Network show (via Instagram). Fieri's fans could not get enough of his cheeky share and the post racked up more than 53,000 likes and 449 comments within just one day of going live.
Instagram user @modinero_moproblemas kept things simple, commenting that the post was "epic." User @nick_dicello concurred, adding that, "This wins the internet." Many of Fieri's fans tagged their own friends to share the post, or even just left a series of emojis as comments, expressing their delight for the post. "Oh Guy, you crack me up," user @laurenmuscarnera commented. One of Fieri's followers, @mugalachristian1, even speculated on West's potential involvement in the culinary industry, commenting that, "I feel like Kanye would start a food truck that sells shoes."
Who knows, perhaps the zany photo was a hint at something new to come in Fieri's online store. Judging by the fact that he sells a t-shirt with a fist pound and sandwich emoji that references his Instagram page, he seems to like catering to his social media audience (via Guy Fieri Store).