Photo Of Trisha Yearwood's Sweet Moment With Her Husband Warms Hearts On Twitter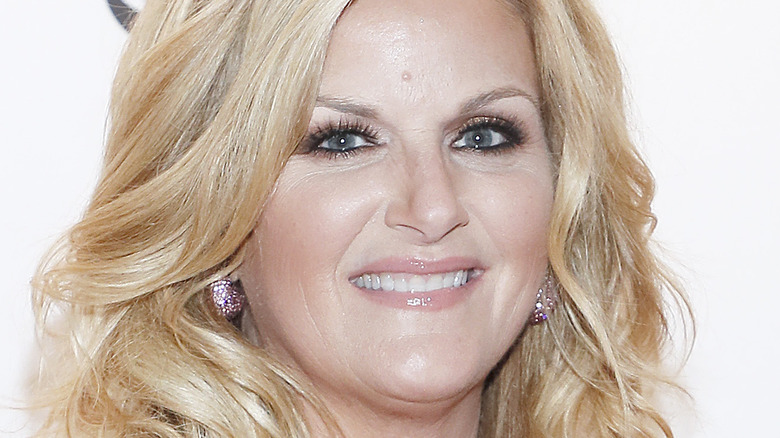 Paul Morigi/Getty Images
We've seen a lot of our favorite musicians show off their cooking skills (or lack thereof) over the years, like Ludacris and Selena Gomez. For country music fans, it's Trisha Yearwood who provides some common ground for foodies and lovers of the popular music genre.
The star has an impressive catalog of music that has won her a number of accolades including three Grammy Awards, as well as three New York Times bestselling cookbooks (via Food Network). She also hosts the popular Food Network program "Trisha's Southern Kitchen," the 17th season of which the star recently revealed on Twitter was beginning production, and even does an entirely separate "pre-show" on Facebook called "T's Coffee Talk" (via Yearwood's website). Phew!
Yearwood clearly keeps herself busy, and with so much going on in her various career paths, we can only imagine it gets difficult to find some time to spend with her husband Garth Brooks, who, by the way, is a mega country music star of his own. Therefore, when the "She's In Love With The Boy" singer had the opportunity to get in some quality time with her hubby ahead of his stadium tour's Kansas City show on August 7, she didn't let it slip away. Yearwood took to her Twitter to reveal her morning plans for the day, along with a sweet photo of her and her husband that fans absolutely adored.
Fans could feel the couple's love 'through the picture'
While Trisha Yearwood is hard at work on the upcoming season of her Food Network show "Trisha's Southern Kitchen," her husband of 15 years, Garth Brooks, is traveling the country for his Garth Brooks Stadium Tour. The pair probably doesn't get too many mornings together with their busy schedules, so when they found one this weekend, they were likely more than thrilled.
"Gonna spend the morning with this guy as he gets ready for Kansas City," Yearwood tweeted on August 7, along with a black-and-white photo of her and her husband lovingly staring into each other's eyes with huge smiles across their faces. Of course, she didn't forget about her fans either, suggesting that they all "have coffee together next weekend" for the next episode of her online streaming program "T's Coffee Talk."
To no surprise, fans of Yearwood's were incredibly supportive of the country duo getting in some quality time and were especially excited to see the sweet snap of the couple. "Love this picture so much! It is so sweet, & picture perfect! Enjoy spending time with your cowboy!" user @ShannonMarkos tweeted back to the Grammy winner, while another fan noted you can "feel through the picture how happy they are and the love." A third user encouraged the couple to frame the shot. We definitely agree with their suggestion, as this photo is absolutely frame-worthy!