Sweet Pickled Grapes Recipe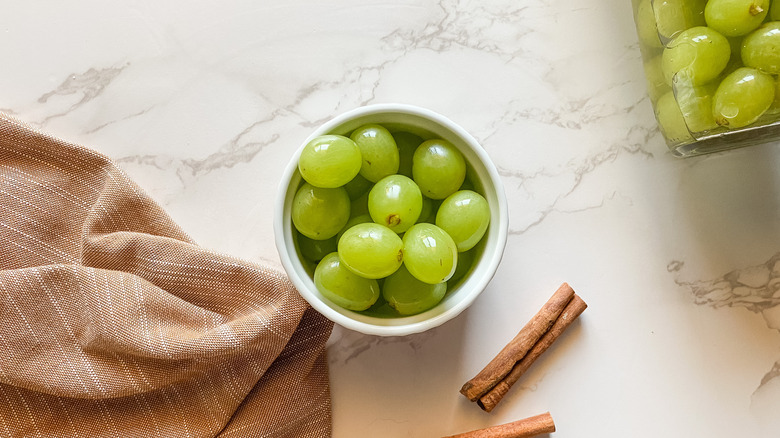 Kristen Carli/Mashed
There's nothing quite like a pickle to spice things up. Add some tartness to a burger, pack a zing into your salad, or pop one on a cracker to perfectly balance the creaminess of a nice cheese. According to PBS, modern humans are not the only ones to love this tangy treat; pickles have been found as far back as 2030 BC! 
While you might have been around the block as far as pickled vegetables go — you've likely sampled pickled cucumbers, red onions, and carrots, just to name a few — you might be surprised to hear of this new addition to the pickle canon: pickled grapes. For this interesting pickle, recipe developer and registered dietician Kristen Carli uses white wine vinegar, cinnamon, and sugar to create a sweet and fruity pickle. "I love using grapes because they are a great year-round fruit that can really level up any main protein," Carli says. Although the end result might be, "a bit different than you may be used to," Carli insists these pickled grapes are, "sweet, tart, and refreshing." 
We're sold!
Gather your ingredients for these sweet pickled grapes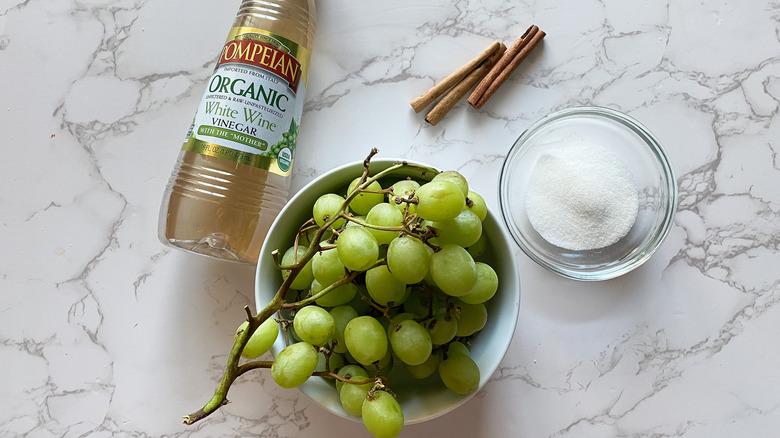 Kristen Carli/Mashed
Before you can begin on your pickle path, you must first gather your ingredients. Luckily for you, these sweet pickled grapes only require a few components. 
For this recipe, all you'll need is a pound of green grapes with their stems removed, half a cup of white wine vinegar (white distilled vinegar works too), half a cup of water, two cinnamon sticks, and two tablespoons of sugar. 
As far as cookware, you'll need a small saucepan and a large, lidded jar. As your jar will rest sealed in the fridge for a couple of days, make sure it is adequately sanitized to avoid any bacteria growth (e.g. you can run it through the dishwasher, boil it, or clean it well with hot, soapy water).
Make the pickling liquid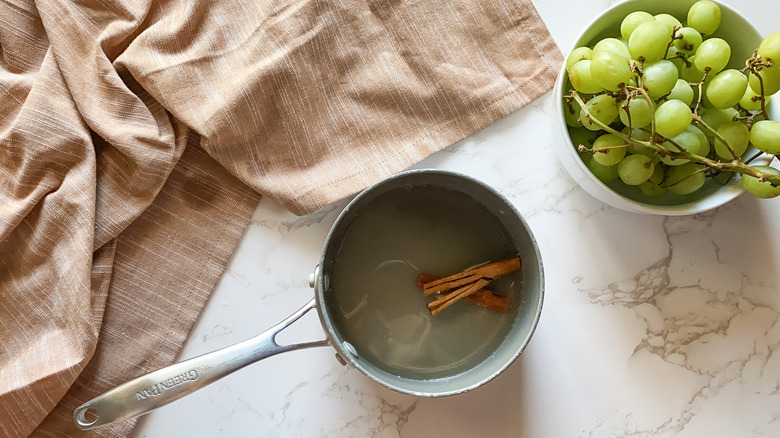 Kristen Carli/Mashed
Next, you'll want to create your pickling liquid, which is what gives the grapes their zing and additional flavor. For this step, take your small saucepan and add the vinegar, water, cinnamon sticks, and sugar. Give the mixture an initial stir and bring it to a boil, stirring occasionally. 
Once it has been boiled, remove it from the heat and let it cool to room temperature. Try not to be impatient with this step, as pouring a heated mixture over the grapes can cook them slightly, which is not what we want. 
Pour the cooled pickling liquid over the grapes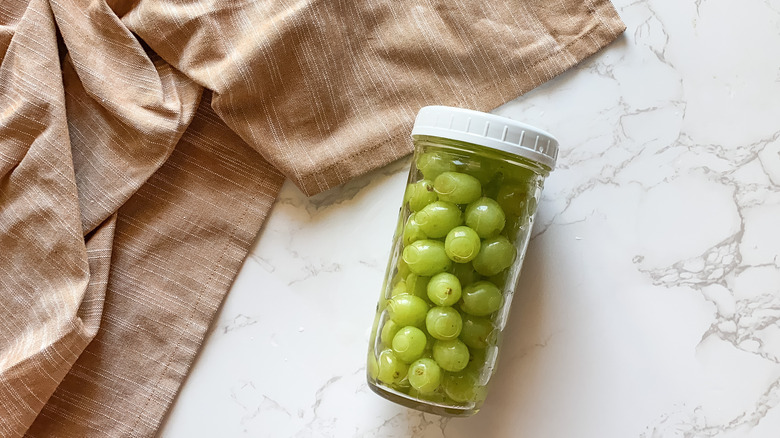 Kristen Carli/Mashed
Now that you have your liquid, you'll need to assemble your grapes in the large, lidded jar. They don't need to be placed in any specific way; just make sure there is enough space to add the liquid and close the lid without squishing any of the fruit. 
Once the grapes are in the jar and the pickling liquid has cooled, remove the cinnamon sticks and pour the liquid over the top of the grapes. 
Refrigerate the pickled grapes for two days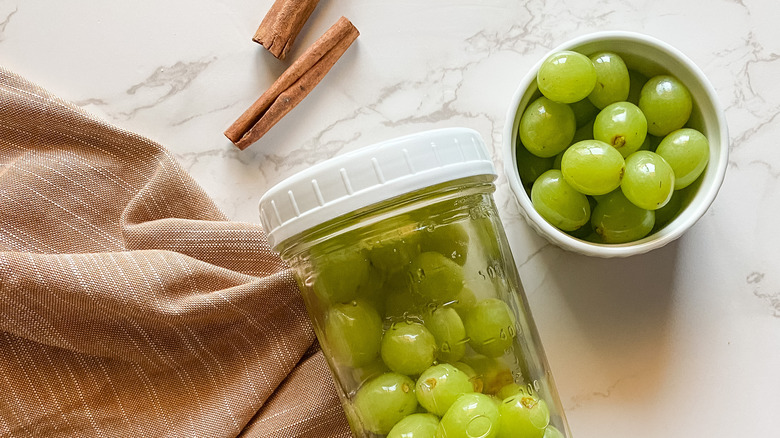 Kristen Carli/Mashed
Lastly, seal your jar tight and place it in the fridge for two days. Letting the grapes rest gives them time to absorb the flavor of the pickling liquid. Two days can feel like a while at first, but use this time to plan how you will utilize your new creation! 
These pickles will be tangy and vinegary, for sure, but will also be on the sweeter side thanks to the amount of sugar — as though a bread-and-butter pickle and mulled wine had a baby: fruity, cinnamon-y, tangy. 
Serve and enjoy!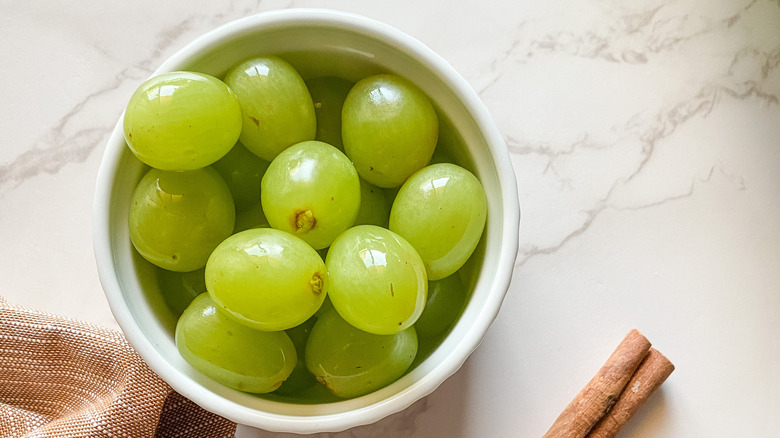 Once your two days are up, it's finally time to enjoy your sweet pickled grapes. As far as serving suggestions, Carli has plenty: "I like them served with pork, chicken, or beef," she says. "They also go great on a charcuterie board!" 
Basically, serve these anywhere else you would serve a sweet pickle. Your guests will marvel at how inventive you've been. Plus, who doesn't love trying a new and interesting food? 
Sweet Pickled Grapes Recipe
This sweet pickled grapes recipe is a new addition to the pickle canon. It uses white wine vinegar, cinnamon, and sugar to create a sweet and fruity pickle.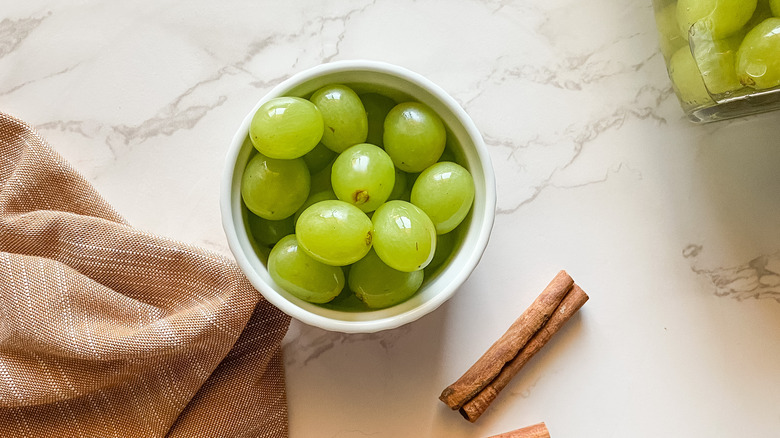 Ingredients
1 pound green grapes, stems removed
½ cup white wine vinegar
½ cup water
2 cinnamon sticks
2 tablespoons sugar
Directions
In a small saucepan, add the vinegar, water, cinnamon sticks, and sugar.
Bring to a boil, remove from the heat, and then allow the liquid to cool.
Place the grapes in a large jar.
Remove the cinnamon sticks from the cooled liquid and pour the liquid over the grapes. Tightly close the jar lid.
Place the jar in the fridge and allow the grapes to pickle for two days before eating them.
Nutrition
| | |
| --- | --- |
| Calories per Serving | 55 |
| Total Fat | 0.1 g |
| Saturated Fat | 0.0 g |
| Trans Fat | 0.0 g |
| Cholesterol | 0.0 mg |
| | |
| --- | --- |
| Total Carbohydrates | 13.9 g |
| Dietary Fiber | 0.9 g |
| Total Sugars | 11.9 g |
| Sodium | 2.1 mg |
| Protein | 0.4 g |