The Sweet Way Julia Child Corrected This Recipe Mistake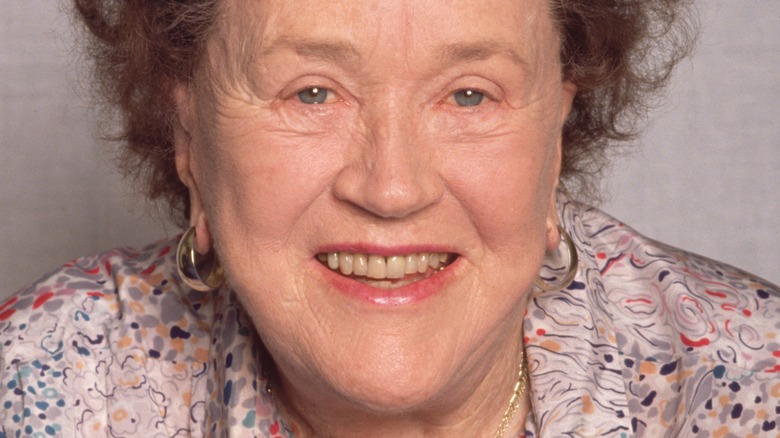 Francesco Da Vinci/Getty Images
Poetry, in and of itself (as opposed to, say, as a basis for song lyrics), might not currently be among the most popular of American art forms (via Penn State News). However, it has always been relevant in American society, and for those who appreciate it, the name John Ashbery (1927-2017) likely rings a bell. Ashbery is frequently recognized as one of the country's finest 20th century poets, according to the Poetry Foundation, which noted that Ashbery was New York State's poet laureate from 2001 to 2003, the chancellor of the Academy of American Poets, and the winner of "nearly every major American award for poetry, including the Pulitzer Prize." Today, fans of Ashbery — not to mention poetry in general — are enjoying a throwback to a simpler time, when poetry and cooking were far more evenly matched in terms of their star-making power.
The throwback, in the form of a 1976 letter from Ashbery to the great French chef Julia Child, along with an accompanying response from Child to Ashbery, comes via Twitter user and author Daniel Kane (@DKanePoetry), an up-and-coming poet himself, who has apparently studied Ashbery at great length (via The Midnight Mollusc). The correspondence is sweet and unassuming on the parts of both Ashbery and Child and offers a nostalgic look at the way mistakes in recipes were corrected back before the internet was a thing.
Life was much simpler before the internet
"I am a poet who enjoys cooking and who, like everybody, has derived much pleasure from your books and recipes," the American poet John Ashbery once wrote in a letter to Julia Child that's been unearthed by Twitter user and author Daniel Kane (via Twitter). "Recently, however, I was unable to complete one of your recipes successfully though I tried it twice." The year was 1976. At the time, Ashbery was already a well-established, highly lauded American poet (via the Poetry Foundation), and Child was only just coming into her status as a "celebrity chef" (a phrase that did not even exist back then). 
"You must get thousands of letters like this one and I apologize for adding to the heap, but if you could find time to answer this one I would be very grateful," Ashbery went on to close his letter. Child's response had the feel of "one poet to another," she being a culinary poet as much as he was one of words. Humbly acknowledging that she had made a mistake in the recipe Ashbery was apparently working from, which came from an earlier edition of one of her cookbooks, Child sweetly corrected the error in a way that would probably be unheard of today, but entirely appropriate for the time — by sending Ashbery a replacement page for the cookbook with the corrected recipe. Sweetest of all? She signed it with her married name, "Mrs. Paul Child."