The First Food Julia Child Taught Viewers To Cook On TV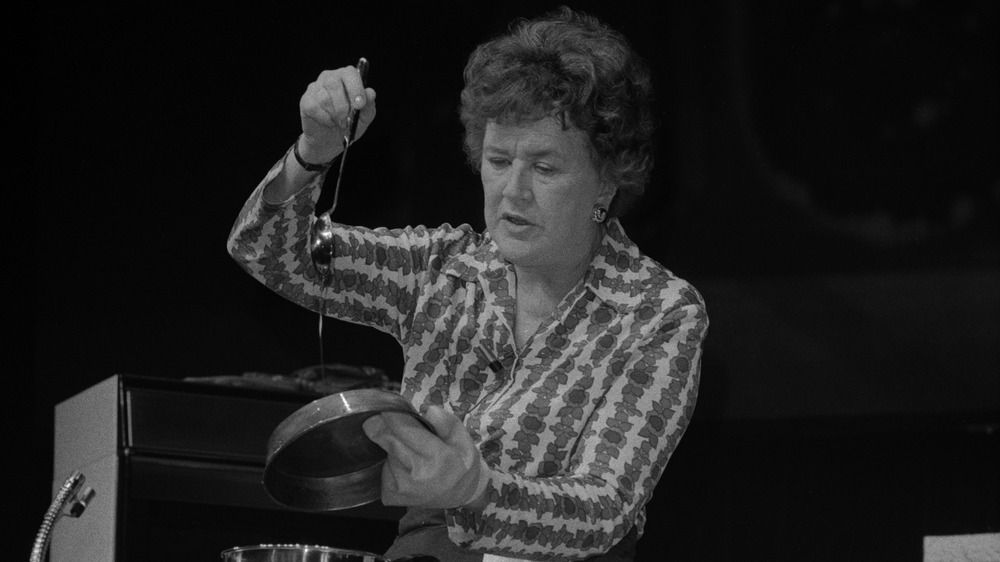 Janet Fries/Getty Images
Whether you consider yourself a superb at-home chef or have gone to culinary school, the long-told tale of exquisite celebrity chef Julia Child must have hit your ears a time or two. It's sadly true that she is no longer around to show us how to make some of the best examples of French cuisine out there, as she died in 2004 (via TODAY). However, the impact of her career is still felt today.
According to Eat This, Not That! Julia didn't begin cooking until she met her husband while they were both working for the Office of Strategic Services (the precursor to the CIA). Within two short years of meeting, the two wed. But why is Paul credited with helping her become a culinary icon? Because he introduced her to French cuisine. And though Julia wasn't the first-ever American chef who trained in France, she would soon prove to be one of the most influential.
Although Julia graduated from Le Cordon Bleu in 1951 and released her first cookbook, Mastering the Art of French Cuisine, a decade later (via Delish), it wasn't until 1963 that her critically-acclaimed show, The French Chef, would debut. And while she taught onlookers and admirers how to create a number of delicious meals throughout the show's 10-year run (via WGBH),  the origins of her show are surprising. Here's what Julia Child cooked that convinced producers to give her a shot at her own show.
Julia Child landed her own show after making a staple French dish on another show.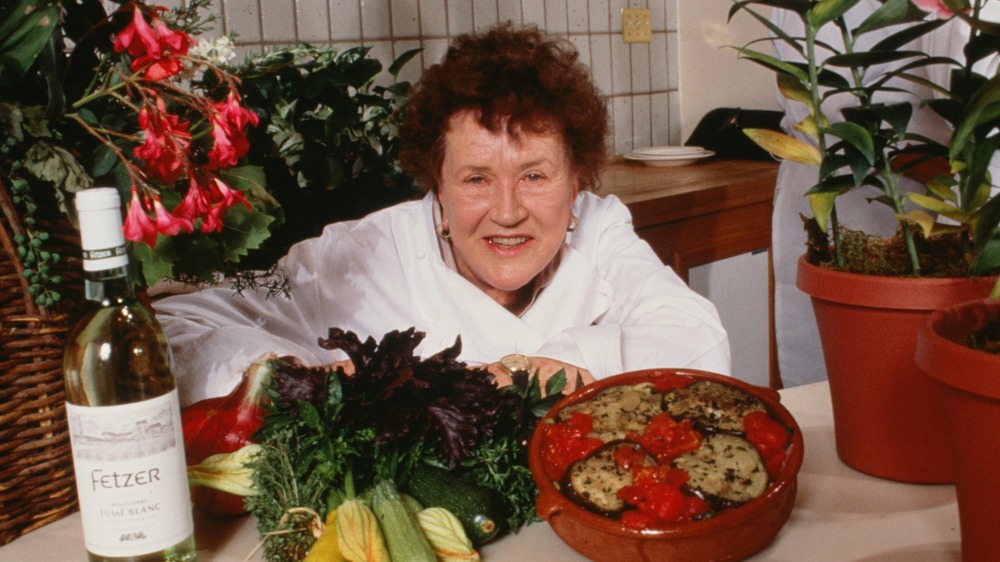 George Rose/Getty Images
Prior to landing her show, which PBS notes was the very first cooking program to air on the network, Julia appeared on a number of shows to promote her previously released cookbook (via Eat This, Not That!). According to History, it was during her appearance on the PBS show I've Been Reading — a show ostensibly focused on books — when she did something a little different. 
Child showed up to the shoot and, instead of sitting and chatting, prepared an omelet right on set. Thanks to this unexpected demonstration, viewers quickly became admirers of the charismatic chef and her cheerful acceptance of her own kitchen mishaps. They soon wrote in to the station celebrating Julia's work. Boston's WGBH television station quickly offered her a deal. And, as many would say, the rest was history.
Now, almost 50 years since The French Chef aired its last episode, the iconic chef is still ready to teach us something new. Delish notes that HBO Max is currently developing a show based on her life. Aptly titled Julia, the show will focus on both Child's life story and of her now-iconic PBS series, while also delivering " a portrait of a loving marriage with an evolving and complicated power dynamic." And, since it's based on the entirety of her life, maybe we'll even get to see a reenactment of that life-changing omelet that helped her become a household name.