3-Ingredient Crème Brûlée Recipe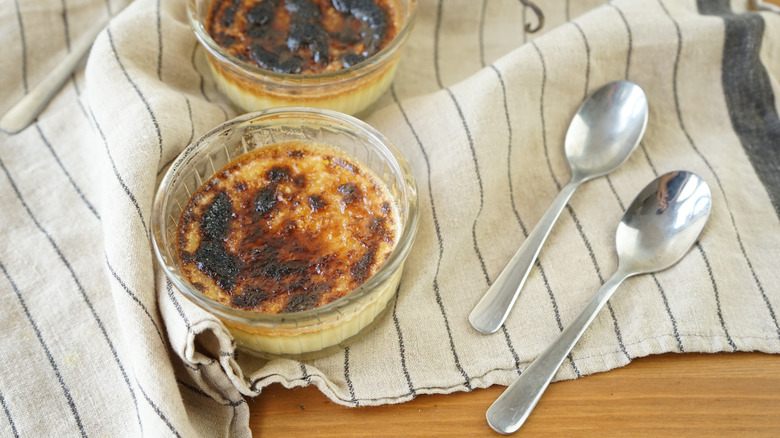 Sophie Putka/Mashed
It's easy to associate crème brûlée with fancy dinners out and detailed methods in the kitchen that seem too complicated to recreate. After all, the French name, the delicate custard, and the seemingly complex hard sugar layer all lend it an air of elegance. But when you get down to it, the components of crème brûlée — sugar, cream, vanilla, and egg — aren't super unique. It's when they come together just so that the magic happens — even at home, right in your own kitchen. 
We have an even simpler version of the classic French-American treat that uses only — wait for it — three ingredients to make the elegant dessert you've most likely only ordered at a posh restaurant. Popularized by TikTok earlier in the coronavirus pandemic, this combination relies on one secret ingredient for a final product that's every bit as rich and silky as the ones you've had. As if by magic, it takes the place of the bulk of the creme. What's up to you, however, is the execution. Don't be intimidated, because we believe in you!
Assemble the ingredients to prepare this three-ingredient crème brûlée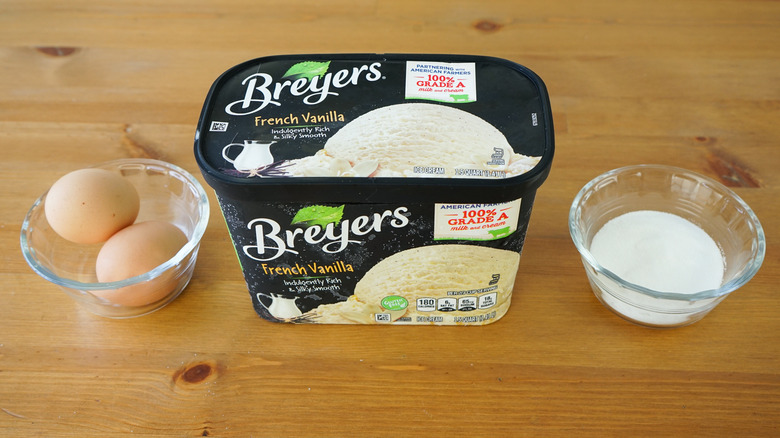 Sophie Putka/Mashed
Getting together the ingredients for this deceptively impressive dessert couldn't be easier. All you'll need is white sugar, egg yolks, and vanilla ice cream. Ice cream is the linchpin here, as it eliminates the need to combine heavy cream with sugar and vanilla. All you'll need to do are separate two eggs, and get ready to whisk their yolks into liquid ice cream. Look for a vanilla ice cream that has real vanilla bean specks in it, as they add a more complex taste and a nice visual effect. You'll also need some kind of ramekin — a single-serving, thick-walled dish that can stand up to heat. Be excited, because this is a recipe that will impress anyone you serve it to!
Melt the vanilla ice cream in the microwave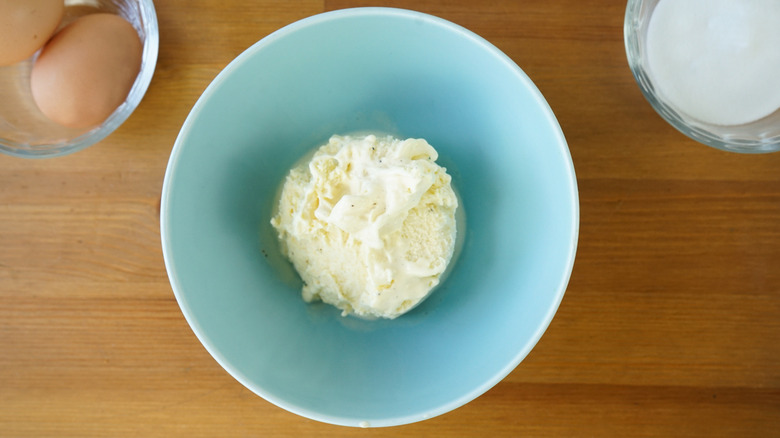 Sophie Putka/Mashed
Using ice cream as an ingredient for a baked dessert might seem counterintuitive, but it's exactly what's needed to make the ultimate creamy custard for this crème brûlée recipe. After all, ice cream is essentially cream, milk, and sugar, often with a stabilizer or thickener to give it extra oomph. Simply melt the ice cream for about a minute, whisk it together if it's not totally melted, and let it cool down to room temperature.
Add egg yolks to the melted vanilla ice cream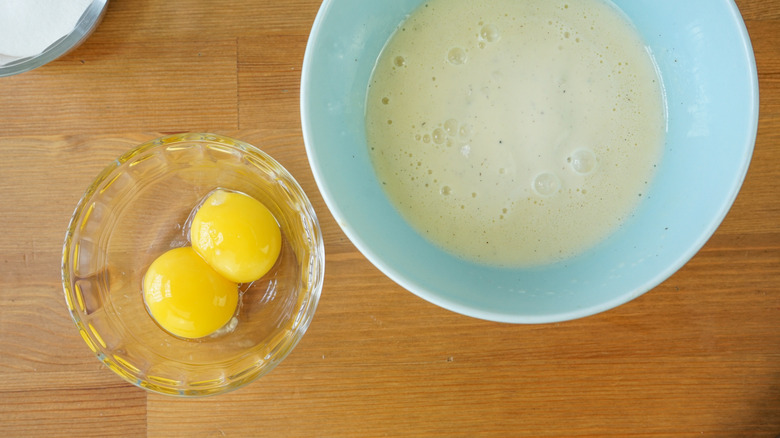 Sophie Putka/Mashed
Whisk your egg yolks into the ice cream, making sure they're completely blended in. Then, just pour the mixture evenly into ramekins, filling about halfway or a little more. Egg yolks are what gives custards — including crème brûlée — their thickness and consistency. The yolks are full of fat and protein, and coagulate while the custard cooks through — a lot like a hard-boiled egg. But with cream and sugar in the mix, and only gentle heat, the proteins create some bonds with one another, giving us that silky texture we know and love, according to BBC.
Make a bain marie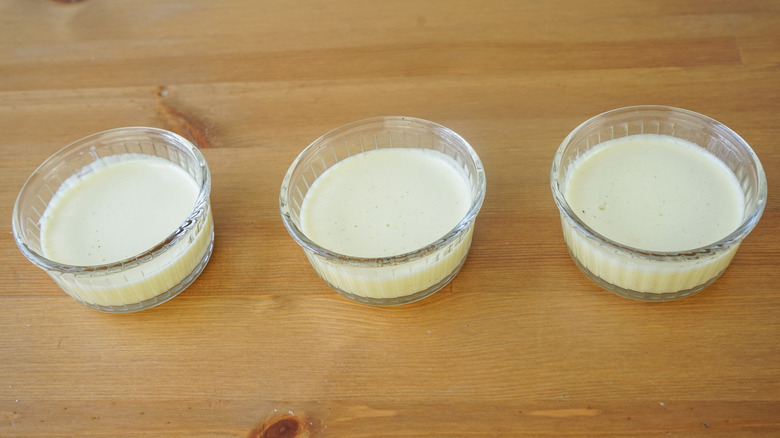 Sophie Putka/Mashed
To ensure the gentle, even heat that gives these bite-sized custards their signature texture, these instructions call for a bain marie — aka a water bath. The ramekins are bathed in water while they bake, but only enough so that no water gets in. All you need is a baking pan big enough to hold the ramekins and deep enough for water to be halfway up the ramekins. Heat the water to a boil or near-boil before placing the pan with the ramekins on your oven shelf. Then, to avoid having to carry a pan full of boiling water to the oven, pour the water in slowly until it's halfway up the ramekins, and close up the oven.
Cook and cool the crème brûlée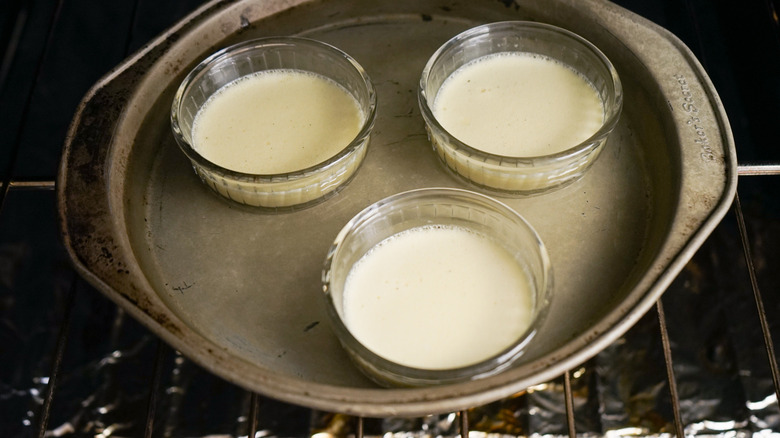 Ramekins only require about 30 minutes in the oven until the custard is cooked through, but depending on the size of your ramekins, you may want to adjust the cooking time. You'll know the custard is done when the center still slightly jiggles like Jell-O. There may be bubbles on the top of the crème — not to worry, though, unless the custard looks golden brown. That might be a tip-off that your custards overcooked. When done, cover the custards, and pop them in the fridge for two hours or more.
Sprinkle sugar on top of the crème brûlée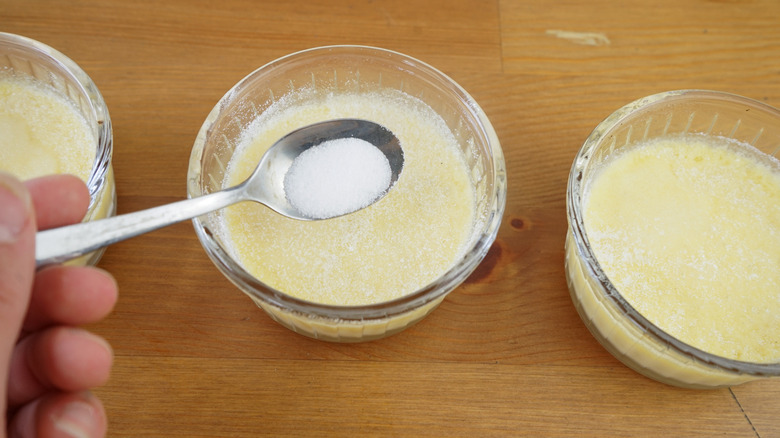 Sophie Putka/Mashed
Now for the fun part: the crunchy sugar lid that is the signature of the crème brûlée we know and love. All you need is a teaspoon or less of white granulated sugar on each to create an even layer of sugar on top. To create an even layer, just turn the ramekin gently, spreading the sugar out over the top. This even layer is important: crème brûlée actually means "burnt cream," but we don't actually want to burn the sugar on top. Evenly distributing the sugar minimizes the chances of a char.
Broil or torch the top of the crème brûlée, cool, and enjoy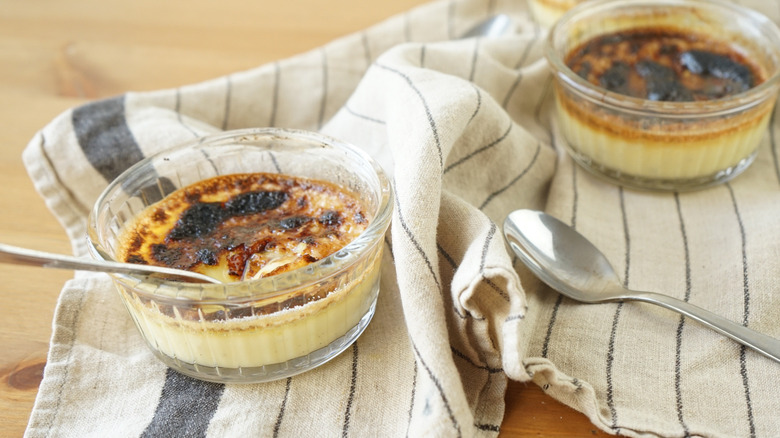 Sophie Putka/Mashed
You can create this trademark toasty caramelized layer with an everyday oven broiler, but a kitchen torch would be even better. Crème brûlée is cold at the bottom and warm on top, and with a broiler, you risk giving the custard too much extra heat. A torch can also give more even heat and be adjusted easily for the most precise crunchy lid. Note that when using a broiler, the heat can be hard to control.
Check your custards frequently if you opt for the broiler method, because sugar can burn within a few seconds. Your finished products should be a deep golden brown. Let them cool before cracking in. It's really that simple to whip up this three-ingredient crème brûlée, so it's time to sit down and snap some pics of a job well-done. Enjoy!
3-Ingredient Crème Brûlée Recipe
This simple recipe uses only three ingredients to prepare the elegant dessert you've most likely only ordered at a fancy restaurant.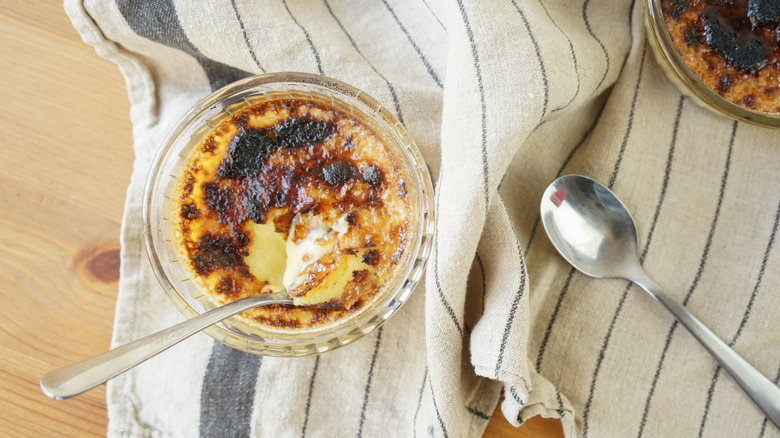 Ingredients

1 cup vanilla ice cream
2 egg yolks
2 to 3 teaspoons granulated sugar
Directions
Preheat oven to 325 F.
Melt the vanilla ice cream in a microwave-safe bowl for 1 minute, whisk, and let cool.
Whisk in the egg yolks.
Pour the mixture into ramekins.
Place ramekins into a cake pan, then pour hot water into it, letting the water fill about halfway up the ramekins.
Bake for 30 minutes, or until middle is still jiggly and almost set.
Refrigerate for at least 2 hours.
Spoon sugar onto crème brûlée, and turn to distribute in an even layer.
Use a blowtorch or place under broiler for about 3 minutes to brown the sugar, checking to make sure the sugar doesn't burn.
Let cool for at least 10 minutes, then serve.
Nutrition
| | |
| --- | --- |
| Calories per Serving | 133 |
| Total Fat | 7.2 g |
| Saturated Fat | 3.8 g |
| Trans Fat | 0.0 |
| Cholesterol | 116.8 mg |
| | |
| --- | --- |
| Total Carbohydrates | 14.2 g |
| Dietary Fiber | 0.3 g |
| Total Sugars | 12.9 g |
| Sodium | 39.5 mg |
| Protein | 3.0 g |