Aldi Shoppers Can't Get Enough Of These Steamed Chicken Dumplings
What would we do without social media? How would we ever manage to snag exciting new finds from stores like Trader Joe's or Aldi before they quickly disappeared from shelves? Or find out that our long-missed, old favorites are back in stock? Thank goodness those dark, pre-Instagram days are behind us so we can stay in the know!
The latest discovery comes from fan page @AdventuresInAldi that shared something exciting this week: Chicken dumplings are back in Aldi stores. Packed in a blue and aqua box under the brand name Fusia, the frozen Steamed Chicken Dumplings are described as "Asian-inspired" and have a diced chicken and veggie filling. And you won't have to wait long to sink your teeth in, because each box of six can be warmed up in the microwave and will be ready in only two minutes.
Commenters on @AdventuresInAldi's post are clearly excited to learn that these goodies have returned, with several exclaiming that these juicy dumplings are "so good!!" A few people also chimed in to say that the similar dumplings carried at Trader Joe's are just as good. (With one user even noting the relationship between the two stores, as noted by The Kitchn.) Nevertheless, the Fusia version seem to be an Aldi fan favorite — and there's good reason why.
These Aldi chicken dumplings were a favorite last year, too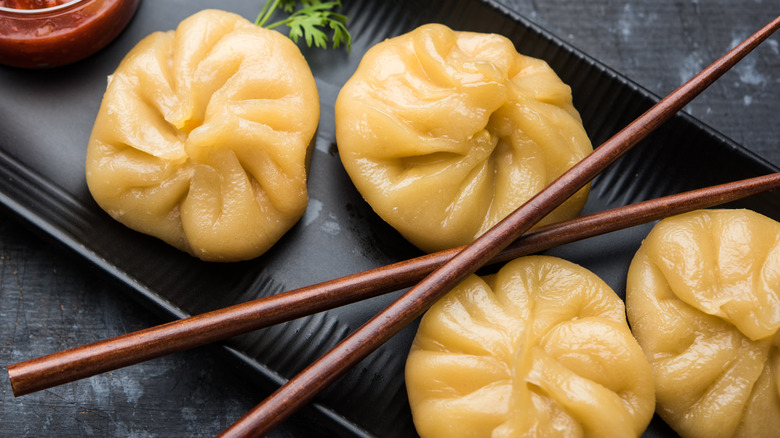 Shutterstock
Instagram pages like @AdventuresInAldi and @theamazingaldi are an awesome resource to learn about new store products, but in this case, the Fusia Steamed Chicken Dumplings have actually been seen before in the chain's freezer section and were a hot commodity while they lasted. Last August, one Facebook user posted a photo of the steamed chicken dumplings in an Aldi recipe group, saying that they're delicious with fried rice and Mongolian beef – even better, you can get all those ingredients from Aldi too!
And in another Aldi Facebook group last summer, a user suggested adding the dumplings to soups. Just this week in the same Facebook group, a member's post about the chicken dumplings returning to Aldi stores received over 700 likes, excited comments, and shares. As they said, these savory treats are "like soup dumplings with the broth inside."
If history repeats itself, the Fusia Chicken Dumplings may only be in Aldi stores for a short time, and then there'll be another year-long wait. So if these brothy pockets of chicken and veggies sound good, don't wait too long before heading to your Aldi to snag some. As one poster said, they're doing what's necessary to make the precious dumplings last, saying, "THIS time I am getting more than one box."