The Big Problem Customers Have With Crumbl Cookies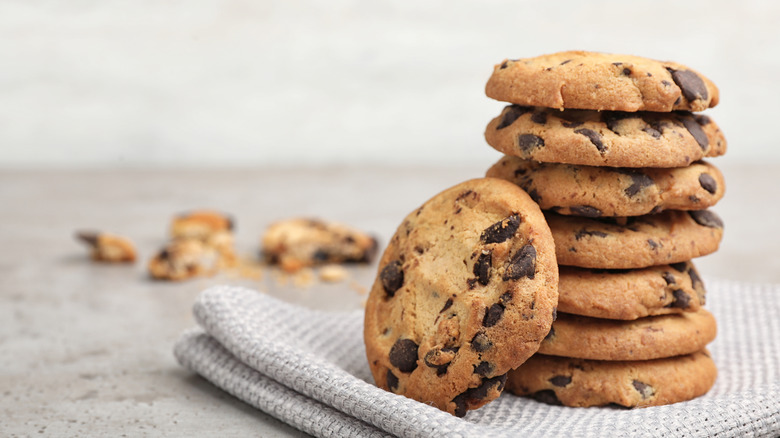 Shutterstock
Gourmet cookie company Crumbl Cookies is on thin icing. As it nears the finish line for its ambitious "20 Weeks of 20 New Flavors" sales event, the brand has begun racking up negative reviews on TikTok, with customers complaining of botched delivery orders.
Negative Crumbl reviews have been trickling in on the video-sharing platform since at least late July, when a TikTok poking fun at the company's new Strawberries 'N Cream cookie received over 700,000 likes. Offering a side-by-side comparison of the elaborate, strawberry-filled confection that was advertised and the disappointingly simple cookie they actually received, the dissatisfied customer captioned the video with a direct appeal to Crumbl, asking for an explanation for the subpar service. Since then, at least three other major Crumbl exposés have appeared on TikTok, with a recent video –– panning the brand's new Hawaiian Rainbow Cake flavor, which also didn't arrive as advertised –– receiving over 410,000 likes in its first 21 hours.
A problem with delivery?
It's worth noting that the negative reviews have tended to focus on orders fulfilled through Crumbl's delivery service, rather than in-store purchases. Some of the substandard performance, then, might be attributed to failures within the delivery process. One TikTok, showing a delivery box of messy, scattered cookies with frosting stuck to the top of the box, made that especially clear.
While Crumbl has offered takeout and delivery since its founding in 2017 and currently has partnerships with major delivery services including DoorDash and GrubHub, the company began as a simple brick-and-mortar operation in Utah, with ingredient preparation and baking taking place within view of customers. Transparency (along with quality of ingredients) was one of the company's original core values. Since then, Crumbl has grown into a national franchise, expanding its footprint in just three years to more than 200 bakeries across 32 states. 
Even as it has expanded rapidly, the cookie company still prides itself on the quality of its products and the integrity of its operation, maintaining "open-concept" kitchens in all of its bakeries and putting franchisee applicants through a rigorous vetting process (via Crumbl Cookies). Recent missteps, however glaring, may be due simply to the breakneck speed of the company's recent "20 New Flavors" campaign.