When It Comes To Making Breakfast, This Waffle Maker Stands Above The Rest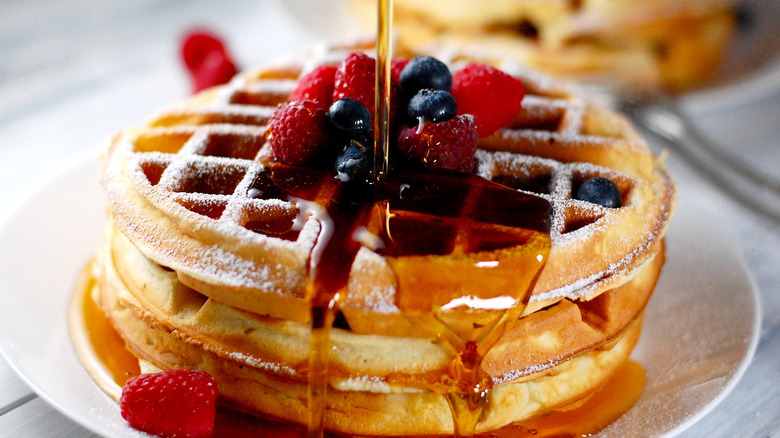 Shutterstock
We may receive a commission on purchases made from links.
Everyone loves a good breakfast. Those that feel really next-level about it might want to spring for a higher quality waffle maker, like the Cuisinart WAF-F20P1 Waffle Iron.
Budget waffle irons are fine and all, but they are typically stationary, so they can't be flipped to ensure total and even distribution of batter. Among other features, this Cuisinart model stands out because the rotary feature flips 180 degrees. This produces evenly cooked, perfectly formed waffles that are literally restaurant quality.
In fact, it's so good that the WAF-F20P1 is actually used occasionally in small operations, as Vidiotsavant explains. "We're using this in our cafe a couple of mornings per week, so it's getting a moderately heavy workout for what is a consumer appliance," the reviewer notes. "Makes great waffles — crisp on the outside and fluffy on inside." For what it's worth, Vidiotsavant recommends a buttermilk recipe for best results.
Other perks of the Cuisinart waffle iron
Even less kitchen-savvy waffle lovers will find it difficult to mess up using this iron. The Cuisinart WAF-F20P1 Waffle Iron makes two waffles at a time, both one-inch deep. It beeps when it's warm enough to cook and then again when each waffle is done, so you won't be left guessing, as is the case with so many other waffle makers.
It's also outfitted with a browning-control knob that has six settings. So, whether you like 'em well done, barely browned, or somewhere in between, you'll get exactly the doneness level that you want. The nonstick coating makes it a cinch to wipe clean (once it's cooled down, of course), and it comes with a one-year warranty.
Although the price point is steeper than many other waffle makers at $99.95, one reviewer is quick to point out that it makes restaurant-quality waffles at a fraction of the price. "I bought this a few weeks ago on a whim," says Michael Gamble, noting that he'd just gone for brunch and paid $60 for waffles for three people. "They turned out amazing from the very first two we made. Making waffles at home means we have already saved at least four times the cost for this maker and counting."
Cost-efficient and delicious? Don't mind if we do!
Purchase the Cuisinart WAF-F20P1 Waffle Iron on Amazon for $99.95.