Instant Pot Spiced Apple Cider Recipe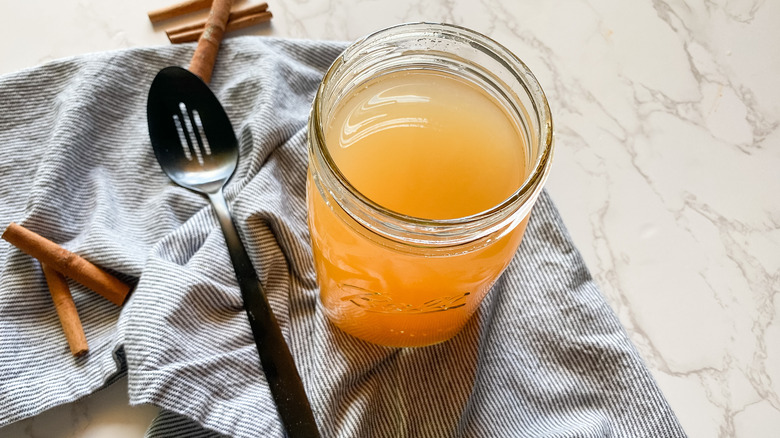 Kristen Carli/Mashed
Nothing screams fall quite as much as spiced apple cider because what better way to use the apples that you picked from the orchard? While there's no doubt that apple cider always hits the spot, there's just something so soothing about it in the fall when the leaves are changing colors and the air is crisp. This recipe uses the help of an Instant Pot, which makes it super easy. Recipe developer Kristen Carli came up with the recipe for this delicious drink that requires only a few ingredients and little prep time. Yep, there's a whole lot to love about this recipe, and it definitely won't break the bank.
Carli shares that the thing she loves most about this dish is the autumnal aspect. "I love apple cider in fall but really any time of year," she notes. If you want to make an adult beverage, you can also add some booze. "I love to spike it with whiskey! My husband makes a great cocktail with whiskey, apple cider, and a bit of honey ' delish!" Carli says. 
Keep scrolling to find out how to fix up this delicious Instant Pot apple cider that tastes just as amazing as it looks.
Gather the ingredients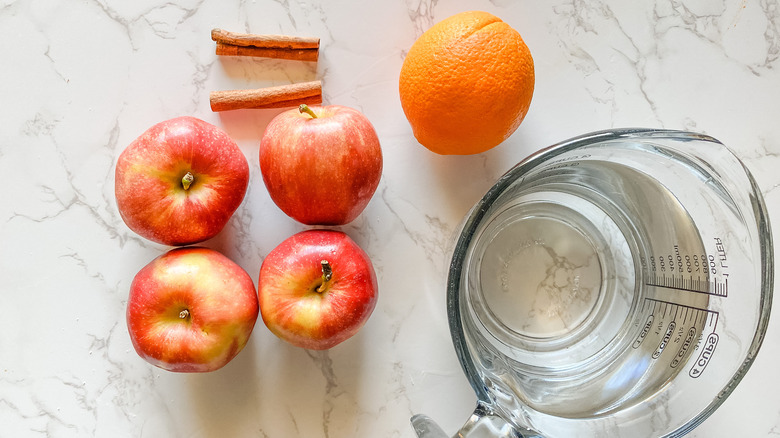 Kristen Carli/Mashed
For the first step in the process, you will need to make a list to see what items to get at the store. It's no surprise that this recipe calls for apples, which are the star of the cider. In addition, you will need a single orange, which provides a hint of citrus flavor. Be sure to cut the orange in half and then slice it ahead of time because that's how you'll throw it in the Instant Pot.
Two cinnamon sticks will provide you with just the right amount of spice. You will also need a few cups of water, which provides the rest of the liquid. 
Add the ingredients to your Instant Pot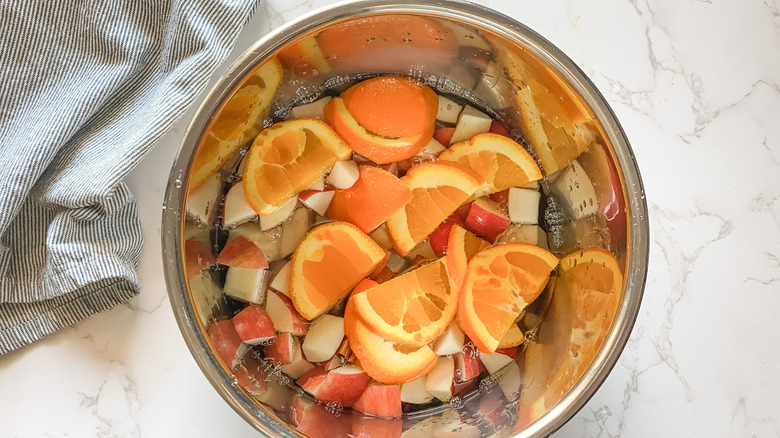 Kristen Carli/Mashed
To kick things off, take out your trusty Instant Pot. "The Instant Pot method saves a lot of time!" Carli shares. "Plus, I love any excuse to use my favorite kitchen gadget!" 
Place it on your counter, plug it in, and then get started. First, dump in the diced apples and the sliced orange. Then, you'll want to add in the cinnamon sticks and the water. Yep, that's all of the ingredients in the first step. Then, close the lid and also close the valve to sealing. 
Pressure-cook the cider for 11 minutes. When it's done, allow the Instant Pot to release naturally. This shouldn't take too long. 
Remove the lid and strain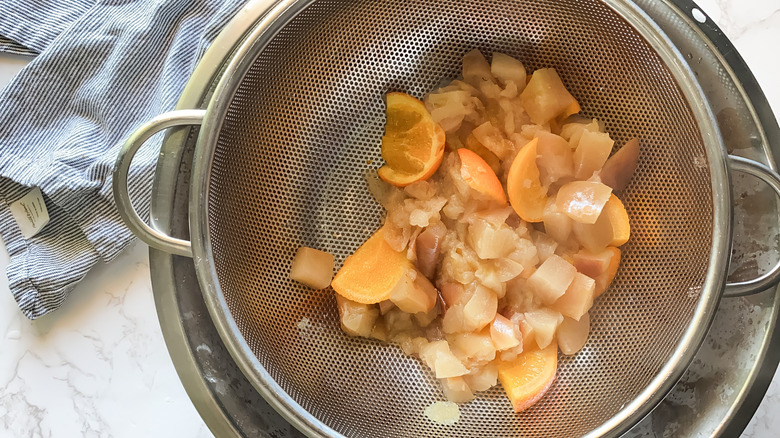 Kristen Carli/Mashed
Once the Instant Pot has naturally released, you can remove the lid and smell the fresh aroma of apples and spice. Who needs a fall candle when you have the real thing? 
Then, take out a large strainer and place it over a bowl so it sits on top. Pour all of the contents of the Instant Pot into the strainer, which helps remove all of the apple pieces and orange rinds. The bowl will catch all of the liquid, making your job pretty easy. 
There's just one more step that you'll need to take before you get to try your masterpiece. 
Smash the apples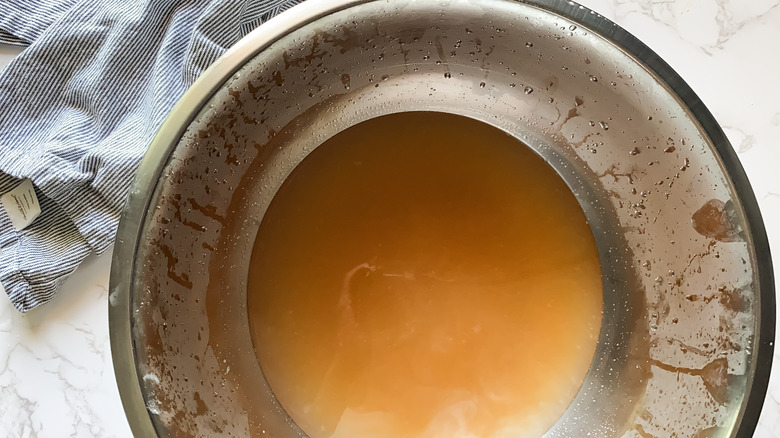 Kristen Carli/Mashed
Once you pour everything out of the Instant Pot and the liquid is in the bowl, you need to take one additional step. Press and mash the apples and the oranges into the filter. This will help drain all of the fruit while also allowing some pulp to squeeze through. After you've got everything you can out of the fruit, then your job is done. 
Discard the remaining fruit, and then pour the cider into a large jar to store. If you have another way to store the apple cider, that's fine too, but we love using a traditional mason jar for this.
Serving suggestions and leftovers
Kristen Carli/Mashed
This recipe can definitely be enjoyed hot with a donut or other sweet treat, but Carli says that you can also enjoy it over ice. 
As for leftovers? Don't worry, we've got you covered. "I store this in an airtight container/jar in the fridge for up to seven days," Carli notes. "You can serve this cold or warm. If you want it warm, I recommend pouring it into a pan and heating on the stove," she shares. 
Sip, sip, hooray! Now go and enjoy your drink.
Instant Pot Spiced Apple Cider Recipe
While there's no doubt that apple cider always hits the spot, there's just something so soothing about enjoying it in the fall.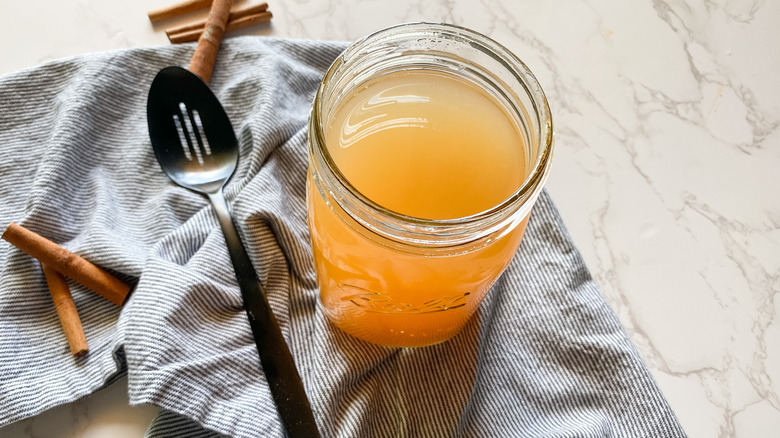 Ingredients
4 apples, cubed
1 orange, cut in half and sliced
2 cinnamon sticks
4 cups water
Directions
Place all ingredients into Instant Pot. Close lid and close valve to sealing.
Pressure cook for 11 minutes. Allow to naturally release.
Remove the lid once the steam valve has naturally released. Set a large strainer over a large bowl. Pour into a strainer to catch liquid in the bowl.
Using a wooden spoon, press and mash apples and oranges into the strainer. This will help drain the fruit but also allow some pulp to push through.
Discard the fruit and pour cider into a large jar.
Serve and enjoy.
Nutrition
| | |
| --- | --- |
| Calories per Serving | 113 |
| Total Fat | 0.4 g |
| Saturated Fat | 0.1 g |
| Trans Fat | 0.0 g |
| Cholesterol | 0.0 mg |
| | |
| --- | --- |
| Total Carbohydrates | 30.0 g |
| Dietary Fiber | 5.8 g |
| Total Sugars | 22.0 g |
| Sodium | 11.4 mg |
| Protein | 0.8 g |