Avocado Caprese Salad Recipe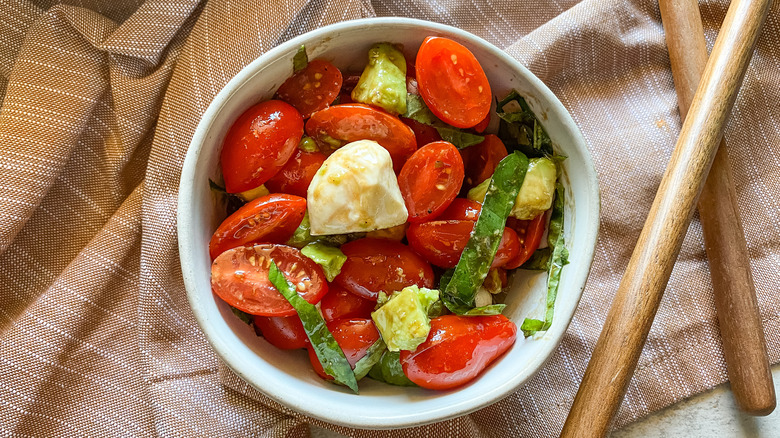 Kristen Carli/Mashed
When it comes to salad, there are few better options than a traditional caprese. And believe it or not, there's actually a way to elevate the caprese to a whole new level with the addition of avocado — because let's be honest here for a minute, what isn't better with avocado? Recipe developer Kristen Carli came up with this fresh and flavorful caprese salad recipe that is just as tasty as it is beautiful. Whether you're looking for something to eat as a light lunch or a side for a picnic or barbeque, this is perfect! Another great thing about this dish is that it doesn't require a lot of prep work, and you can make it in a jiff.
Carli loves to eat this salad in the summer, but it's delightful all year-round. "Caprese is such a summery salad, and it felt only natural to combine it with another one of my favorite summer produce options: avocados," Carli says.
We're sure your stomach is growling by now. Keep reading to find out how to make this fresh salad that's sure to be a hit!
The health benefits of tomatoes and avocados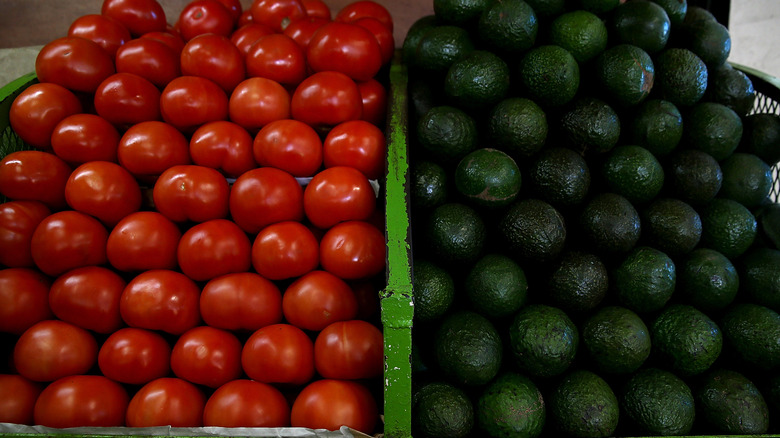 Justin Sullivan/Getty Images
When it comes to tomatoes and avocados, they're great for your health, making them a no-brainer to eat. Healthline shares that tomatoes are high in fiber as well as several other vitamins and minerals. Some of these include vitamin C, potassium, and vitamin K1. It's also thought that tomatoes help with heart health and cancer prevention.
And guess what? Avocados are just as beneficial. According to Healthline, avocados are higher in potassium than bananas. They are also filled with good fats that are healthy for your heart. The other main plus is that they taste wonderful too.
Gather the ingredients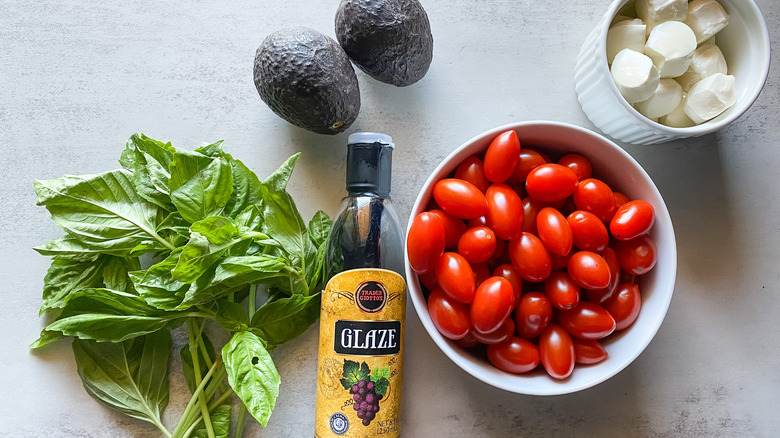 Kristen Carli/Mashed
For the first step in this recipe (or any for that matter), you will need to grab all of the necessary ingredients to throw this dish together. For starters, get some cherry tomatoes, and make sure to slice them in half. You will also need a cup of mozzarella balls and some diced avocados.
The recipe also calls for a few items to elevate its flavor, including basil leaves, olive oil, balsamic glaze, salt, and pepper. Hopefully, you already have a few of those items at home, as they are relatively common in recipes.
Add the ingredients to a bowl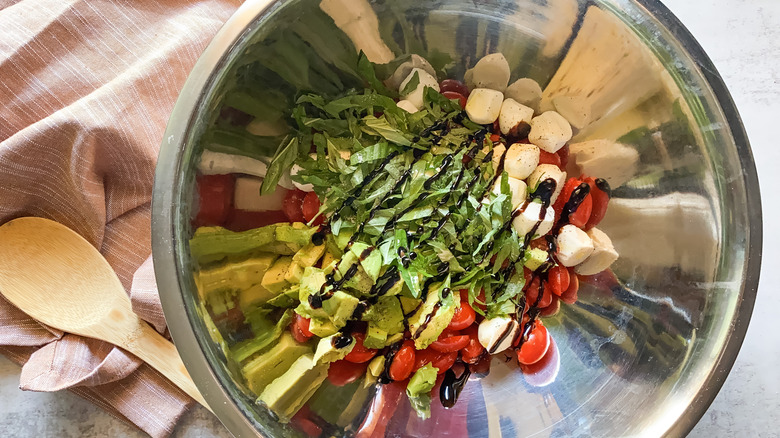 Kristen Carli/Mashed
As we mentioned before, this recipe is super simple, and it literally only takes a few minutes to put together. First, take out a large bowl. Then, throw in the halved tomatoes followed by the mozzarella balls and diced avocados. You can also add in the cup of basil leaves, which should be chiffonaded, or cut into long, thin strips.
Now that you've added all of your veggies and herbs, you can drizzle in the olive oil followed by the balsamic glaze. Last but not least, you will need a little bit of salt and pepper. Yep, that's every single item on your list in one step.
Stir to combine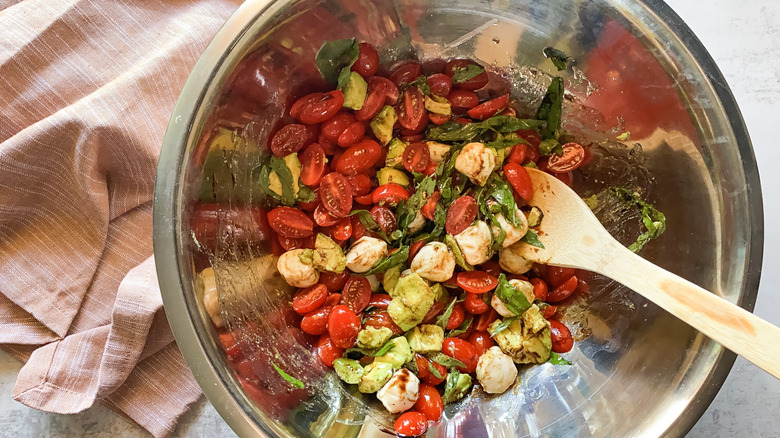 Kristen Carli/Mashed
Once you have everything in the large bowl, it's time to get mixing. You can either use a big spoon or a rubber spatula, whichever you prefer. Give the entire mixture a few good turns so everything is well combined and the cheese and veggies are covered with a healthy amount of olive oil and balsamic. 
If you used the same dish for mixing as you used for serving, you could just keep it there. If not, now's the time to transfer the salad into a serving bowl. Doesn't it look beautiful?
Serving suggestions and leftovers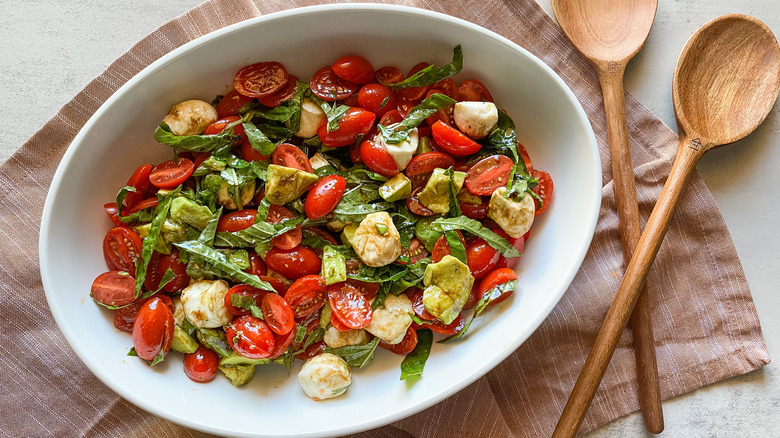 Kristen Carli/Mashed
There are plenty of ways to enjoy this delicious salad, including one of the most common ways — by itself. Carli also has a few other great suggestions for serving, and you really can't go wrong. "I love this salad with crusty bread and butter," she says. "It also goes great with roasted salmon." Yum! 
As far as leftovers are concerned, they won't be good. Like most other salads with dressing or oils on top, it's best when enjoyed immediately. "Unfortunately, this will only last a few hours and not much longer after that. It is best to eat after making," Carli says.
We hope you love this salad as much as we do!
Avocado Caprese Salad Recipe
Recipe developer Kristen Carli came up with this fresh and flavorful caprese salad recipe that is just as tasty as it is beautiful.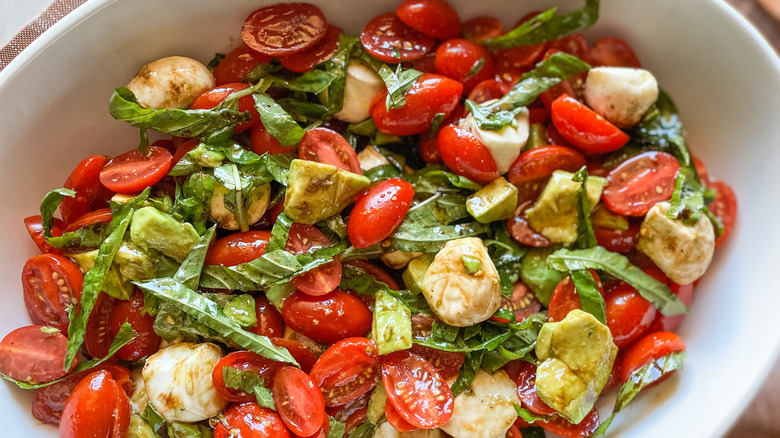 Ingredients
16 ounces cherry tomatoes, halved
1 cup mozzarella balls
2 avocados, diced
1 cup basil leaves, chiffonaded
¼ cup olive oil
2 tablespoons balsamic glaze
½ teaspoon salt
¼ teaspoon pepper
Directions
Add all ingredients into a large bowl.
Stir the ingredients to combine.
Serve and enjoy.
Nutrition
| | |
| --- | --- |
| Calories per Serving | 393 |
| Total Fat | 34.8 g |
| Saturated Fat | 7.7 g |
| Trans Fat | 0.0 g |
| Cholesterol | 22.1 mg |
| | |
| --- | --- |
| Total Carbohydrates | 15.2 g |
| Dietary Fiber | 8.2 g |
| Total Sugars | 5.1 g |
| Sodium | 481.3 mg |
| Protein | 9.5 g |