This Root Beer Float Hack Will Change How You Order At Sam's Club's Café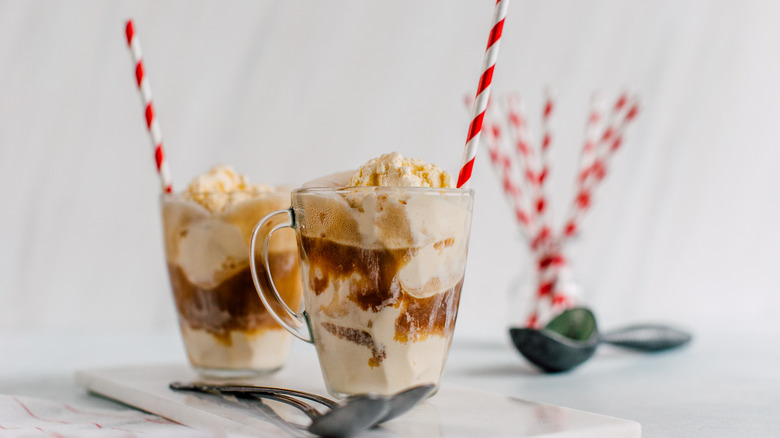 Shutterstock
It's a well-known fact that food and drink chains like McDonald's and Starbucks have secret menus and hacks. But what you might not expect is the food court at Sam's Club to have a secret menu, too. Sam's Club is a place to stock up on things in bulk for a pretty low price, much like Costco. Eating at the café is just a basic part of the shopping experience and it's not the kind of place you'd probably expect to have uncovered gems on the menu.
So when the chain itself shared a specialty secret item on Twitter and Instagram, shoppers were surprised to say the least. According to the video, you can get a root beer float at the café all year round. To do so, first order a vanilla-flavored frozen yogurt and a fountain drink from the touchscreen computers or the self-serve kiosk. Once you have your frozen yogurt, make your way to the fountain machine and add a splash of root beer in the cup — and ta-da, your float is ready.
The frozen yogurt costs $1 and the root beer is another $0.89 so this tasty treat is going to cost you about $1.89 total. Sam's Club also has a helpful tip: "Spoon your frozen yogurt into the fountain drink cup for maximum float action."
More items on Sam's Club's secret menu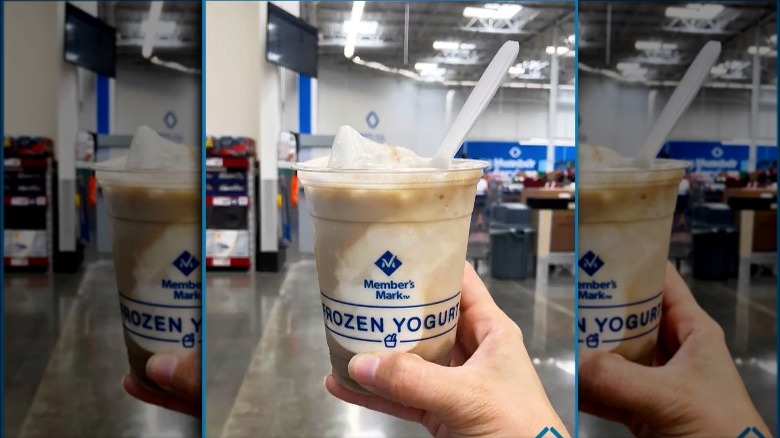 While the root beer float might change the way you order at Sam's Club café, it's not the only off-the-menu item that you can get. According to Taste of Home, Sam's Club has a larger secret menu than we might have thought with a Pizza Pretzel and an ICEE Float being two favorites.
The Pizza Pretzel, as the name suggests, is a mix of two Sam's Club favorites combined into one hot snack. A salted pretzel is first covered in marinara sauce, then topped with shredded mozzarella cheese and some pepperoni, and sells for $1.69. The website reports that you don't really have to worry about the staff not knowing about this secret menu item as a Pizza Pretzel is quite popular amongst the inner crew.
Getting an ICEE Float is pretty straightforward too — simply order the flavor of your choice and then top it with a soft serve. A small ICEE Float goes for $.99 and the large size costs $1.98. But here's the best part. Although Sam's Club requires a membership to shop there, you don't need to be a member to eat at their food court, says Business Insider. So anyone can go to the Sam's Club food court for a Pizza Pretzel, ICEE Float, or a root beer float all year-round.