The Unique Wendy's Items You Can Only Find At This Walmart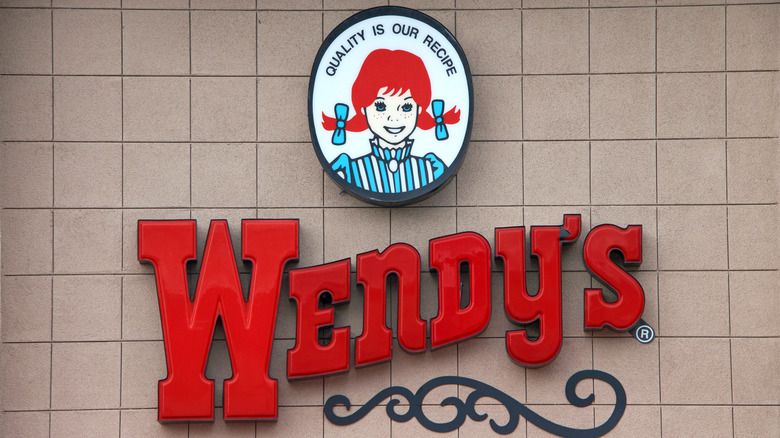 Shutterstock
If your idea of a perfect day consists of leisurely perusing shower curtains and bath towels while slurping down a Chocolate Frosty, you may be in luck! According to National Restaurant News, though, you will have to make a trip to Ohio for now if you want to experience the blissful combination of Walmart's shopping allure and the tastiness of Wendy's food. For those lucky Buckeyes, Wendy's has opened a Hamburger Stand inside a Walmart in Heath, Ohio, and the food chain, which is based in Dublin, Ohio, also plans to open a Wendy's Snack Shop in another Walmart located in Ohio later this year.
Wendy's is no stranger to trying new things lately, and this isn't the first time the chain has offered its food outside of its traditional stores. In July, Wendy's debuted a Frosty Cart at ZooTampa. According to the Tampa Bay Times, the dessert truck offers a variety of cold treats including Frostys and Frosty Fusions with optional toppings like crushed Oreos and Lucky Charms marshmallows. Wendy's is also planning to open 700 ghost kitchens over the next five years (via QSR), which means if you don't live near a Wendy's, Frosty Cart, Burger Stand, or Snack Shop, you may still have access to a Baconator in the future. If you can make a trip to a non-traditional Wendy's inside a Walmart this year, you might be surprised by a couple of menu items.
What menu items will you find at the Hamburger Stand
While you might not be able to find a Bacon Cheese Baked Potato on the menu at its Walmart location in Heath, according to National Restaurant News, Wendy's CEO and President Todd Penegor said in an interview that the location has some items not available elsewhere. According to Penegor, Frosty Fusion flavors like the elusive Strawberry Frosty are only sold in the U.S. at the Hamburger Stand. He also shared, "We've got this unbelievable great Jalapeño Popper Chicken Nugget ... that isn't in our freestanding restaurants." The Snack Shop will also have a smaller menu lacking salads and baked potatoes, according to Penegor.
There is no word yet if there are plans to put Wendy's into more Walmart locations. According to National Restaurant News, McDonald's has closed more than 200 in-store locations at Walmarts, leaving an opportunity for other restaurants, like Wendy's, to move in. International Business Times reported that Walmart has deals in the works with a number of restaurants like Nathan's, Dominos, and even Hissho Sushi and Craft Beer Bar.
Depending on where you shop, you might be able to chow down on a hot dog, pound a slice of pizza, throw back a tuna roll, or finally find out if that Strawberry Frosty is worth all the hype at your local Walmart.