Instagram Adores This Photo Of Padma Lakshmi And Her Daughter At A Famous French Landmark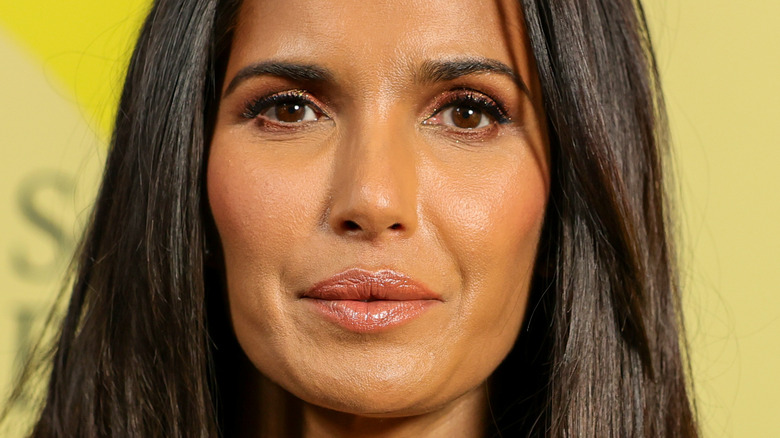 Rich Fury/Getty Images
Fans of Padma Lakshmi know that she sure keeps herself busy. Season 18 of "Top Chef," which premiered in April 2021, saw the return of Lakshmi as one of the judges on the panel. Per Bravo, Lakshmi has even been nominated for Outstanding Host for a Reality Competition Program at the Emmy Awards alongside her co-judges Tom Colicchio and Gail Simmons.
Hulu also announced that a Season 2 holiday special of her show "Taste The Nation" — created, hosted, and produced by Lakshmi herself — is set to premiere on November 4. If that's not enough, she also gave her fans a peek at what she has been up to recently. In a post on Instagram in early August, Lakshmi announced the release of the first of her children's cookbook "Tomatoes For Neela," which is currently available for pre-order. The book, she says, is inspired by her kitchen adventures with her daughter Krishna.
While Lakshmi waits for the book to launch on August 31, she's been spending quality time with her daughter in Paris and making her fans envious with glimpses of her Parisien escapades.
Padma Lakshmi has been vacationing in Paris with her daughter
Padma Lakshmi recently shared a selfie with her daughter on Instagram and said, "My sacred heart #littlehands." The mother-daughter duo can be seen standing outside the Sacré-Cœur church in the Montmartre area of Paris, and Instagram couldn't get enough of the two beautiful ladies. @icannotlivewithoutcoffee even noticed that Krishna takes after her mother, writing, "She looks more and more like you each day," while another follower admitted, "Your posts make me want to have a daughter. I love the bond you two have."
Lakshmi has also shared other pictures from her holiday in Paris with her followers, including a post captioned, "Paris is lovely, even in August... #littlehands." If the pictures are any indication, the duo has been eating their way through the city! In one video, it seems that the mother and daughter together demolished a dessert of whipped cream, chocolate, and bananas.
In a separate video, Lakshmi and Krishna can be seen roller skating outside the Louvre Museum on a particularly sunny day. To the video, @livingbeauty56 asked a question that the rest of the world has long been wondering, "A skater, too??? Is there anything you can't do??? Love this!"