For Fried Chicken, One Air Fryer Stands Above The Rest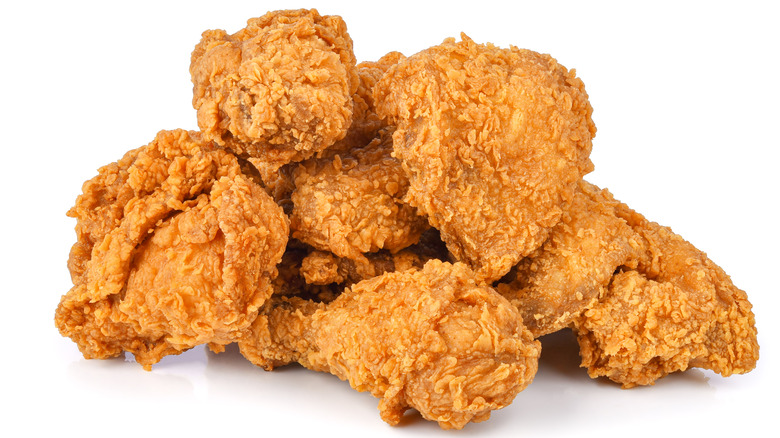 Shutterstock
We may receive a commission on purchases made from links.
There's no shame in admitting a deep love for the golden brown coating of a fried chicken breast. With its extra crispy exterior and juicy tender interior composed of either the whitest or darkest of meats, and served either alongside a bed of creamy mashed potatoes with homemade gravy or fresh-cut fries, it is perhaps the one of the greatest foods given to us by the southern United States. How you make the chicken is all up to you — you can fry it lard, dunk it in oil, pressure cook it, or if you have no desire/inner faith to use boiling oil, you can air fry it. 
Now, hold on a minute, you say. How can I be sure these "air fryers" can make a good fried chicken? Your concerns are understandable, friend, for if we took a bite of soggy wet crust on fried chicken we, too, would be disgusted on spiritual, mental, and emotional levels. Fortunately, there seems to be one air fryer that may alleviate your concerns of undercooked poultry, and provide you with that satisfying crunch you've been looking for.
What is the Cosori Air Fryer?
The Cosori Air Fryer Max XL boasts that it has been created with everyone in mind. With a temperature range of 170 degrees to 400 degrees Fahrenheit, and an 5.8-quart cooking basket, which has a specialized corner design for more cooking footprint, the Cosori Air Fryer can fit and cook a whole 5-pound chicken to a crispy golden brown in half the time of a conventional oven, and with much less oily fats.
It also has 13 cooking functions (including a shake reminder alert!), ranging from simply keeping your food warm while you prepare other dishes, to cooking fish or poultry at high heat, to a function specially designed for cooking bacon. In fact, the air fryer comes with a cookbook of 100 recipes, so you're bound to try out a couple of these functions sooner or later. If you sometimes get nervous about purchasing a product and not knowing exactly where it's made, the Cosori Company calls the United States home, located in California, so no worry of purchasing from any obscure overseas companies.
Of course, you'd probably like to hear about what customers think of the Cosori Air Fryer. So, keep reading to find out.
Here's what customers think of the Cosori Air Fryer
Here are some of the actual, real reviews of customers who purchased the Cosori Air Fryer Max XL and posted to the Amazon page for the product. "When I first turned it on, I wasn't sure what to expect," states customer KG. "I wondered if it was going to get hot and scorch my counter (or me). I thought it would be noisy. It was none of those things. It does get a little warm on the outside but not hot like an oven." KG does warn, however, to be careful taking the food out, as the Cosori can be deceiving, since it works so quickly.
"The programmed options, the ease of cleaning, the safety button on the basket, the price, just to name a few," says customer Justy, discussing the product's benefits. "I've only had it a few days and I've already made a home for it on my counter and replaced my smaller, less versatile Phillip's air fryer with this dynamo."
"My wife uses it every day making bacon, sausage and home fries for breakfast and many scrumptious meals," writes customer AlvinLeeJohnson. "She put a dry rub on the wings and cooked with fries and they too came out crispy and juicy and the fries were nice and crunchy but fluffy inside."
Purchase the Cosori Air Fryer Max XL on Amazon for $119.99.