The Secret Ingredient Chef Jose Garces Adds To Aioli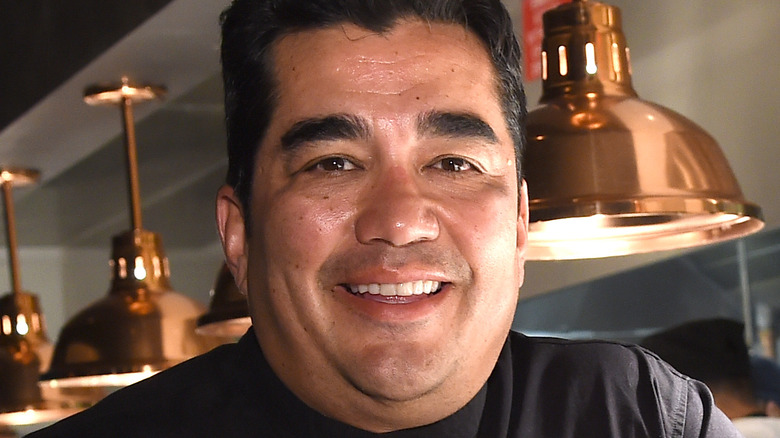 Dimitrios Kambouris/Getty Images
If you've ever attempted to make aïoli at home, you probably already know that preparing the creamy dip doesn't usually call for a lot of ingredients. In fact, you may already have several of them waiting in your cupboard, making it easy to get started. According to The Kitchn, a basic aïoli can be made from just five elements: olive oil, garlic cloves, an egg, a lemon, and salt. Getting the consistency right, on the other hand, can be quite the challenge!
If you've already nailed the consistency of aïoli, then why not go for an aïoli that's a bit more extravagant? Iron Chef Jose Garces has a recipe that can help with that. According to the Food Network website, not only did Garces an accomplished restaurateur and winner of a season of "The Next Iron Chef," but he's also a cookbook author and no stranger to writing recipes. If you're ready to impress your guests with an Iron Chef-level meal, you might want to try Jose Garces' secret for making aïoli.
Take your aioli up a notch with saffron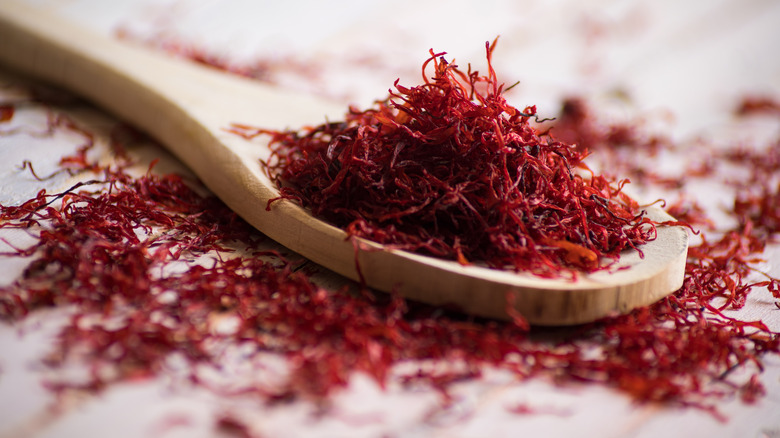 hemro/Shutterstock
In Iron Chef Jose Garces' recipe for Tortilla Espanola with Saffron Aïoli, saffron is toasted, stirred into hot water, and folded into an egg mixture then used to top an egg, onion, and potato omelette (via Epicurious). Not sure if you'll like saffron in your aïoli? According to Rumi Spice, saffron has a sweet, floral flavor that is earthy and complex. If we could pull off a saffron aïoli, we'd probably brag about it for weeks! Of course, saffron isn't cheap, so you might want to start out with a less expensive secret ingredient for your trial run.
Luckily, Jose Garces has an aïoli recipe featuring a more affordable option as well. In his Crab-Stuffed Piquillo Peppers recipe, smoked paprika is the star ingredient of the sauce (via the Food Network website). Not only is smoked paprika an economical option, but the aïoli can be made up to three days before the rest of the dish: piquillo peppers stuffed with a number of scrumptious ingredients like manchego, chives, and lump crab meat. Drool! If the dish sounds delicious but intimidating, you could always just book a flight to Philly, where you can find it on the menu at Amada, one of Garces' restaurants. There's no shame in tasting a little inspiration before you make your own piece of culinary art!