The Texas State Fair Is Back. Here's What Food You Can Expect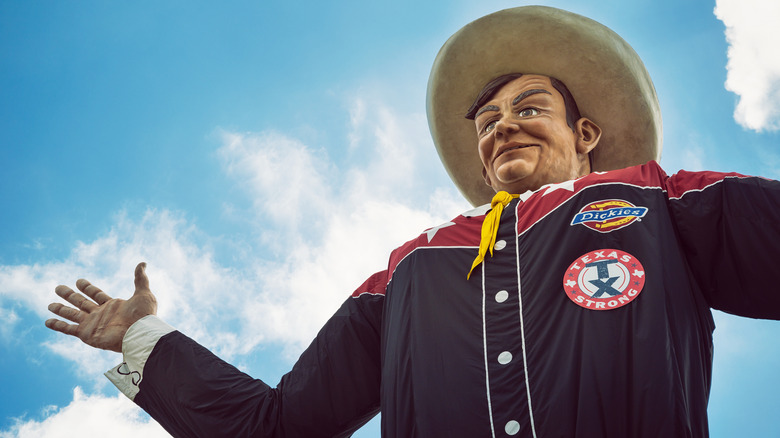 Leena Robinson/Shutterstock
State fairs are known for their indulgent, wild food options, and the State Fair of Texas does over-the-top fair food better than anyone. The legendary State Fair of Texas occurred for the first time well over a century ago, in 1886, and has been going strong ever since (via Delish). After a one-year hiatus due to COVID, the event is back, stretching from September 24 through October 17 — and fairgoers can scoop up some seriously incredible dishes.
While the full list of dishes available for 2021 fairgoers hasn't yet been released, the fair has selected five sweet and five savory finalists for the Big Tex Choice Awards to tantalize the taste buds of anyone on the fence about whether or not to make the journey (via State Fair of Texas). One finalist dish, the Crispy Crazy Corn, elevates the simple vegetable by battering each individual kernel (we told you — wild!) and topping it with pulled pork, pineapple slaw, cilantro, and jalapeño crema.
For those who prefer a little Cajun fare, one vendor has taken a classic seafood gumbo and crafted Deep Fried Seafood Gumbo Balls, which are served with a dark gumbo roux sauce, chicken fried okra spears, saltine crackers, and a bottle of hot sauce. If you prefer a bit of Asian flair, one spot is serving up what they've deemed the Lucky Duck Dumplin', a deep-fried dumpling filled with duck bacon, sweet corn, and cream cheese.
A few options to sweeten your fair experience
If you prefer your fair food on the sweeter side, don't worry — the State Fair of Texas has you covered there as well. Since the fair is held in the fall, they've got some options packed with seasonal flavors, such as the Texas Pumpkin Poke Cake (seen above). That particular treat features a pumpkin cake with vanilla glaze, caramel, and whipped cream, and the best part, the shape — you'll be chowing down on a petite cake shaped like the state itself. That's not the only whimsically shaped dessert on offer — one vendor has a dish called The Armadillo, which features a cookie butter semifreddo sandwiched between two deep-fried Armadillo-shaped cookies.
If Halloween is your favorite holiday and you're already looking forward to the occasion, try out the simply named Deep-fried Halloween, which features a fried pretzel dunked in corn syrup and loaded with a cornucopia of sweet toppings, from orange buttercream icing to candy corn. And, if you simply can't decide whether you want to indulge in something sweet or something savory, one vendor has you covered with the appropriately named Brisket Brittle, which is a old-fashioned brittle with all that caramel flavor and crunchy texture, but instead of peanuts suspended in the mix, the vendor has packed in brisket. Yes, they've crafted candy for carnivores.
If you're a fair food enthusiast, make sure to keep your eyes peeled for even more dishes to be released soon!