Easy Beer Cheese Sauce Recipe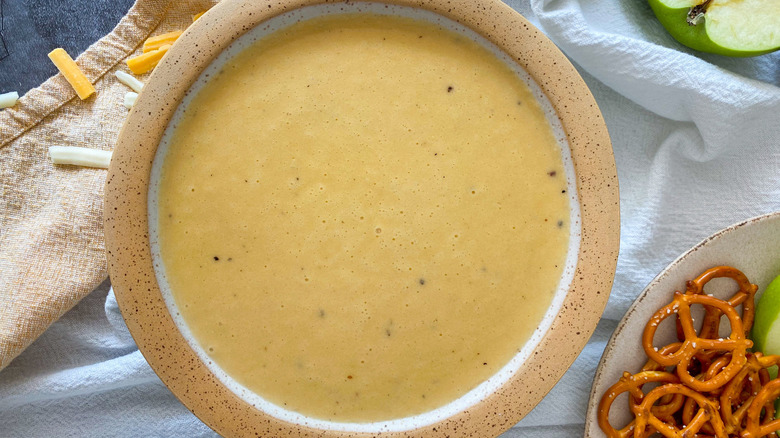 Hayley MacLean/Mashed
What do you get when you combine beer and cheese? One of the most amazing sauces that you've ever had the pleasure of eating. This delicious beer cheese sauce is perfect to whip up any time of year, but one particular event that comes to mind is for a football tailgate or Super Bowl Sunday. The great part about this recipe is that it takes just a couple minutes to prep and then around nine minutes to cook. So, if you don't want to mess around in the kitchen all day long, we have something that will still taste incredible, but doesn't require a lot of hard work. (We call that a win-win in our book!)
Recipe developer Hayley MacLean of Happy Healthy Hayley came up with this amazing sauce that can be used as a dip or as a spread. "What I love most about this recipe is how versatile it is — the beer and cheeses used here give a great creamy and mild flavor," MacLean says. "However, if a stronger beer flavor is wanted, a darker beer can be substituted, or if more heat is desired, a cheese like Pepper Jack can be thrown in!" We like the sound of that. Keep reading to find out how to make this delicious sauce.
Gather the ingredients to prepare this easy beer cheese sauce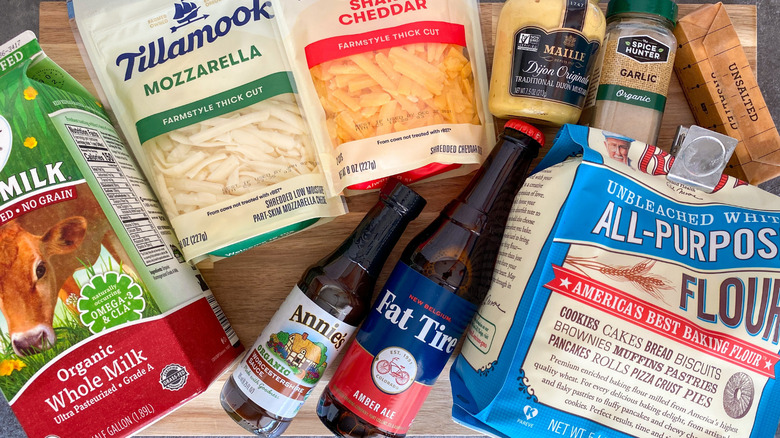 Hayley MacLean/Mashed
To start things off, make a list of items you have versus the items you need to shop for at the store. For starters, you will need unsalted butter and all-purpose flour. As these items are pretty standard, you may already have them in your pantry or fridge. In addition, you'll need to gather whole milk and beer — any kind will do. This recipe also calls for Dijon mustard, garlic powder, and Worcestershire sauce. To complete your list, add both mozzarella and sharp cheddar cheese, in addition to salt and pepper. That's it! Once you have everything together, it's time to get cooking.
Melt the butter, and add the flour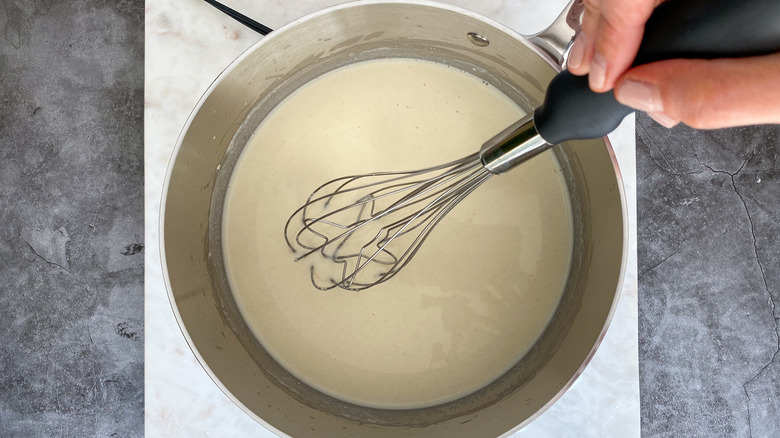 Hayley MacLean/Mashed
Are you ready to get this cheese and beer party started? Begin by grabbing a medium-sized saucepan, and put it over medium heat. Toss in the butter, and wait for it to melt. Then, add in the flour, and whisk it continuously to form a roux. And yes — there is a method to the whisking madness. "The roux is continually whisked in [this] step to prevent lumps from forming and create a smooth and creamy sauce," MacLean shares, so don't skimp on this step!
Add the milk and beer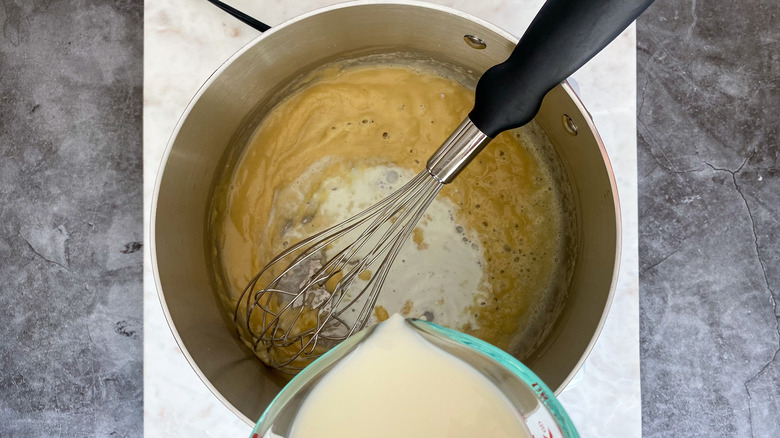 Hayley MacLean/Mashed
Now that your butter and flour have formed a roux, you can continue adding the other ingredients. First, pour in the milk. Make sure to do it slowly, and continue to whisk as you pour until you've added it all. Then, pour in the beer using the same process as you did for the milk — add a little at a time, and whisk as you go. Then, set your timer for five to seven minutes until the mixture starts to thicken. While you wait, be sure to frequently stir the cheese sauce.
Add the mustard and additional ingredients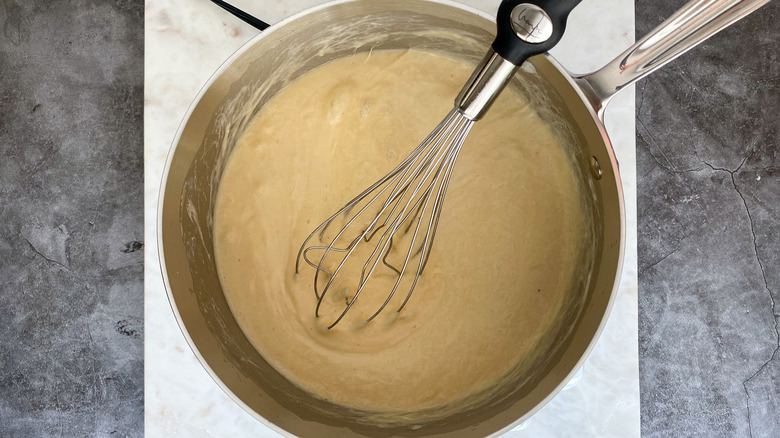 Hayley MacLean/Mashed
Now, there are only a few more items that need to go into the cheese sauce and one of those is the Dijon mustard. After that, add in the garlic powder and then the Worcestershire sauce. Once again, continue to stir the sauce so everything blends together well. Then, remove the mixture from heat, and add in the mozzarella and cheddar cheeses. Only do a handful of cheese at a time until it's fully incorporated and no lumps remain. The last two items to add include salt and pepper, and you can add as much or as little as you'd like based on your preferences.
Serve, and enjoy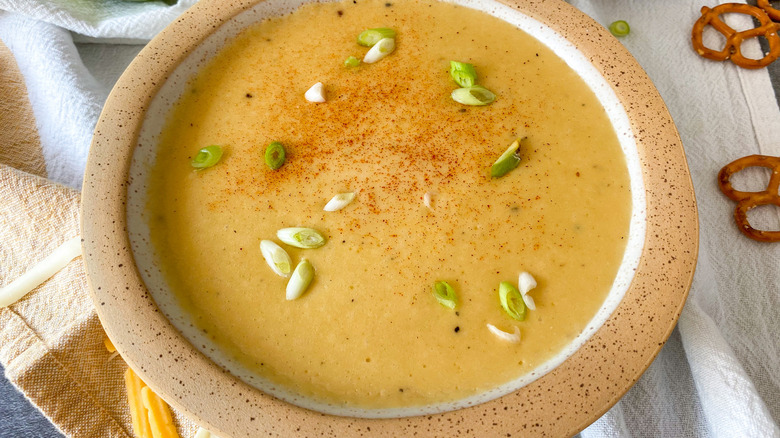 Hayley MacLean/Mashed
This dip is best enjoyed when served warm and immediately after you prepare it. There are plenty of items that you can dip into it, but a few come to in particular for MacLean. "I love serving this with pretzels or baguette slices, but as an alternative, green apple slices or broccoli florets are also wonderful," MacLean suggests. 
You can also make the sauce ahead of time, if needed. "Leftovers will stay good for three to four days, so this is a great recipe to make ahead of a gathering and [then you can] heat [it] back up when needed," MacLean shares.
Easy Beer Cheese Sauce Recipe
This delicious beer cheese sauce is perfect to whip up any time of year, but one particular event that comes to mind is for a football tailgate.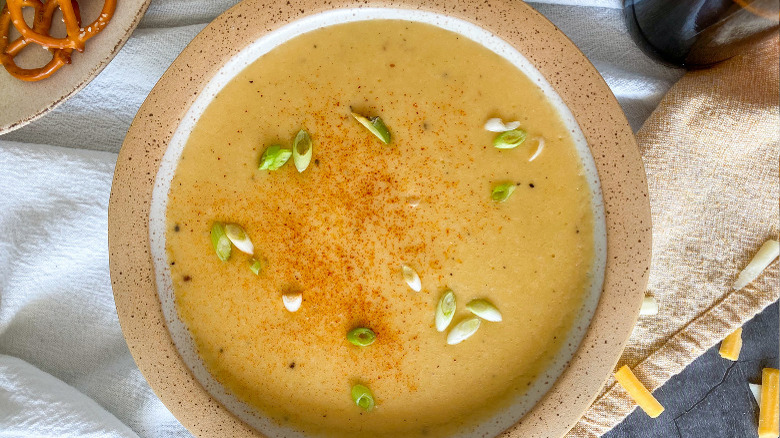 Ingredients
3 tablespoons unsalted butter
3 tablespoons all-purpose flour
1 cup whole milk
½ cup beer
2 teaspoons Dijon mustard
1 teaspoon garlic powder
1 teaspoon Worcestershire sauce
2 cups shredded mozzarella cheese
2 cups shredded sharp cheddar cheese
salt, to taste
pepper, to taste
Directions
Melt the butter in a medium saucepan over medium heat, then add the flour, and whisk continuously for 30 seconds to form a roux.
Slowly add both the milk and beer one at a time, whisking constantly while pouring.
Cook over medium heat until slightly thickened, 5 to 7 minutes, stirring frequently.
Add the mustard, garlic powder, and Worcestershire sauce, and mix thoroughly.
Remove the saucepan from the heat, and stir in the mozzarella and cheddar cheeses a handful at a time until fully incorporated and no lumps remain.
Add salt and pepper to taste.
Serve warm.
Nutrition
| | |
| --- | --- |
| Calories per Serving | 478 |
| Total Fat | 37.2 g |
| Saturated Fat | 22.7 g |
| Trans Fat | 0.6 g |
| Cholesterol | 121.1 mg |
| | |
| --- | --- |
| Total Carbohydrates | 8.1 g |
| Dietary Fiber | 0.3 g |
| Total Sugars | 2.7 g |
| Sodium | 810.6 mg |
| Protein | 26.9 g |