The Real Reason Maneet Chauhan Hates Pineapple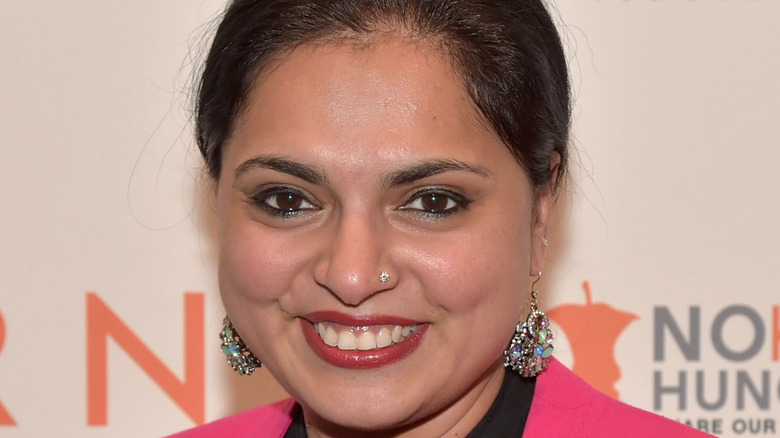 Theo Wargo/Getty Images
Most Food Network fans are used to seeing Maneet Chauhan sitting at the "Chopped" judges table, where she has regularly been making an appearance since 2010 (via Cosmopolitan). However, the chef has also jumped into the culinary ring a number of times. Per IMDb, Chauhan has donned her chef's coat in the "Chopped" kitchen on several occasions, and has been a contestant on "Next Iron Chef" and "Guy's Grocery Games."
One of the more recent tests of the restaurateur's cooking skills was on the second season of Guy Fieri's "Tournament of Champions" which, spoiler alert, Chauhan won. The bracket-style competition show of "Iron Chef"-level intensity saw a total of 16 chefs compete head-to-head in the kitchen while a randomizer machine set some of the parameters for each battle. The "Chopped" judge faced season one champ Brooke Williamson in the final stage of the cook-off, during which they had to cook a three-course meal using langoustine, fresh wasabi, and liquid nitrogen (via The Pioneer Woman). Chauhan ultimately ended up victorious, though the outcome may have been a bit different if pineapple was one of the randomizer's requirements for the round. 
Pineapple has been Maneet Chauhan's demise in past cooking competitions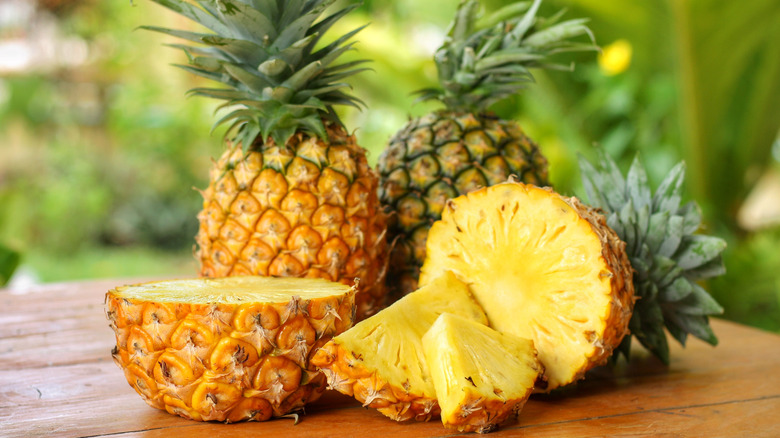 Kotcha K/Shutterstock
The celebrity chef has fond memories of snacking on pineapple chaat as a youngster growing up in India, but don't expect her to go out of her way to work with the controversial pizza topping herself (via Saveur). "I personally hate to work with pineapple, the reason being that that was the one ingredient that played a critical role in me (and all my predecessors) being eliminated on my season of 'The Next Iron Chef'," she explained to Food Network.
Chauhan was a competitor on season three of "The Next Iron Chef," and sure enough, it was pineapple that played a part in her demise (via Food Network). The chef was booted at the end of the fifth episode of the cooking competition after incorporating the fruit into a dish during the "High Stakes' Chairman Challange," which she ultimately admitted she would have foregone if she could have a do-over in the game. "It was the jinx fruit for each and every eliminated contestant so far!" she told Food Network during her exit-interview from the show. With such a bad track record with Chauhan and her fellow competitors, we certainly can't blame her for not wanting to cook with pineapple anymore.