The Truth About Maneet Chauhan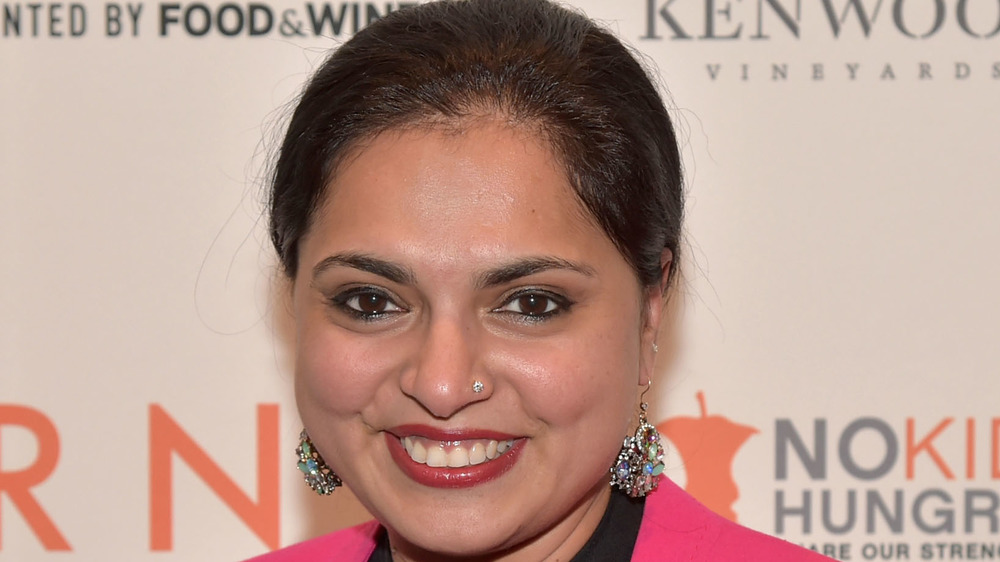 Theo Wargo/Getty Images
We don't know about you, but we can't wait for season two of Guy Fieri's Tournament of Champions, which starts March 7 at 8 pm on the Food Network (via Food Network).
The bracket-style competition is pitting some of the best chefs in the country and familiar Food Network personalities against each other in head-to-head challenges. One of those chefs is Maneet Chauhan. Fans know her as a fierce and talented competitor on Iron Chef and as a judge on the Chopped series.
But there are some things you might not know about the effervescent Chauhan. She's from the Indian city of Ludhiana and worked in top Indian hotels before moving to the U.S. at 20 to attend the Culinary Institute of America (via CIA). After graduating with honors, Chauhan moved to Chicago where she competed with 40 male chefs for the executive chef job at the new and ground-breaking Indian-Latin American fusion restaurant Vermillion. 
She moved to New York City to open a sister restaurant, At Vermillion. Chauhan rose to national acclaim with outstanding reviews from Bon Appétit, Esquire, Travel & Leisure, Gourmet, Town & Country, and more.
After having her first child in 2011, the chef decided to strike out on her own, launching Indie Culinaire, a culinary event, consulting and hospitality company, according to CIA. She said becoming a mother was a turning point, making her realize she "wanted to see what was out in the world, to increase my repertoire, and make it more interesting.
Don't ask Maneet Chauhan to use pineapple
After her impressive appearances on Iron Chef America and The Next Iron Chef, the Food Network tapped Maneet Chauhan to be a judge on three of the Chopped series. Chauhan also published several cookbooks and in 2014, moved to Nashville to open Chauhan Ale & Masala House, followed by three other restaurants in Music City (via Bon Appétit).
Some fun facts about Chauhan: Her business partner is husband Vivek Deora, a successful hospitality executive who has worked in eight countries and has opened 23 restaurants (via Nashville Lifestyles). Chauhan says they make a great team and credits him with "making me look at this industry as a whole and that has given me insight as to how to present my food and present myself (via YouTube)."
In terms of cooking, Chauhan hates working with pineapple. She told the Food Network that the fruit was the downfall for her and several of her predecessors during her season on The Next Iron Chef. You can also tell Chauhan's mood by her earrings. She chooses big ones when she wakes up on the wrong side of the bed (via Parade). 
In 2019, Chauhan lost 40 pounds, wanting to be a healthy role model for her children, daughter Shagun and son, Karma. She told Parade she lost the weight by restricting herself to 1,200 calories per day, but always budgeted wine and chocolate into her allotment. As if we needed another reason to root for the charming Chauhan on Tournament of Champions II.