The Big Problem Fans Had With The Last Season Of MasterChef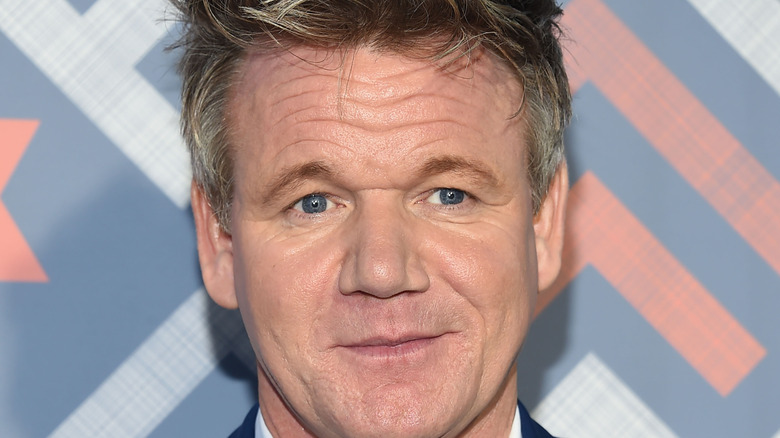 DFree/Shutterstock
The Fox hit "MasterChef" has been renewed for Season 12, much to the excitement of diehard fans. The Gordon Ramsay-hosted cooking competition show has been a celebrated staple of food television for years. Fans of the show had less than stellar reviews of the last season, however.
The latest season of the show featured significant changes from the more traditional seasons. First off, it was called "MasterChef: Legends" and aimed to emphasize the mentorship opportunities the contestants receive from the renowned celebrity chefs who judge the competition. Emeril Lagasse, Paula Deen, Roy Choi, Nancy Silverton, Wolfgang Puck, and Morimoto all made guest appearances to mentor this season (via Parade).
The number of contestants was also the lowest it's ever been, with only 15 white aprons handed out at the start of the season. "We're focusing on 15 strong individuals. So, we're getting straight to the heartbeat, the real meat on the bones, trimming the fat," Ramsay told Parade about the smaller field of contestants.
It appears these changes didn't land well with "MasterChef" Season 11 viewers.
What fans didn't like about MasterChef Season 11
"MasterChef" announced that it was renewed for Season 12 via a Facebook post, and fans were very honest in the comments section. They all seemed excited for Season 12, but mostly hoped that it would be better than the last season.
Most of the fans complained that the format of Season 11 was boring and slow, that the judges were too soft on the contestants, and that the old format was better. "Not worth watching unless the judges get back to being tough like the first seasons. They've been extremely soft in judging this season," one fan wrote.
Another said that they missed the outdoor challenges and other aspects of the earlier seasons. "Hopefully next season will be much better. I get outside challenges can't happen because of COVID, but there use[d] to be mystery box challenges all the time. The winner was safe from elimination and got to choose what the others would do for elimination. This season of 'legends' is boring," a viewer explained in their comment.
Overall, it seems like fans were disappointed by the latest season of "MasterChef" but are excited to keep watching. Time will tell if the show recognizes the fan feedback when more news of Season 12 is released.