The Cheesecake Factory Has Good News For Chicken Sandwich Fans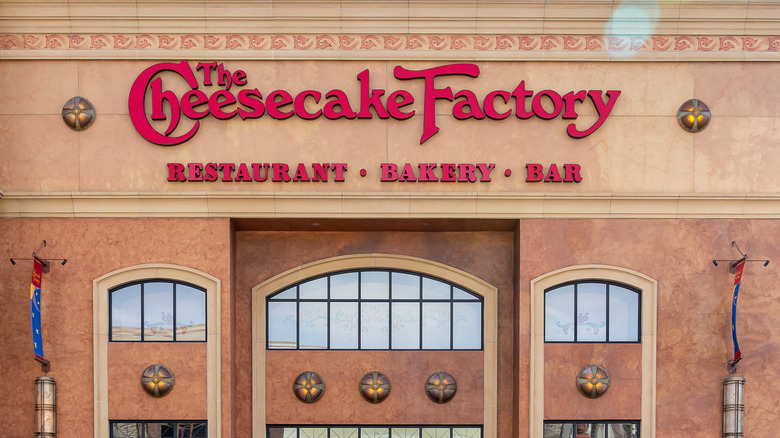 JHVEPhoto/Shutterstock
As you walk into your local Cheesecake Factory restaurant, sit in a comfy booth, and the smells of delicious food waft from the kitchen, it starts to feel familiar. There's a reason why the chain is so popular, and it's probably because, no matter what location you go to, The Cheesecake Factory always feels like home (of course, with less dishes).
Even better, it's never been easier to eat healthy at the restaurant. They've been offering delicious and nutritious options for those that like to keep track of their diet through the SkinnyLicious menu. All the dishes on that speciality menu, of course a portmanteau of "skinny" and "delicious," are less than 590 calories while maintaining the signature flavors the restaurant chain is known for. The menu includes items like lemon garlic shrimp, burgers, salmon, and more, to meet any craving you could have (via the official website).
And now there's a delicious new dish coming to the SkinnyLicious menu that will be sure to excite anyone that craves the classic chicken sandwich. 
The new SkinnyLicious Crispy Chicken Sandwich is sure to be a crowd pleaser
The Cheesecake Factory has just announced its new take on the classic American comfort food: The SkinnyLicious Crispy Chicken Sandwich. The new menu item is available in all participating locations across the country for a limited time (via Chew Boom).
Just by the sounds — and looks — of it, this sandwich has got our mouths watering. The meal features a crispy chicken breast with lettuce, pickles, onions, and ranch dressing on a toasted bun. A spicy option is also available in which the regular ranch dressing is swapped out for a Sriracha mayo. The dish comes with a side green salad — and as a whole it sounds extremely satisfying, especially for anyone that can't get enough of chicken sandwiches.
The standard option with ranch has 560 calories, while the spicy option comes in at 580 calories. The suggested retail price is $14.95 for the dish, which may vary depending on your location (via Fast Food Post). We'd definitely consider stopping by and trying the sandwich out while you still have time to do so.