Will There Be Another Meat Shortage This Year?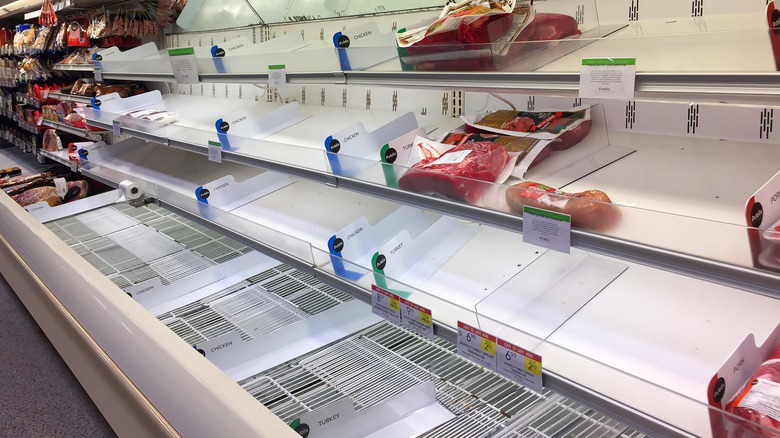 Jillian Cain Photography/Shutterstock
While Carnival Cruises had to cut back its bacon servings, the ship buffet might not be the only place where there could be a meat shortage (via Insider). As people fear the visions of empty store shelves from the beginning of the pandemic, the rumblings of a future concern are starting to appear. Earlier this summer, cyber attacks led to disruption in the food supply chain (via Thrillist). As stated in that article, "even one day of disruption will significantly impact the beef market and wholesale beef prices." Even if consumers would be willing to pay the higher cost, there is a concern with food not being in the meat case for purchase. 
Beyond the cyber attacks, meat processing plants have had difficulties with staffing. As reported by Wane, corporate vaccine requirements have impacted the workforce at some companies. Finding enough workers to keep operations moving forward efficiently has been difficult and that aspect adds delays into the supply chain. Given these situations, some smaller markets and businesses have outsourced their purchases to other companies. From buying from restaurant supply brands to going straight to the farmer, smaller meat markets might have more success in avoiding another meat shortage. Whether or not fully stocked shelves are a reality or a meat shortage is on the horizon remains to be seen. In the meantime, some people might want to look to other food alternatives to satisfy that burger or bacon craving.
Are meat shortages driving the plant-based food trend?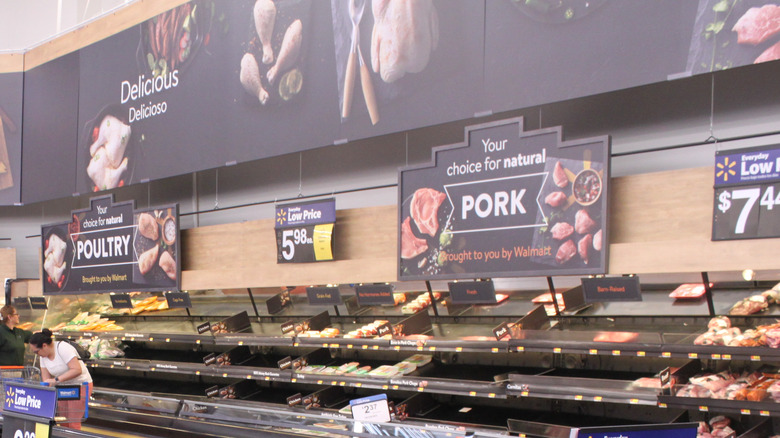 Rebekah Zemansky/Shutterstock
Throughout the past year, consumers have seen meat shortage and rising food costs that has led to changes in shopping habits. According to Consumer Reports, a 2020 survey stated that out of "2,164 Americans, almost half reported that they haven't always been able to find the beef, pork, or poultry they wanted during the pandemic." When the store shelves are empty, consumers have looked to purchase alternatives, one of which has been plant-based food. While many people fill their cart with fruits and vegetables, this concept is more about plant-based food options that try to replicate the taste and flavor of traditional beef, chicken, or pork offerings.
While Fortune suggests that the plant-based food market targets consumers that are looking for "healthier" as well as "environmentally conscious" food alternatives, the growth in this sector looks to be substantial. With a prediction of plant-based food becoming as much as "7.7% of the global protein market" by 2030, that trend might have been impacted by the previous meat shortages. As ABC News reported, plant-based food companies took advantage of the empty shelves last year and increased their presence. Whether that first taste was intentional or due to lack of options on the shelf, it seems that consumers will find any food to satisfy a particular craving.