The 2 Ingredients You Should Add To Caramelized Onions, According To G. Garvin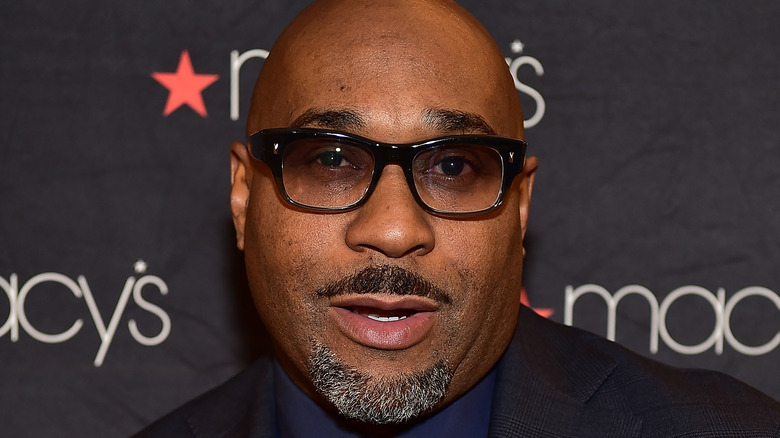 Paras Griffin/Getty Images
If there's a sometimes-undersung hero of the kitchen, we think it might be onions. As flashy ingredients like morel mushrooms, extra-virgin olive oil, and fancy aged cheeses get all the hype, this humble allium flies under the radar — despite the fact that it's a flavor base for so many of the things we cook. Making tomato sauce? You'll probably need onions. Simmering a stew? Better buy onions. Have a craving for French onion soup? Well, we think you know where we're going with this.
There are few things onions can't do in the kitchen, but one simple step brings their delicious versatility to a new level: Caramelizing. This simple method deepens and intensifies this ingredient's inherent sweetness, Serious Eats says, turning them into a jam-like condiment that can be folded into omelets, strewn atop pizzas, and used to top juicy burgers.
The latter idea is a favorite of Gerry "G." Garvin's, the chef behind Garvin Food Group and former host of "Turn Up the Heat with G. Garvin" on the Cooking Channel. In a clip from "Guy's Ranch Kitchen" shared on Food Network's Twitter, Garvin shared a couple of secret ingredients that he adds when caramelizing onions.
Agave and balsamic vinegar add sweetness and tang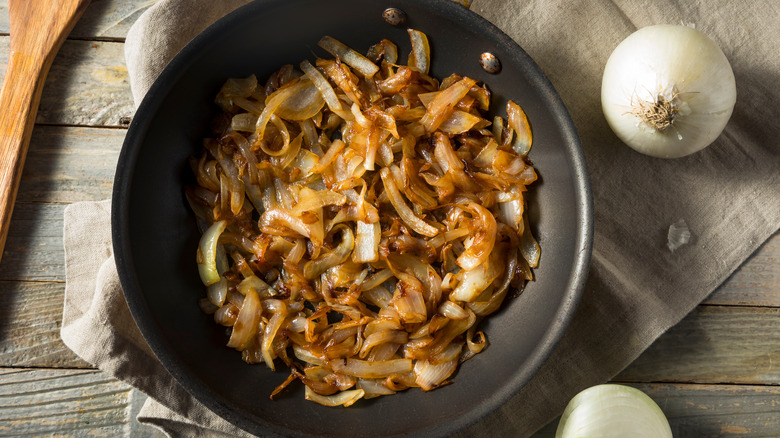 Brent Hofacker/Shutterstock
If anyone knows comfort food, it's Garvin, whose LowCountry Steak restaurant in Atlanta, Georgia, serves Southern-influenced steakhouse dishes such as ribeye with Cajun garlic butter and shrimp and grits, according to the restaurant's menu. The "Crazy Burger" he made on "Guy's Ranch Kitchen" — with a beef chuck patty, fried egg, Napa cabbage slaw, and a generous crown of caramelized onions — seems no less hearty.
What makes his caramelized onions special? Just agave nectar and balsamic vinegar, he revealed (via Twitter). Garvin begins in a way that's familiar to anyone who's made this topping before: He slices onions on a medium julienne before sautéeing them in a little bit of olive oil. Once they're cooked, in goes a drizzle each of agave and vinegar. "Agave brings the sweetness that I want," Garvin explains, while he uses balsamic for its "distinct flavor." We love the balance that these two ingredients would bring to caramelized onions, lending both sweetness and acidity to an already complex condiment. You can bet we'll be trying it out the next time we have a spare onion on hand.